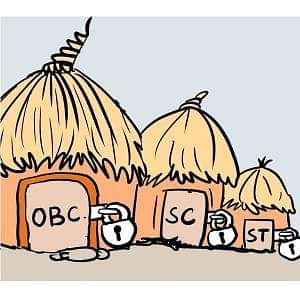 The reservation has engulfed the entire education system of India, but it was implemented under certain laws and rules. A history is associated with it. Let us know what is it?
According to the Article.15(1) of the constitution "State shall not discriminate any citizen on grounds only of religion, race, caste, sex, place of birth or any of them". But on the other hand, it also has protective article for certain sections of the disadvantaged people. Article 15(4) of the Constitution specifies"special provision for the advancement of any socially and educationally backward classes of citizens or for the Scheduled Castes and the Scheduled Tribes". Among all, SC and ST contain 22.5% of country's population.
The data 22.5% is divided into two parts- 15% for SC and 7.5% for ST. The rule is applicable on educational institutions which come under the control of the Ministry of Human Resource Development and other Central Ministries. Similarly, reservations have been also provided by the State Governments and Union Territory Administrations. SC and ST students are also entitled to relaxation in upper age limit (generally 5 years) and lower cut-off qualifying marks (5-10%). Besides, seats are also reserved for other backward castes (OBC).
In 1978, the Mandal Commission was set up and submit its report in 1980. The commission recommended 27% reservation for OBC castes in all scientific, technical and professional institutions run by the Central as well as State Governments. They also recommended that States which have already more than 27% reservations for OBC should not change their percentage. The recommendations were accepted in 1990 and lead a violent protest.
In August 1999, the Supreme Court said, "While admissions at the super-speciality level in medicine and engineering faculties there will be no reservations for any castes". The following table reflects the typical caste-based reservation profile: SC and SC Converts to Buddhism 13.0% STs 7.0% Vimukta Jati 3.0% Nomadic Tribes (NTI) 2.5% Nomadic Tribes (NT2) 3.5% Nomadic Tribes (NT3) 2.0% OBC 19.0% Total 50.0% Besides caste based reservations, there are also other categories of reservation and quota system. For example- 1. Non-resident Indians (5%) 2. Women (30%) 3. Physically handicapped, Migrants from J & K, NCC Quota, Sports Quota, Anglo-Indian Community, Children of Political Sufferers, Children of Defence personnel, Children of Ex-servicemen, Government of India Nominees. Minority Institutions Article 30(1) of the Indian Constitution states"all minorities whether based on religion or language shall have the right to establish and administer educational institution of their choice". Many such institutions have also established by the minority communities in a many states.
There are two categories for admissions in minority educational institutions. Category 1- 50% of the seats are booked for minority community candidates which have established the institution. Category II- 50% of the seats for communities other than the minority community. In all States, admissions are regulated through the state-level common entrance tests.
Source- Examcrazy.com