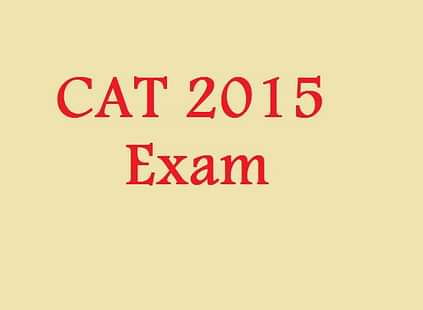 It was a cool morning across the most part of the country when the aspirants thronged around various exam centre by 7.30AM– the reporting time for the first session of CAT 2015. The morning session of CAT 2015 began on time at 9.00AM today Nov 29, 2015, at various centres situated at multiple cities of the country. A totally revamped computer based test at was conducted the test venues with testing labs accommodating than 500 candidates in each session and they with no technical glitches. Candidates felt somewhat comfortable as reporting time for the test was 90 minutes before the exam in CAT 2015, as compared to 120 minutes in CAT 2014.
As anticipated the test had a number of changes and surprises as announced through the notification. The exam was moderate to difficult with a few exception. Overall, the questions in the exam were doable and with 24-25 attempts in each section with 85-90% accuracy, one can expect a percentile as high as 95+. The questions include MCQs along with Non-MCQs in each of the 3 sections.
CAT 2015 is divided into 3 sections namely VARC-1st section; DILR-2nd section and Quant-3rd section. This newly created section put forward a good deal of challenge for test takers in CAT 2015. The sectional distribution of the test is as below:
| | | | | |
| --- | --- | --- | --- | --- |
| Section | No. of Questions | No. of non-MCQ questions | Difficulty Level | Good Attempts |
| Verbal Ability and Reading comprehension | 34 | 10 | Easy | 22-25 |
| Data Interpretation and Logical Reasoning | 32 | 8 | Moderate - Difficult | 16-20 |
| Quantitative Ability | 34 | 15 | Medium | 25-27 |
| Total | 100 | | | 70+ |
Earlier CAT exams allowed to submit your test before the time limit expired but CAT 2015 did not you to submit the section wise test before the sectional time limit of 60 minutes expired. The submit button was enabled on expiry of the time limit only.First time in the history of CAT some of the questions were Non-MCQs and aspirants were not to miss answering any of them as there was no negative marking in Non-MCQs questions.
Sectional Analysis
Verbal Ability and Reading Comprehension
Verbal Ability and Reading comprehension (VARC) was the first section in CAT 2015 exam as against the earlier CAT exams in which Quant used to be the first section.
VARC contained 34 questions out of which 24 were MCQs and 10 Non-MCQs. Out of the 34 questions, the Reading comprehension (RC) part contributed the maximum share of 70% questions. There were 24 questions on 5 RC passages. The question of RC passages was majorly factual, not very lengthy or abstract. On average, two of the five given passages were tricky or tough.
Out of the 5 RC passages 2 were relatively shorter passage with about 500 words and were followed by 3 questions each. Other 3 passages were a little longer with about 800 words and were followed by 6 questions each. The questions were replete with Verbal Logic which needed prior practice to aim for a high percentile. The passages were rich on vocabulary, although there were no direct vocabulary questions in CAT 2015. There were questions that asked the message conveyed by the author through a particular sentence or the entire RC passage. These questions were like asking the purpose of writing the passage, what can be inferred etc. No question like 'Tone of the passage' was there, but some theme based questions were there.
The difficulty level of the passages varied from easy to moderate. A well-prepared aspirant must have easily attempted 4 passages with about 75-80% accuracy.
Surprisingly, there were no questions of vocabulary or grammar and odd sentence out type questions had five options contrary to the previous years making them a little tricky. No negative marking was there for Non-MCQs.
In Verbal Ability and Reading comprehension section out of a total of 34 questions, 10 were the Non-MCQ type and they did not carry any negative marks.
A brief break up of Verbal section is as given below:
| | |
| --- | --- |
| Topic | No. of Questions |
| Reading Comprehension | 24 |
| Para-jumble | 4 (Non-MCQ questions) |
| Summary | 3 (MCQ-4 answer options type) |
| Para-jumble (pick the odd sentence from a group of 5 jumbled sentences) | 3 (MCQ but to be typed to key in its number in the given answer box) |
Data Interpretation and Logical Reasoning Analysis
The newly created DILR section was the second section in CAT 2015. DILR with 32 questions in total had 16 Questions on Data Interpretation (DI) which was the first part in this section and 16 questions were based on Logical Reasoning. The 16 questions in each part were divided into 4 sets of problems and situations. Each problem/situation was followed by a block of 4 questions. The breakup of these questions is as below:
| | |
| --- | --- |
| Topic | No. of Questions |
| Line Chart (Quarters 1 to 4) - Easy | 4 |
| Table Chart (Plants Industry) - Easy | 4 |
| Table Chart (time and work) (Non MCQs) - Easy | 4 |
| Set Theory - Moderate | 4 |
*4 Non-MCQs and 12 MCQs were there in DI
The questions in this section were tricky, lengthy and time-consuming. An attempt of 20 questions with 80% accuracy is considered good. Many of test takers reported the DILR section as the most difficult and time-consuming section in CAT 2015.
Break up of Logical Reasoning part of this section is as below:
| | |
| --- | --- |
| Topic | No. of Questions |
| Arrangement - Sudoku Set – Moderate | 4 |
| Cube based Set | 4 |
| Arrangement - 9 children | 4 |
| Arrangement - 5 Children - 10 Tests based | 4 |
Quantitative Ability
Out of 34 questions in Quant, the last section to attempt in CAT 2015 there were 10 Non-MCQs. Questions in this section were of slightly difficult level but were doable.
The modified question types were surprised elements. Though candidates expected higher difficulty level questions most of them found the section not so difficult. The breakup of prominent topics on which questions were based in Quantitative Ability is as below:
| | |
| --- | --- |
| Topic | No. of Questions |
| Algebra | 14 (10 in slot-2) |
| Arithmetic | 10 |
| Modern Math | 3 |
| Trigonometry (Height & Distance) | 2 |
| Geometry and Mensuration | 5 (7 in slot-2) |
Surprisingly there were no questions on Number System in slot-1 but 3 were there in slot-2. Geometry and Mensuration had a relatively higher number (7) in slot-2 which was unusual in the past.
The test takers expect higher raw scores with the introduction of a good number of Non-MCQs. Performance in each section will play an important role in getting calls from good b-schools and would be helpful determining overall scores and cut-offs for shortlisting.
Disclaimer: All analysis and prediction are based on the experience shared by various test takers after the test.
Author: Falguni Goswami
Falguni is the Head of TestPrep Division at CollegeDekho and is also an expert in Career Counselling. He can be reached at falguni.goswami@collegedekho.com