Distance MBA course is often regarded as a flexible and affordable option, which does not require you to attend the classes regularly. MBA course in distance mode is officially recognised by the UGC-DEB/ AICTE if done from an approved institution. Few universities and institutes in India have the authority to offer MBA course in distance mode. Aspirants who are unable to pursue MBA course due to career/ professional commitments or lack of time can consider distance MBA course as a better option. Top distance MBA colleges in India offer offline study material so that the candidates can refer to the topics related to the syllabus.
Today, distance MBA in India is slowly gaining momentum. One of the major advantages of distance MBA is its affordable fee structure in comparison to the Executive MBA. Over the years, considering the growing demand for distance MBA courses, top institutes in India have started to offer UGC/ AICTE-approved distance MBA course with an aim to help the classes get their MBA certificate without going through the rigour of classroom and college campus.
Usually, a working professional or even a fresher chooses distance MBA to gain exposure to industry relevance. In the current scenario, the MBA has become a mandatory qualification for career progression in varied fields.
Types of Distance MBA Courses
Various universities and institutes offer the following types of distance courses in the field of management.
PGDM/ MBA (two-year duration course)
One-year PGD in Business Administration (PGDBA)
Three-month or six-month duration certificate courses
Best Distance MBA Colleges in India, Courses & Fee Structure
The table below includes the list of the best distance MBA colleges/institutes/universities in India along with the courses offered and the fee structure:
| | | |
| --- | --- | --- |
| Name of the University/ Institute | Courses Offered | Fee Structure (per annum) |
| | MBA | Rs. 72,500 |
| | MBA | Rs. 27,650 |
| | MBA (IGNOU - OPENMAT Entrance Exam is conducted for the admission) | Rs. 31,500 |
| | PGDM/MBA | Rs.50,000 (approximately) |
| | PGDM (two-year course) | Rs. 37,000 |
| | PGDBM (two-year course) | Rs. 43,000 |
| | PGDM (two-year course) | Rs. 88.000 |
| | MBA | Rs. 30,000 |
| | MBA | Rs. 30,000 (approximately) |
| Annamalai University, Tamil Nadu | MBA | Rs. 30,000 – Rs. 35,000 (approximately) |
| | MBA / PGDM | Rs. 70,000 – Rs. 1,00,000 (approximately) |
| Bharathidasan University – Centre for Distance Learning | MBA | Rs. 30,000 (approximately) |
| GITAM – Centre for Distance Learning, Visakhapatnam (Institute of Eminence) | MBA | Rs. 30,000 |
| | 1-year PGDM | Rs. 16,800 |
| Andhra University (CDL) | MBA | Rs. 25,000 to Rs. 30,000 (approximately) |
| | MBA | Rs. 25,000 to Rs. 30,000 (approximately) |
| | MBA | Rs. 25,000 |
Make applying to popular MBA colleges in India easy with the Common Application Form (CAF). Just fill the form once and apply to top colleges from the same portal.
Also Read: Popular Distance Education Universities in India
Distance MBA Course Eligibility Criteria
The eligibility criteria to pursue distance MBA is mentioned below:
Any graduate with at least three years of work experience can apply for distance MBA
Many institutes have their own entrance exams and some institutes don't conduct any entrance tests. For example, NMIMS Global Acces School for Continuing Education offers admission to the distance MBA course basis the eligibility criteria (bachelor's degree in any course from a recognised institute with at least 50% aggregate and two years work experience).
Distance MBA Course Specialisations
The distance MBA course specialisations vary from one institute to another but the major specialisations include the following:
Strengths & Features of Distance MBA Course
Pursuing a distance MBA course has certain advantages. Given below are the strengths and features of pursuing distance MBA course: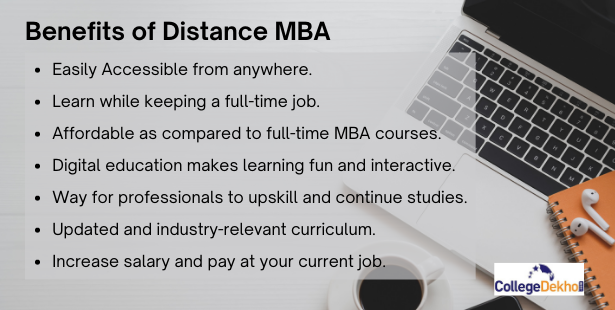 Easy Accessibility: The distance learning MBA courses are regarded as best for entrepreneurs, working professionals or for those who are searching for a job after graduation and wish to fulfil their dream of pursuing an MBA. Distance MBA gives scope for flexibility of time. In a regular MBA course, students are bound to attend the classes regularly. They can utilize evenings and weekends to study and cover up the syllabus.
Scope for Continuous Learning: The course is designed in such a way that it provides scope for self-study for candidates to refer to a variety of resources to obtain subject knowledge for better understanding and to perform well in exams and ultimately add to their own professional growth.
Digital Education: Some top institutes in India utilise the ICT-methods for delivering a good MBA course that adds as a perfect tool to minimise the gap between a regular MBA and distance MBA. It further creates a hybrid learning environment through e-learning and personal contact programmes.
Affordability: Distance MBA in India is cost-effective as well. While a regular MBA may cost about Rs. 10 lakh - Rs. 25 lakh in top institutes, a distance MBA might cost about Rs. 50,000 - Rs. 1 lakh.
Industry-Relevant Curriculum: Since Distance MBA courses are created for working professionals, special care is taken to ensure that their curriculum is relevant and focuses on practical learning with case studies.
Also Read:Fee Structure of Distance Learning Programmes in India
Limitations of Distance MBA Course
There are certain disadvantages as well when it comes to pursuing a distance MBA course. The limitations of distance MBA are as follows:
Status: Even though distance MBA has industry relevance, it cannot be given the same stature as that of a regular MBA course which is regarded highly in our country and even abroad.
Few Colleges: Only a limited number of institutes offer quality distance MBA courses in India. A poor quality distance MBA course will have less industry relevance and scope for employment.
Distance MBA Scope and Top Recruiters
After pursuing a distance MBA course, candidates can choose to work in private, public or government sectors in various domains listed below:
Marketing-A course in distance MBA can open opportunities in advertising agencies, sales and marketing departments and event management companies.
Finance-After pursuing distance MBA in Finance, one can choose to work in insurance companies, trading and broking firms, and credit rating agencies.
Operations Management- After pursuing distance MBA course in operations management, one can work in distribution and logistics, and production.
Human Resource Management-Management aspirants can also work in the HR departments of various national and multinational companies, counselling, career development, recruitment and training agencies after pursuing a distance MBA.
Apart from the colleges or universities mentioned above, various state-level public universities also offer MBA course in distance mode. We hope that the above information is useful for you while choosing a perfect distance MBA course and college in India.
Also Read: Popular Distance Learning Courses in India
If you have any doubts, you can ask our experts on the CollegeDekho QnA Zone. If you require any information about admission to distance learning courses in India, just call our helpline number 18005729877 and talk to our career counsellor.