The CMAT 2022 examination has been scheduled for April 9, 2022, by the NTA following all Covid-19 protocols. The exam will be conducted in a single shift from 3:00 PM to 6:00 PM. The COVID-19 regulations such as carrying hand sanitisers, maintaining social distancing and wearing face masks will be followed strictly.  Candidates have to attach the COVID-19 self-declaration form to the CMAT admit card. You can also check CMAT 2022 Live Updates.
Like other management entrance exams in India, the Common Management Entrance Exam is conducted for admission to management programmes offered by various colleges in India. Around 10-12% of the top MBA colleges available in India accept CMAT scores. Some of the good colleges available under CMAT are NIT Durgapur, SIMSREE, Goa Institute of Management, Goa, BIMTECH, Greater Noida.
Every candidate has his/her own strategy to prepare for the exam. Some students try to revise all the topics that they have prepared while some focus on taking a break so that they can attempt the exam with a fresh mind. Let's take a look at some of the CMAT 2022 exam day tips and guidelines.
CMAT 2022 Exam Day Tips
Given below are some exam-day tips for CMAT 2022:
Check your Documents: Before going for the exam, make sure you carry your Admit Card and ID Proof. You are not allowed to carry calculators, wristwatches, cell phones, etc.
Give Proper Rest to your Mind and Body: You should give proper rest to your mind and body. Sometimes, students don't give proper rest to their mind and then they feel uncomfortable while sitting in the examination hall. You can also listen to music as it will help you unwind.
Reach the Test Centre Before the Time Allotted to You: Reaching the examination centre before the time allotted to you can help you get familiar with the environment. It is feasible for the candidates to report at their test centre at least one hour prior to the test schedule. Examination time can be verified from the admit card. While going to the examination centre, you are advised to carry the admit card along with other required documents. 
Be Confident: You must be confident while preparing for the exam. Try not to get stuck on one question. If you are not confident about any answer and are not sure if the answer is correct then you can skip that question and proceed to the next one. You can also listen to motivational speeches that can help boost your confidence.
Manage Your Time Wisely: You are advised to manage your time wisely. The maximum time for the CMAT entrance exam is 180 minutes (3 hours). You have the freedom to choose the order of sections since there is no sectional time-limit in CMAT. You should also keep some time aside for revision before submitting the paper. Revising the paper will allow you to ensure that you have not missed anything in the paper.
Check Seating Arrangements: Thefirst thing that a candidate needs to do after reaching the exam centre is to check their seat firstly. Candidates will find the details regarding the seating arrangements in the notice attached either within the premises or on the exam centre gate. Candidates are advised to take their allocated seats immediately. They must not leave the examination hall before completion of the time.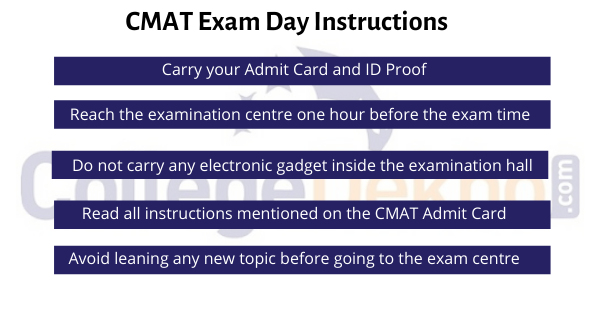 CMAT 2022 - Strategies to Crack the Test
(1) At first, read the questions carefully and mark the ones that can be attempted easily.
(2) Do not waste more than 2 minutes on a specific question and move on to the next. CMAT has a difficult marking scheme since one mark is deducted for every incorrect answer. Acknowledging this, candidates must leave the questions which are not attemptable.
(3) Candidates must ensure that they have enough time to revise and re-check the answers marked before submitting. 
(4) Finally, candidates must check if they have left any questions unanswered in haste.
CMAT 2022 Dress Code
NTA hasn't prescribed any dress code as such for the exam but candidates are advised to dress in a simple manner so that they do not have to face any extra checking at the CMAT exam centre. Some of the guidelines/ suggestions pertaining to the dress code for CMAT 2022 are as follows:
Plain jeans or trousers
Wear slippers and avoid shoes (closed footwear is not allowed in the exam hall)
T-shirts with no pocket
Candidates will be given a fresh 3 ply mask before entering. They will have to wear a face mask for the entire duration, before, during and after the exam
Jewellery is not allowed inside the exam hall
Hand sanitiser, transparent water bottle, mask and gloves, a simple transparent ballpoint pen, CMAT admit card with a self-declaration form and a valid ID proof, an original passport size photo to paste on the attendance sheet.
Footwear having thick soles and clothes with large buttons are not allowed inside the exam hall.
CMAT 2022 Exam Day- Documents to Carry to the CMAT 2022 Exam Centre
Applicants are required to carry certain documents to the CMAT exam centre. These are important for identity verification as well as for helping candidates take the exam. Here is a checklist of items candidates are required to carry to the CMAT exam centre.
COVID-19 self-declaration form
One Passport size photograph (same as uploaded with the Online Application Form) 
A valid Photo ID Proof in original (PAN card/ Driving License/ Voter ID/ Passport/ Aadhaar Card (With photograph)/E- Aadhaar/Ration Card/ Bank Passbook with Photograph)
Original and attested copy of valid PwD certificate issued by a competent authority, in case of a physically disabled candidate, if claiming relaxation under PwD category.
Note:
(i) ID Cards issued by Schools/ Colleges/ Universities/ Coaching Centres, AADHAR enrollment receipts without AADHAR NUMBER and PHOTOCOPIES OR Images Stored in mobile phones etc will NOT be accepted
(ii) No Candidate would be allowed to enter the Examination Centre, without identity verification.
COVID-19 Advisory: Items to Carry on CMAT Exam Day
Candidates appearing for CMAT 2022 are required to follow Covid-related guidelines strictly. The guidelines have been mentioned below:
(1) Use of sanitisers to be made compulsory.
(2) Wearing of masks to be made mandatory for safety purposes
(3) Candidates must follow social distancing before, during as well as after the commencement of the exam.
CMAT 2022 Exam Day- What Not to Carry to the CMAT 2022 Exam Centre
Candidates are prohibited from bringing the following personal belongings to the exam centre:
1. Instrument/ Geometry/ Pencil box, Handbag, Purse, any kind of Paper/ Stationery/ Textual material (printed or written material)
2. Eatables and Water (loose or packed)
3. Mobile Phone/ Ear Phone/ Microphone/ Pager
4. Calculator, DocuPen, Slide Rules, Log Tables, Camera, Tape Recorder
5. Watch including Electronic Watches having the facilities of calculator, any metallic item or electronic gadgets/ devices
CMAT 2022 Exam Day- What to Follow Inside the Examination Hall?
1. CMAT Admit Card is a mandatory document to be carried to examination hall.
2. Candidates will be provided pen/pencil and blank paper sheets for rough work in the examination hall. 
3. Candidates must write their name and Roll Number at the top of the sheet. It is necessary to return the sheets and Admit Card to the invigilator before leaving the examination hall.
4. Candidates must enter the required details in the Attendance Sheet, put their signature, Left Hand Thumb Impression and paste the Photograph at the mentioned place. The Left-Hand Thumb Impression must be clear and not smudged. 
5. If any candidate is caught adopting any unfair means during the examination, his/her candidature will be automatically cancelled without any notice  
We hope that these preparation tips will help you prepare well for CMAT. You can also prepare your own strategy that works for you by referring to the pointers given above. The most important tip is to be confident while answering questions.
CMAT 2022 Last Minute Preparation Tips
Let's look at some of the last-minute preparation tips for the CMAT 2022 exam that can help increase the chances of getting a good MBA college.
Schedule your Preparation: As each and every topic is important, you should put equal effort in all the sections. It is advisable to prepare a time table according to your strengths and weaknesses. You can divide the total time left in the ratio of 60-30 between topics that require more concentration and the topics that just need a quick look. Preparation of schedule will help you get an idea about the maximum time that you can allot to a section.
Previous Years Question Papers/ Mock Test: Spend maximum time on solving the mock tests and previous year question papers as it will help you gain more confidence. You will also get an idea about the level of problems that come up during the exam. There are many paid and unpaid mock series available over the internet that you can go through. Some websites also have previous year question papers of CMAT entrance exam that can be downloaded.
Online Study Groups/ Channel: YouTube is one of the trending platforms for exam preparation. There are many channels available on the platform that can help with the CMAT exam preparation. Some of these channels provide important questions for practice.
Crash Course: You can also choose to enrol for crash courses offered by some institutes. These courses have an average duration of 2-3 months that focus on providing quick revision strategies, mock tests and important questions. You are advised to review your current preparation level before deciding if you should enrol for the course or not.
Advance your calculating skills: As the Arithmetic section of all management entrance exams revolves around numbers, it is better to focus on the calculating skills. It will save time that you can use to solve other questions. Some of the questions might take too much time if you are not strong with your calculations.
Practise: Practice is the key to acing the entrance exam successfully. According to research, it is found that a candidate with a regular practice has a better success rate while solving questions as compared to candidates who are not regular.
All these strategies will take your preparation to the next level.
Also Read:Documents Required to Fill CMAT 2022 Application Form - Photo Specifications, Scanned Images
CollegeDekho wishes you Best of Luck for your CMAT exam preparation!
For admission-related assistance, fill our Common Application Form or call on our toll-free number 1800-572-9877.