A Bachelor of Business Administration (BBA) is counted among the most popular choices of undergraduate courses in India. There are numerous job opportunities after BBA in India, and a BBA student has excellent prospects for future growth. In fact, there are multiple reasons why a student should consider BBA for a career in management.
BBA is a dynamic undergraduate course and is kept updated as per industry requirements. BBA graduates are adept in skills including best management practices, finance, accounts, economics, marketing etc., which makes them highly valuable for businesses and industries. This is why BBA is one of the top management courses after 12th.
In this article, go through the best career opportunities after BBA in India, including the top recruiting areas and job profiles. For candidates who wish to stick to academics, there is a list of courses to consider given at the end.
Scope of BBA In India
BBA students are taught the fundamentals as well as advanced principles of management. The course does not stay limited to theoretical concepts, it also provides practical knowledge via internships and industry exposure. Not only that, but BBA also helps a student develop communication skills and supports the overall personality development of a student.
Job Opportunities after BBA in India
BBA colleges in India design as well as teach the course with the primary motive of making a student industry-ready and providing them with the necessary skills to start a career. Therefore, the course has a wide scope and plenty of job opportunities are available to BBA graduates in the market.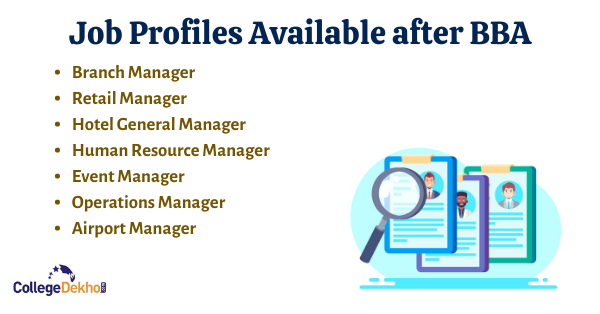 Top Recruiting Areas after BBA in India
BBA graduates are trained in a variety of skills and hence can take up career opportunities in a number of areas in the private as well as government sector. Given below are some common areas of employment after BBA.
Aviation, Media, Manufacturing, Digital Marketing, Advertising etc. are some other sectors that can be considered after completing a BBA course. It can be clearly observed the versatile nature of the BBA course from the sheer scope of career opportunities that the course opens up for its graduates.
If a candidate has decided on going for a particular field after BBA, they can look for a desirable BBA specialization that can help them become an expert and grab better career opportunities in the field.
Top Job Profiles after BBA in India
Given below are some of the most popular job profiles offered to BBA graduates in India.
Looking for information about BBA admissions? Check the articles given below.
Higher Studies and Courses after BBA in India
Many students also prefer to go for higher studies after completing the BBA course. Since BBA is a well-recognized 3-year bachelor's degree course, it allows candidates to look for higher study options in multiple fields. Here are some of the popular courses to consider after completing a BBA.
Also Read:BBA Colleges Offering Direct Admission Without Entrance Test
Salary After BBA
The salary for a BBA graduate can depend on several factors such as their area of employment, academic aptitude, the reputation of their college and the choice of specialization. Given below are the details regarding the average salary after BBA in India.
| | |
| --- | --- |
| Average Starting Salary after BBA | Rs. 2 - 3 LPA |
| Salary Package in Top BBA Colleges | Up to Rs. 6 - 10 LPA |
| Average Salary after BBA | Rs. 4.5 LPA |
The average salary for various profiles after BBA in India.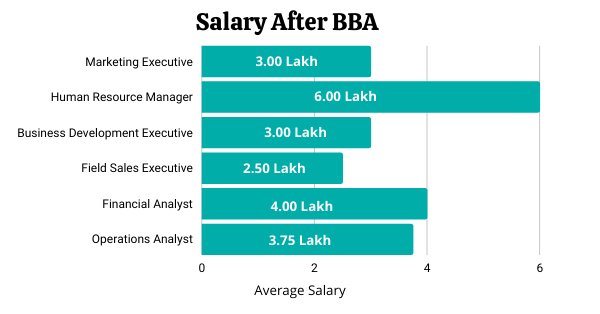 | | |
| --- | --- |
| Profile | Average Salary |
| Marketing Executive | Rs. 3 LPA |
| Human Resource Manager | Rs. 6 LPA |
| Business Development Executive | Rs. 3 LPA |
| Field Sales Executive | Rs. 2.5 LPA |
| Financial Analyst | Rs. 4 LPA |
| Operations Analyst | Rs. 3.75 LPA |
Tips to Get Best Jobs after BBA
Here are some tips you should keep in mind when considering career opportunities after BBA in India.
If you still have any doubts, ask them on the CollegeDekho QnA Zone and get personalised solutions from our experts.
If you need help with admissions to the right BBA college, just fill our Common Application Form (CAF) or dial 1800-572-9877 for free student counselling.