Jobs after BBA are numerous and the students have excellent prospects for future growth. BBA graduates are adept in skills including best management practices, Finance, Accounts, Economics, Marketing, etc., which makes them highly valuable for businesses and industries. This is why BBA is one of the top management courses after class 12th.

BBA is a dynamic undergraduate course and is kept updated as per industry requirements, which increases the BBA scope across the industry. The full form of BBA is Bachelor of Business Administration. It is counted among the most popular choices of undergraduate courses in India. In fact, there are multiple reasons why a student should consider career options after BBA.
In this article, go through the best BBA job opportunities, and career options in India, including the top recruiting areas and job profiles. For candidates who wish to stick to academics, there is a list of courses to consider given at the end.
Also Read: List of Top BBA Specialisations, Best BBA Courses
BBA Scope in India
BBA students are taught the fundamentals as well as advanced principles of management. The course does not stay limited to theoretical concepts, it also provides practical knowledge via internships and industry exposure. Not only that, but BBA also helps a student develop communication skills and supports the overall personality development of a student. In addition, jobs after BBA and BBA course salary, be it in India or abroad, have turned out to be quite lucrative. 
Jobs after BBA in India
BBA colleges in India design as well as teach the course with the primary motive of making a student industry-ready and providing them with the necessary skills to start a career. Therefore, the course has a wide scope, and plenty of jobs after BBA in India are available in the market. Candidates who wish to start a job after BBA can take up any of the following after BBA job opportunities.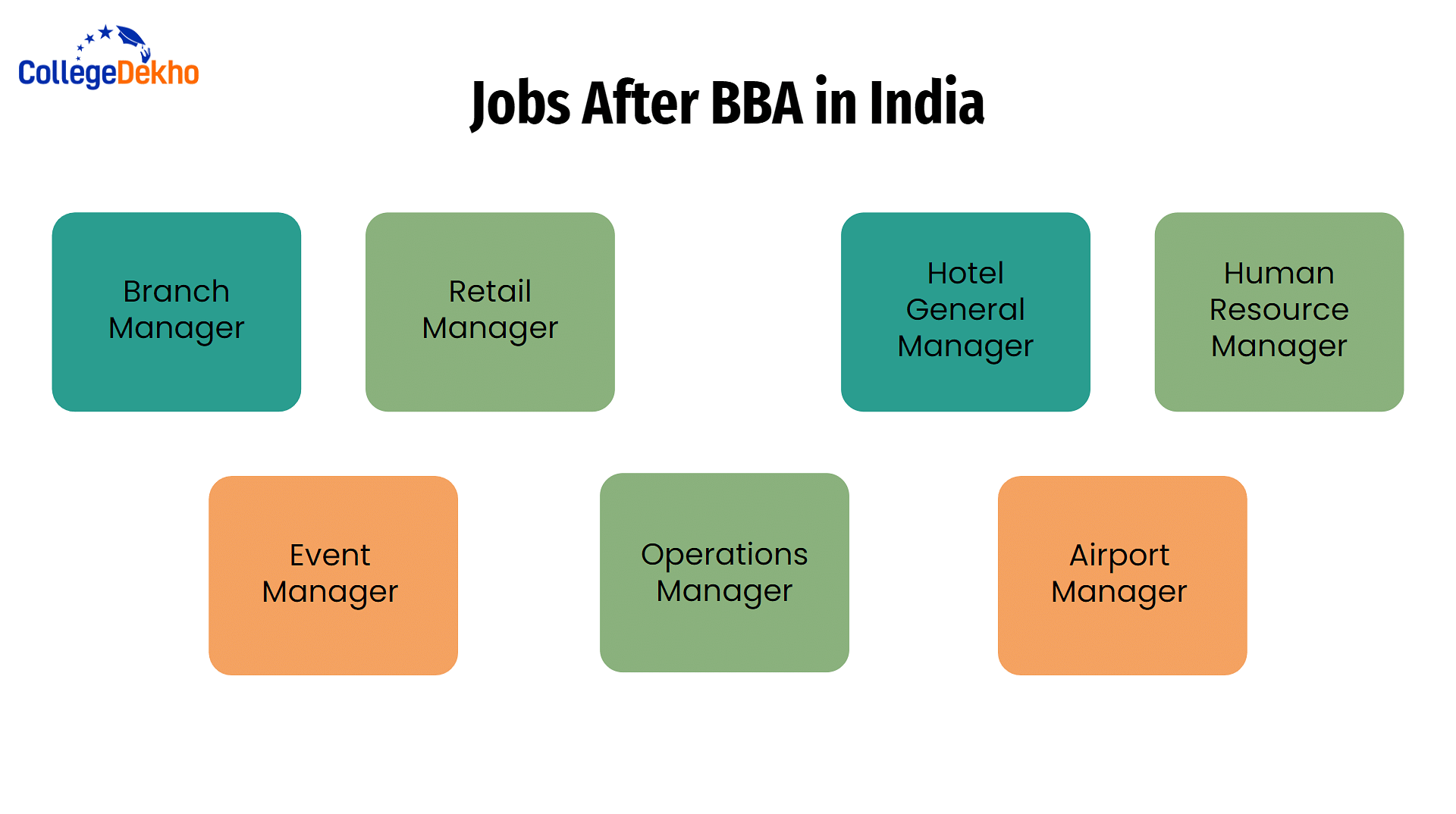 Best Jobs After BBA and BBA CourseSalary
There are many students who make the decision of starting a job after BBA. Many aspirants successfully grab the best jobs after BBA and BBA course salary packages are lucrative. Graduates bag great offers based on how strong their fundamentals are and what specialization they possess. Initially, the jobs after BBA and salary depend on the job profile, and later based on the student's experience, it further increases, adding to career growth. During the first and second years of the BBA course, various specializations are offered to aspirants like Finance, Marketing, Sales, Human resources, Operations, etc.
Jobs after BBA in India: Top Recruiting Areas
BBA graduates are trained in a variety of skills and hence can take up BBA job opportunities in a number of areas in the private as well as government sectors. Given below are some common areas of jobs after BBA.
Banks, Financial Services, and Insurance (BFSI) Sector: BFSI is one of the major recruiters for BBA graduates. The finance, accounting, and economic skills learned during the course are highly required in this sector.
Sales & Marketing: Marketing is another popular area for jobs for BBA graduates. Private organizations and startups often hire BBA freshers for entry-level positions. While these positions don't offer the most alluring salary packages, they do provide excellent learning opportunities and experience.
Finance and Accounting: Finance and Accounting department is another area where BBA graduates shine. There are several key areas in this sector in which a BBA graduate can look for career options.
Human Resource Management: HR departments are a must in all major organizations and businesses. HR Management is taught as part of the BBA course curriculum and businesses prefer BBA graduates for this department.
Tourism Management: Candidates who have an interest in travelling can look for several jobs after BBA in this sector after completion of the course.
Supply Chain Management: SCM is a popular choice for management graduates. It is a field mostly relevant to industries and production houses.
Business Consultancy: While the role of a Business Consultant is mostly offered to experienced professionals or MBA degree-holders, BBA graduates can be hired at entry-level trainee or internship roles. The experience earned here can pave the way for high-paying career opportunities and lucrative after bba job opportunities.
Investment Banking: Investment Banking is another field in which a BBA graduate can choose to start their career. It is a challenging field but higher studies will be required to grow in this field.
E-Commerce: The influence and share of e-commerce are steadily increasing as is the number of transactions made on e-commerce platforms. Many service aggregators today are also combining the brick-and-mortar marketplace with online platforms in what is called a hyperlocal delivery system. BBA graduates can also look to start a career in these companies.
Information Technology (IT): IT Management is another popular area of employment for BBA graduates.
Government Jobs: A BBA graduate can consider several Government Jobs after BBA. Government jobs offer good security, status, and growth potential.
Aviation, Media, Manufacturing, Digital Marketing, Advertising, etc. are some other sectors that can be considered after completing a BBA course for students who want to start a job after BBA. It can be observed The versatile nature of the BBA course from the sheer scope of BBA job opportunities that the course opens up for its graduates.
If a candidate has decided on going for a particular field after BBA, he/ she can look for a desirable BBA specialization that can help the concerned individual become an expert and grab better career opportunities in the field.
Top Job Profiles after BBA in India
After BBA what can I do? The answer to this question is that the BBA scope in India is huge and there are ample opportunities available. Given below are some of the most popular BBA job profiles offered to graduates in India. Students who want to start a job after BBA to gain work experience can start their careers in any of the following roles: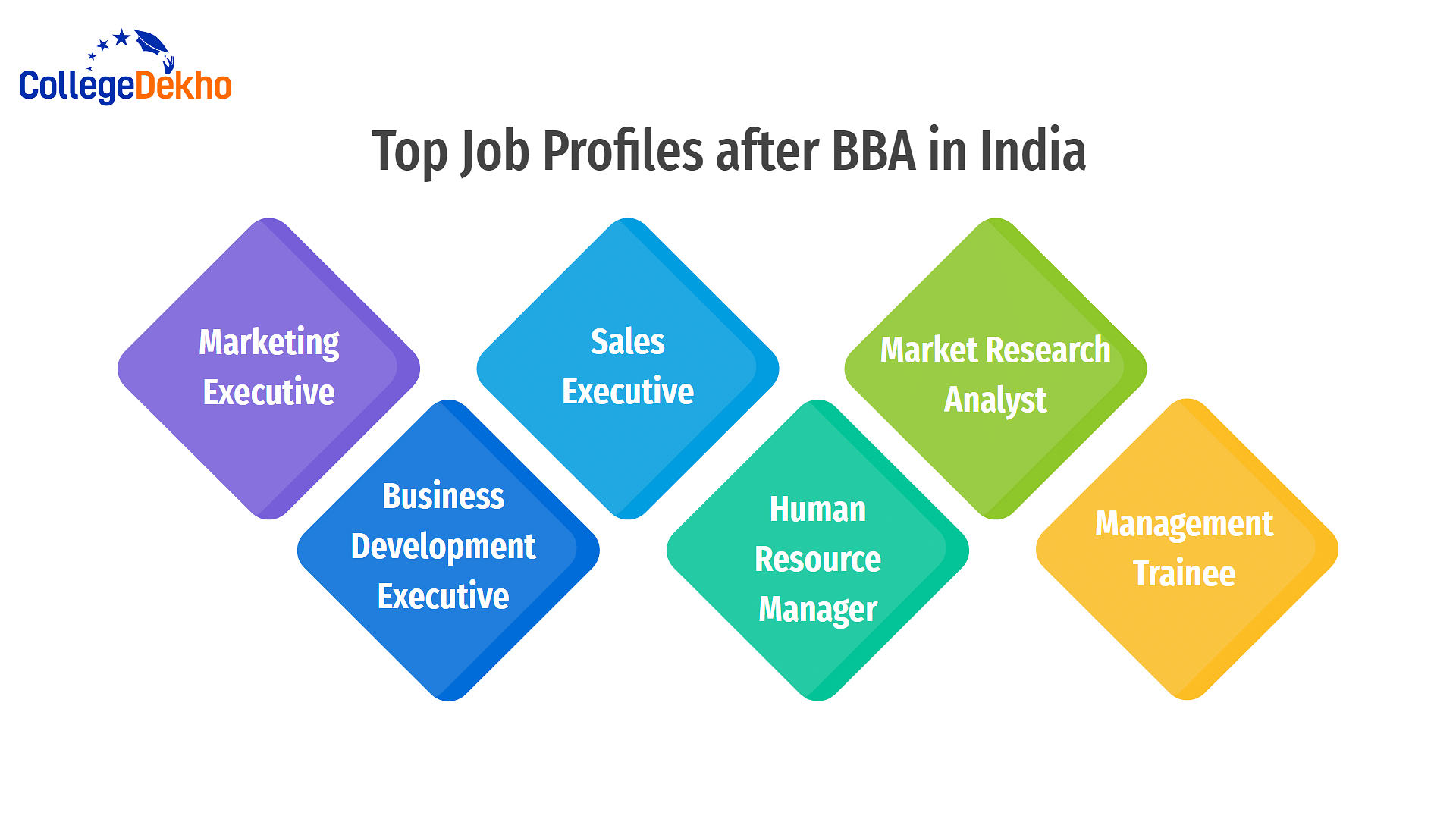 Looking for information about BBA admissions? Check the articles given below.
Jobs after BBA Based on Specializations
The BBA specialization area that a student pursues affects their employment prospects as well. There are various specializations when it comes to a Bachelor of Business Administration course. Human resource management, finance, international business, banking and insurance, marketing, information technology, and others are a few of the most popular specializations that are available to students who aspire to pursue a career in management. Each specialization focuses on a key area of a company. It is up to the student to choose which area they wish to specialize in when pursuing their BBA course. That being said, let us take a look at some of the popular job roles for each of the BBA specializations that candidates are known to pursue often during their degree course.
BBA Marketing Jobs
The BBA in Marketing program seeks to equip applicants with a thorough understanding of all marketing theories and tactics. The goal of this course is to maximize profit by incorporating marketing techniques to advertise their goods and services. Career options with companies like State Bank of India, Tata Consultancy Services, Infosys, etc. are available through BBA Marketing. Some of the job profiles in India for BBA Marketing grads are shown in the table below.
| | |
| --- | --- |
| Job Role/Position | Average Annual Salary (INR) |
| Advertising Manager | 17.28 Lakhs |
| Brand Manager | 10.92 Lakhs |
| Market Research Analyst | 3.43 Lakhs |
| Marketing Executive | 3.90 Lakhs |
BBA Finance Jobs
The most common specialization and one of the most popular courses is the BBA in Finance. This course imparts knowledge and abilities linked to business strategy, cost accounting, investments, insurance, etc. Following completion of the BBA Finance program, individuals may find employment in a variety of fields, including mutual funds, commercial and investment banking, life insurance, and healthcare. Some of the job profiles in India for BBA Finance grads are shown in the table below.
| | |
| --- | --- |
| Job Role/Position | Average Annual Salary (INR) |
| Tax Assistant | 2.41 Lakhs |
| Loan Officer | 2.55 Lakhs |
| Financial Manager | 12.84 Lakhs |
| Credit Analyst | 17.50 Lakhs |
BBA Human Resources Jobs
A BBA specialization in Human Resource Management helps students know more about numerous management, administration, and human resource principles. Additionally, this training aids in fostering the growth of vital competencies for the organization's improved operation. The human resource manager, talent acquisition manager, IT recruiter, human resource coordinator, administrative executive, etc. are just a few of the profitable careers available through this training. Some of the job profiles in India for BBA Human Resource Management grads are shown in the table below.
| | |
| --- | --- |
| Job Role/Position | Average Annual Salary (INR) |
| Trainee HR Management | 3.13 Lakhs |
| Public Relation Manager | 5.87 Lakhs |
| Human Resource Manager | 8.74 Lakhs |
| Human Resource Executive | 2.67 Lakhs |
BBA International Business Jobs
A comparatively newer BBA specialization, a BBA in International Business helps aspirants with an improved understanding of business and cultural topics which is beneficial for business management, international business practices, and other areas of business. The career chances are not as plentiful as they are in other sectors, and this one has some of the highest competition. Candidates may work as a marketing manager, management analyst, economist, etc. Some of the job profiles in India for BBA International Business grads are shown in the table below.
| | |
| --- | --- |
| Job Role/Position | Average Annual Salary (INR) |
| Procurement Manager | 12.20 Lakhs |
| Human Resources Officer | 3.90 Lakhs |
| Business Analyst | 6.04 Lakhs |
| Business Advisor | 11.52 Lakhs |
Courses and Higher Studies after BBA in India
Many students also prefer to go for higher studies after completing the BBA course. Since BBA is a well-recognized 3-year bachelor's degree course, it allows candidates to look for higher study options in multiple fields. Here are some of the popular courses to consider after completing a BBA.
Master of Business Administration (MBA): An MBA degree is one of the best options after completing BBA. A BBA graduate may go for an MBA for the following reasons:

to specialize in a particular sector.
to increase market value and earnings.
becoming eligible for better career opportunities.

Master of Management Studies (MMS): MMS is a course quite similar to MBA and offers similar benefits.
Post Graduate Diploma in Management (PGDM): PGDM shares an almost common course curriculum with an MBA degree. However, PGDM has more specialization and can be a much more dynamic course than an MBA. Check the differences between MBA and PGDM to know more.
Post Graduate Programme in Management (PGPM): PGPM is a 1-year certificate course that is designed while keeping in mind the needs of working professionals.
Bachelor of Law (LLB): Pursuing LLB is another interesting choice for BBA graduates and many prefer it to gain entry into the field of Corporate Law.
Bachelor of Education (BEd): Management graduates who wish to take up academic roles have to go for a BEd degree. After that, they become eligible to join educational institutes as per their qualifications and interests.
Chartered Accountant: BBA graduates gain plenty of theoretical knowledge in the fields of Economics and Accounting, which makes them good candidates for a Chartered Accountant (CA) course.
Also Read: BBA Colleges Offering Direct Admission Without Entrance Test
BBA Salary in India
Jobs after BBA and BBA course salary depend on several factors such as their area of employment, academic aptitude, the reputation of their college, and the choice of specialization. Candidates who wish to get after BBA job opportunities must know their prospects thoroughly. Given below are the details regarding the average BBA salary in India.
| | |
| --- | --- |
| Average Starting BBA Salary in India | Rs. 2 - 3 LPA |
| Salary Package in Top BBA Colleges | Up to Rs. 6 - 10 LPA |
| Average Salary after BBA | Rs. 4 - 5 LPA |
The average salary for various profiles after BBA in India can be found below:
| | |
| --- | --- |
| BBA Job Profiles | Average BBA Salary in India |
| Marketing Executive | Rs. 3 LPA |
| Human Resource Manager | Rs. 6 LPA |
| Business Development Executive | Rs. 3 LPA |
| Field Sales Executive | Rs. 2.5 LPA |
| Financial Analyst | Rs. 4 LPA |
| Operations Analyst | Rs. 3.75 LPA |
Jobs After BBA: Top Recruiters
Candidates can get ample jobs after BBA in both government and private sectors. Here's the list of top recruiters providing job opportunities after BBA in India.
Government Companies

Private Companies

Oil and Natural Gas Corporation
Indian Space Research Organization [ISRO]
Steel Authority of India Limited [SAIL]
Gas Authority of India Limited [GAIL]
Defense Research and Development Organization [DRDO]
National Thermal Power Corporation Limited [NTPC]
Bharat Heavy Electrical Limited [BHEL]
Mahanagar Telephone Nigam Limited

Microsoft
Tata Consultancy Service
Infosys
Capgemini
Genpact
IBM
HDFC
Deloitte
Career after BBA: Exams/ Extra Courses and Salaries
Aspirants can find career options and jobs after BBA and salary, the exams, and courses in the table prescribed below.
| | | |
| --- | --- | --- |
| BBA Job Profiles | Exam/ Extra Courses | Starting Salary (per annum in INR) |
| MBA | CAT, XAT, and other exams | NA |
| Teaching | NA | Varied |
| Public Services | Govt. Exams (SSC/UPSC) | INR 6 lakh to 9 lakhs |
| BlockChain Expert | Certifications | INR 10 lakhs |
| Foreign Embassies | Language Courses as per country | Varied |
| Information Technology | Depends on interest | Varied |
Tips to Get the Best Jobs after BBA
Here are some tips you should keep in mind when considering the best job opportunities after BBA in India.
Identify your strengths and pick a field you would be interested in.
Look for certification courses in your preferred field. A certification course in subjects such as Management Information Systems (MIS) or MS Excel can do wonders for your profile.
Build a strong resume. Here are 10 Resume Tips for BBA Students to help you get started.
Don't rely solely upon on-campus placements. Apply to additional companies as well.
Candidates must check out the following articles to know more about BBA, BBA scope in India and abroad, and more.
Related Articles:

If you need help with admission to the right BBA college, just fill out our Common Application Form (CAF) or dial 1800-572-9877 for free student counselling. If you still have any doubts, ask them on the CollegeDekho QnA Zone and get personalized solutions from our experts.