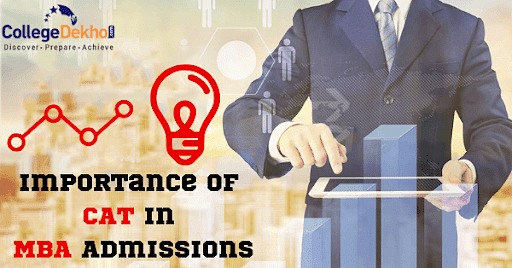 Importance of CAT in MBA Admissions: As everyone is aware, the CAT exam is the most difficult to pass in order to enroll in a reputable institution offering an MBA or PGDM in India. It is a crucial competitive exam for academic performance that will be employed to shortlist candidates for different stages of the MBA admissions process. It assesses a student's aptitude as well as aids in the planning and development of a successful academic career. It is also significant for PGDM/MBA admissions since it primarily evaluates candidates' time management skills and their capacity to remain calm under pressure.

Taking the CAT 2023 exam is beneficial because it is accepted by almost every business school in India; it ensures admission to top B-Schools that help in transforming the students into management professionals; it ensures excellent internship opportunities and placement offers with high salary packages, and it equips the candidates with the skills to cope with the complexity and challenges of the corporate industry.

CAT is just not a gateway to acquiring competency in Management, it is more than that. It helps an individual develop basic Mathematical, Reasoning, Aptitude, Verbal, and Reading skills and instills the capability and confidence to perform under pressure. Taking the CAT exam for MBA prepares candidates to apply those skills and knowledge during the course and become top Management professionals across the globe.

The CAT is the most coveted management entrance exam in India conducted by IIMs for admission into postgraduate Management courses in India. Apart from IIMs, there are over 1000 management colleges in India that accept CAT scores for MBA/PGDM admission. Candidates preparing for the CAT 2023 exam for MBA admission, which is to be held on November 26, 2023, must leave no stone unturned in cracking the exam and securing a seat in premier business schools in the country. The CAT registration 2023 began on August 2, 2023. Having said that, let's know the importance of CAT in MBA admissions and how it can shape your career. We will also discuss other management entrance exams that can get you seats in top business schools other than IIMs.
Also Read: 
What Can CAT Do to Your MBA Admissions?
The CAT exam is a crucial requirement for students who want to enroll in MBA programs in India. Candidates will be benefited in the following manner by taking the CAT exam:
When you decide to take the CAT exam, you will be introduced to a variety of topics, like mathematical ability, which encompasses number systems, asthmatics, and much more, to help you think logically.

Your business and management abilities will be strengthened by the CAT Exam, enabling you to succeed both professionally and personally.

You will be able to select from among India's top business management schools once you have passed the CAT exam. You will put your practice into action as you begin pursuing MBA and you are presented with actual corporate and business situations.

By analyzing the advantages of various corporate resources, the CAT exam may help you obtain extra skills and the appropriate tools for handling challenging projects, get an insight into best practices, and assist you in making the best judgments under any circumstance.

After finishing the CAT course, one is equipped with all the abilities required for establishing a solid foundation for pursuing an MBA.

Competitive B-schools want intelligent students who can pursue their MBA courses with high cognitive abilities; as a result, the CAT exam will develop the student's analytical thinking and provide them with the skills and abilities.

Because the CAT Exam is all about time and stress management, it will assist you in making wise decisions.

You will be able to master the art of skill management and be a practical problem solver as you get ready for the CAT exam.

Your communication skills also advance since the CAT Exam includes rounds for group discussions and personal interviews.
In conclusion, the CAT Exam is regarded as the perfect gateway to begin your MBA career. It evaluates a candidate's aptitude, analytical ability, and problem-solving capabilities, all of which are highly regarded in the management industry. Students who want to pursue an MBA should thus study diligently for the CAT test and aim for high scores in order to gain admission to some of India's top management schools. Students who enroll in MBA programs at colleges that accept CAT scores benefit from outstanding options for education, exposure to the industry, and job placement opportunities.
Why is CAT Important for MBA Admissions?
If you are aiming to get into IIMs and receive top-class management education, then it is crucial for you to take the CAT exam for MBA admissions. Let's explore some of the top reasons why CAT is important for MBA admissions in India.
1. Widely Accepted National-Level Exam in India
As mentioned above, over 1000 management colleges in India accept scores of the CAT exam for MBA admissions other than the IIMs. Some of the prestigious names include Jamnalal Bajaj Institute of Management Studies (JBIMS),Faculty of Management Studies (FMS) - University of Delhi, Xavier School of Management (XLRI) Jamshedpur, Institute of Management Technology (IMT) Ghaziabad, Management Development Institute (MDI) Gurgaon, Indian School of Business (ISB) Hyderabad, DMS IIT Delhi, SJMSOM IIT Bombay, and Indian Institute of Foreign Trade (IIFT Delhi) among others. These colleges offer the best teaching & educational facilities, industrial exposure, practical training, placement opportunities, and ROIs.
2. CAT Participating Colleges Offer Excellent Placement Opportunities
All the above-mentioned B-Schools not only offer an excellent range of postgraduate management programmes but they've also witnessed phenomenal placements year after year. If the figures of the past years are anything to go by, some of the IIMs have recorded 100% placements, with salary package offers going up to Rs. 90 lahks per annum. Another advantage of qualifying for the CAT exam for an MBA is that it opens the door to bright internship opportunities in top management institutes which are extremely promising for candidates in terms of receiving pre-placement offers (PPOs).
3. Most CAT-Accepting Colleges Are Brand Names in the Industry
Most of these colleges accepting scores of the CAT exam for MBA admissions have become brand names in the business world where some of the most popular companies come and hire managers year after year. Once shortlisted for admission into an MBA college, candidates should, therefore, study hard to sharpen their managerial skills and gear up to climb up the corporate ladder post the completion of their programs. MBA graduates from these top business schools can find managerial roles in any sector with lucrative salaries and other benefits.
4. CAT Tests Candidates Based on their Knowledge & Skills
Apart from being a passport for entry into these premier business schools, CAT is basically an entrance exam that evaluates candidates on many levels to see how well they can cope with the pressures of the corporate world. The CAT exam for MBA is designed to shortlist highly qualified candidates on the basis of their knowledge and skills related to Quantitative Aptitude (QA), Data Sufficiency, Data Interpretation (DI), Verbal Ability, Reading Comprehension, Logical Reasoning, and Analytical Reasoning.
But are all these reasons enough to take the CAT exam? Can a candidate get admission into MBA courses just on the basis of CAT scores? What are the other criteria for securing a seat in IIMs and other top B-schools in India? Let's find out below.
How is CAT not the Only Criterion for MBA Admissions?
While all the above reasons may seem enough to take the CAT exam for MBA, a good score in it will not be the only criterion to get admission into IIMs or other top business schools in India. A candidate will be evaluated on various other aspects as well to offer an MBA seat. Their profiles are closely assessed before selecting them for the management courses.
During the selection rounds in MBA admissions, candidates' personal, academic, and work experiences are given equal importance. The Group Discussion (GD), Personal Interview (PI), and Written Ability Test (WAT) rounds, which are usually conducted post the entrance exams for qualified candidates, have enough weightage to make or break the deal.
So, even if you are not being able to crack CAT, it does not mean the end of the world. You can still fulfill your dream of pursuing an MBA degree from premier institutes that accept scores of other national, state, and university-level management entrance exams apart from the CAT. Check out the details about other entrance exams for MBA admissions in India.
Top MBA Entrance Exams in India Other than CAT
CAT is certainly the biggest and the most important MBA entrance exam but this doesn't take away the fact it is not the only option to pursue management education in India. The choices are endless, and all that students need to do is just widen their horizons. Know about other management entrance tests other than the CAT exam for MBA admissions in India.
Top National-Level MBA Entrance Exams in India
Below mentioned are the Top National-level MBA Entrance Exams in India -
| | | | |
| --- | --- | --- | --- |
| Exam Short Name | Exam Full Name | Conducting Body | Frequency |
| | Graduate Management Aptitude Test | Graduate Management Admission Council (GMAC) | All around the year |
| | AIMS Test for Management Admissions | | 4-5 times a year |
| | Management Aptitude Test | | Multiple times a year |
| | Common Management Admission Test | National Testing Agency (NTA) | Once a year |
| | Xavier Aptitude Test | XLRI, Jamshedpur | Once a year |
| | NMIMS Management Aptitude Test | Graduate Management Admission Council (GMAC) | Once a year (74-day test window) |
Top State-Level MBA Entrance Exams in India
Below mentioned are the Top State-level MBA Entrance Exams in India -
| | | | |
| --- | --- | --- | --- |
| Exam Short Name | Exam Full Name | Conducting Body | Frequency |
| | Maharashtra Common Entrance Test | State Common Entrance Test Cell, Maharashtra | Once a year |
| | Telangana State Integrated Common Entrance Test | | Once a year |
| | Andhra Pradesh Integrated Common Entrance Test | | Once a year |
| | Tamil Nadu Common Entrance Test | | Once a year |
| | Karnataka Management Aptitude Test | Karnataka Post Graduate Private Colleges' Association (KPPGCA) | Once a year |
| | Odisha Joint Entrance Examination | OJEE Board (OJEEB) | Once a year |
Top University-Level MBA Entrance Exams in India
Below mentioned are the Top University-level MBA Entrance Exams in India -
| | | | |
| --- | --- | --- | --- |
| Exam Short Name | Exam Full Name | Conducting Body | Frequency |
| | Symbiosis National Aptitude Test | | Once a year |
| | Indian Institute of Foreign Trade Exam | National Testing Agency (NTA) | Once a year |
| | Tata Institute of Social Sciences National Entrance Test | | Once a year |
| | Mudra Institute of Communications Admission Test | | Twice a year |
| | Indraprastha University Common Entrance Test | | Once a year |
Top MBA Colleges Accepting CAT Scores
Provided below are some colleges students can consider to take admission through the CAT exam for MBA courses.

Other top B-Schools accepting CAT scores include:
The tag of IIM grad can get you immense respect in society and bring excellent career opportunities in any sector. And not just IIMs, but graduating from some of the prestigious colleges that accept CAT exam scores for MBA admissions like ISB, FMS, SPJIMR, and MDI Gurgaon can get you high-paying jobs in some of the biggest organizations. You can also fulfill your dream of becoming an entrepreneur and start your own venture.
Related Articles:

Candidates looking for admission into any of the above-mentioned colleges or any other MBA colleges in India can fill out our Common Application Form. Besides this, if you have any questions related to the CAT examination, feel free to ask them in our Collegedekho QnA zone.