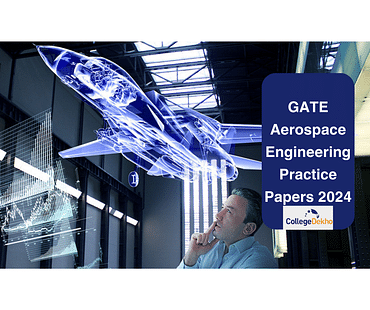 GATE Aerospace Engineering Practice Papers 2024: Indian Institute of Science Bangalore will conduct GATE 2024 exam on February 3, 4, 10 and 11, 2024. With just a few months left for the GATE exam, candidates must be anticipating solving GATE practice questions in order to check their level of preparation. GATE practice papers must be strategically utilised by every aspiring candidate to measure their knowledge of the basic concepts. Every aspirant can check this article to download the GATE practice questions 2024 for Aerospace Engineering for both the sections i.e. the general aptitude and the core subject. 
GATE Practice Papers for Aerospace Engineering 2024 - PDF Download (Core Subject)
Candidates preparing for GATE aerospace engineering can click the download link given in the below table for the core subject. Every student can make use of the GATE practice questions given in the PDF to improve their preparation level and master the subject.
GATE Practice Questions for Aerospace Engineering - Click Here 
GATE Practice Questions 2024 for Aerospace Engineering - PDF Download (General Aptitude)
General aptitude section of GATE is quite important as it tests the candidates basic numeracy skills and also helps in increasing their score. A candidate scoring a decent mark in the general aptitude section can expect to successfully clear the GATE exam. Candidates can check the link provided in the below table to download the general aptitude GATE practice papers. 
GATE Practice Papers for General Aptitude - Click Here
GATE Aerospace Engineering Syllabus
The syllabus of GATE aerospace engineering is an important component of every candidate's preparation plan. A thorough understanding of the GATE aerospace engineering syllabus assists candidates in knowing what are the important topics that one has to study for the exam. The syllabus of AE paper can be downloaded by candidates from the below link provided in the table.
GATE Aerospace Engineering Important Topics 
Aspirants can check the important topics of aerospace engineering in the below table.
Sections

Important Topics

Engineering Mathematics

Matrix Algebra
Partial Differential Equations
Integration
Chain Rule
Partial Derivatives

Flight Mechanics

Pressure Altitude
Primary Flight Instruments
V-n Diagram
Hinge Moments
Wing Dihedral
Winds
Equations Of Motion
Decoupling Of Longitudinal And Lateral-Directional Dynamics

Space Dynamics

Kepler's Law

Aerodynamics

Dimensional Analysis And Dynamic Similarity
Airfoil Nomenclature
Thin Airfoil Theory
Kutta Condition
Prandtl Lifting Line Theory
Rayleigh Flow
Prandtl-Meyer Flow
Shock -Boundary Layer Interaction
Isentropic Flows

Structures

Three-Dimensional Hooke's Law
Failure Theories
Castigliano's Principles
Loads On Aircraft
Structural Dynamics
Theory Of Elasticity
Airy's Stress Function

Propulsion

Thermodynamics
Aerothermodynamics Of Aircraft Engines
Turboshaft Engines
Turbomachinery
Rockets
Turbine Blade Cooling
Surge And Stall
GATE Aerospace Engineering Previous Year Question Papers
Candidates can check the previous year questions papers of GATE aerospace engineering in the below table.
| Previous Year Question Paper | PDF Download |
| --- | --- |
| 2023 AE Question Paper | |
| AE 2022 Question Paper | |
| AE Question Paper 2021 | |
| 2020 Question Paper of AE | |
| AE 2019 Question Paper | |
Also Read: GATE Aerospace (AE) Question Papers

Preparing for the AE paper requires a planned approach and candidates who will be taking the GATE 2024 exam must make use of the GATE practice questions during their preparation, With the help of the GATE practice papers. Candidates will be able to analyse the difficulty level of the questions asked in GATE and also keep a track of the major topics from where questions are asked every year. 
Also Read: