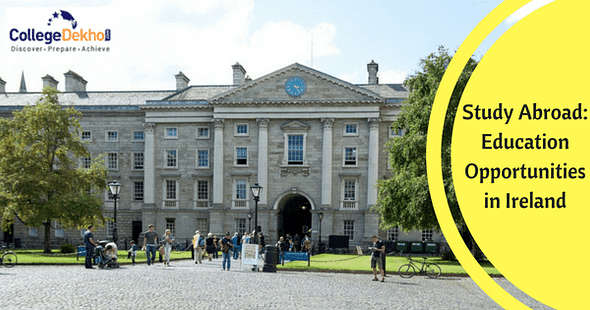 Indian students have favoured studying abroad, especially, for pursuing master programmes. The trend of leaving the country for postgraduate courses was observed more frequently in metro cities. However, Indian students from different cities have now started considering overseas education for better exposure and global educational experience.
Although the USA, Canada, Australia and the UK are the most popular study abroad destinations, Ireland has emerged as one of the popular destinations for overseas education due to favourable conditions for international students. Ireland has not gone unnoticed amongst Indian students who seek overseas education and 2,500 Indians are currently studying in Ireland.
Senior Education Adviser with Education in Ireland, Barry O'Driscoll, talked about the education opportunities in Ireland and the requirements for a visa for Indian students who are looking forward to applying for Irish Universities.
Following are the Advantages of Studying in Ireland for International Students:
1. Universities with Excellent Global Rankings: Universities in Ireland rank among the top 5% of the global universities. Whereas, in the field of research, the universities rank among the top 1% of the global universities and offer world-class education to the students.
2. Student-friendly environment: Since the native language in Ireland is English, Indian students find it easy to adjust to the new culture. Being a multicultural society, Ireland welcomes all international students and makes them feel welcome and safe.
3. Currency Friendly: The country also offers good value for money as compared to the UK. Since the Brexit vote, the number of international applications received by the country has increased.
4. Job Opportunities for International Students: Ireland offers a two-year stay back the option to international students pursuing master's programme and allows them to take up jobs and earn in the country. This scheme is very beneficial for students who take loans.
5. Diverse Programmes: There are a total of 34 higher educational institutes in India that offer 5,000 different academic programmes. This wide spectrum of programmes enables the students to pursue the courses of their choice.
6. Visa Assistance: Visa Officers of Ireland offer assistance to students and aspiring students in order to help them acquire a student visa. Officials of the country have also been working closely with the Indian visa office to help students get through.
7. Scholarships: Ireland offers more than 200 scholarships to Indian students on the basis of merit and academic background. The procedure of awarding scholarship may vary from institute to institute.
Also Read:Online Training for Teachers to be Organised at Australian Business Week 2017 for Indian Students
Pursuing masters in Ireland is one of the overseas opportunities that Indian students can consider. With popular courses in the field of engineering, management, digital marketing, biomedical science, etc. there are various options that students can choose from and pay off their education loans by taking up jobs in Ireland for two years.
Top Colleges in Ireland You Should Consider
Since Ireland is a top choice for students who wish to pursue higher education overseas, then you must check out some of the top colleges in Ireland.
Name of College

Course Offered

Bachelors Degree Streams

Masters Degree Streams

Engineering

Engineering

Applied and Pure Science

Commerce

Business Management

Humanities and Arts

-

Business Management

-

Applied and Pure Sciences

Hospitality and Leisure

Applied and Pure Sciences

Engineering

-

Applied and Pure Sciences

-

Commerce

-

Business Management

-

Applied and Pure Sciences

These streams can be found across UG and PG levels.

Commerce

Engineering

Engineering

These streams can be found across UG and PG levels

Social Sciences

Humanities and Arts

Law

Education and Training

Humanities and Arts

-

Health and Medicine
These are a few colleges where you can apply for your undergraduate or postgraduate studies. Visit our Study Abroad page of CollegeDekho and read more about international universities and colleges on offer.
Also Read: Decline in Number of Indian Students Applying for UK Visa Approval
With a good academic record, qualifying marks in the English language test and a little guidance, you can secure admission in either of the higher education institutes in Ireland.
With Inputs from NDTV