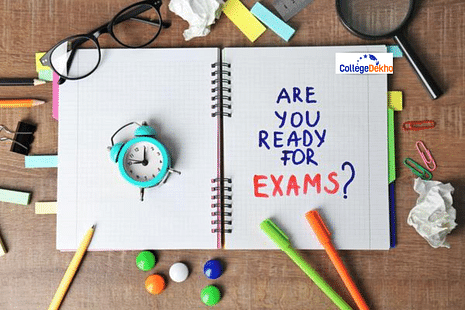 Securing a 90% or higher grade in your Class 12 examinations is a commendable achievement and at this moment every student taking the board examinations might be having this question "How to get 90% in Class 12?". To achieve this goal, students need to put in extra effort and study hard day & night. Nevertheless, it must be noted that merely increasing your study hours is not how you can achieve 90+ percent in class 12. The key to excelling in the exam lies in diligent work combined with a strategic preparation plan. To help you out we have prepared the preparation plan which will help to score 90% in class 12. Students, please go through the article below.
How to Score 90% in Class 12?
Students must note that most of the 12th board exams are in less than 6 months. This year, all the boards have asked students to prepare the complete syllabus. The switch from online to offline lectures, as well as the new syllabus and exam pattern, must make it challenging for students to study for the board exams. Students are advised to start their 12th board exam preparation in a more intelligent manner since there are not many days left before the exams commence. To solve your doubt, "how to score 90% in class 12?", here we've shared a few tips & tricks in this article that will help you with your overall preparations. Take a look:
1. Give each subject enough time:
The first and most important step in preparing for your board exams is to create a study schedule that includes all of the important subject-wise topics as well as enough time to cover the entire syllabus. You should plan your time according to each subject's level of preparation. However, don't go for long study hours as it can make the process burdensome. Instead, make an effort to incorporate brief breaks within each study hour.
Also Check CBSE 12th Date Sheet 20242. Focus on Books Prescribed by Boards:
Many students are seen turning to different books and study resources to increase their chances of getting a score above 90%. Even while it is a good idea to hunt for additional study resources, you should only cling to textbooks as a last choice because the board exams are quickly approaching. Maximum questions for board exams are asked from the textbooks prescribed by the boards. The ideal strategy, then, if you're wondering "how to score 90% in class 12," is to practice concepts, diagrams, formulas, and examples from textbooks.
3. Recognize your areas of weakness in Studies:
Knowing all of your flaws will help you prepare for the board exam more effectively and help you perform better on the day of the exam. Solving as many previous years' questions or mock tests will give you an edge. You will be able to increase your understanding of the ideas and learn where you need to make improvements. You can clear up your doubts and learn the nature and difficulty level of the questions. Most importantly, it raises your level of accuracy and quickness.
4. Prepare Short Notes: 
You should take notes if you want to learn the tricks for "how to get 90% in a board exam." Instead of going over the entire syllabus, it can be beneficial to revise the syllabus a few days prior to the exam. You may incorporate significant formulas, equations, pictures, dates, and other information. To read them anywhere, keep them close at hand. It will aid in your understanding of the subject.
5. Go through Sample Papers and Marking Scheme:
  Sample papers are released by the board for all subjects for 12th students on the official website of the respective boards. When asked how to prepare for board exams to score well, teachers frequently suggest practicing sample papers. In order to comprehend how their responses would be assessed in board exams, they also advise students to read through the marking scheme made available by the boards. Knowing the subject-wise weightage prescribed by helps students formulate their study plan well.
Check CBSE 12th Exam Pattern 20246. Discover High-Weightage Topics: 
One of the key suggestions for "how to score well in board exams" is to group the important chapters or topics according to their importance. You'll be able to get the best possible marks in the examinations and have enough time to cover everything that remains. Identify the crucial subjects and include them in your study plan. If you have any questions, ask your teachers; then, go over them again.
7.  Study Material available on the National Digital Library of India (NDLI):
Students can browse the study materials on the National Digital Library of India (NDLI) once they have finished the required Syllabus. Since visiting a library or trading notes is not an option in the COVID-19 scenario, students can make use of the study materials that are available online and have been carefully selected to assist them get ready for the Class 10 and Class 12 Board exams. Question papers, notes, solutions, books, video lectures, etc. from government agencies, Kendriya Vidyalayas, and non-governmental organizations are all included in NDLI for all disciplines. Students can save time and use this body of knowledge for revision in this way.
Download CBSE Previous Year Question Papers Class 128. Understanding How to Write Board Exams:
It's not just about memorizing the syllabus to the hilt for board exams. What really counts is how students present what they have learned. The most crucial stage to achieving outstanding 12th-high school scores is to master the ability of communicating and composing answers during the board exams. The answer sheet needs to demonstrate the effort put out in the rigorous preparation for the 12th board exam. To write the best Board Exam answers and finish the exam on time, students must acquire the appropriate technique and plan. Students must make the best use of the 15 minutes reading time allotted before starting writing the exam. Writing answers that are focused, brief, and within the word count will help you receive high marks. Do not panic, attempt all questions and write clean are some points on which the students must focus while appearing for Board Exams.
9. Revision is Important:
Another crucial piece of advice is to revise your work every day up until the exam. Both your concepts and your memory will be improved. Many students seek tips for "how to score good marks in board exams" but ignore the importance of revising their work and often forget what they've learned throughout their preparations. So, schedule time for revisions.
10.  Relax and meditate:
When studying for the 12th Board Exams, stress and tension are very normal. Students should be aware that their high levels of stress and anxiety may contribute to their poor performance in board exams. Hansika Shukla, the 2019 CBSE 12th Topper who scored 99.9% in the CBSE 12th Board Exams, said that having confidence in oneself is the most crucial aspect of succeeding in board exams. No matter how hard the student studies, there will always be room for improvement before the exam. Therefore, by effectively mediating, students must stop their brains from tricking them. Additionally, meditation enhances memory, brain function, and the capacity for sustained concentration.
It can be difficult to get above 90%, but with these pointers, you can go closer to your goals. Maintaining your energy and positive attitude is also important. To do this, keep your physical and mental health in control by eating a good diet and practicing meditation. Stop comparing yourself to others or doubting your abilities, and start making plans right away. Best Wishes!!