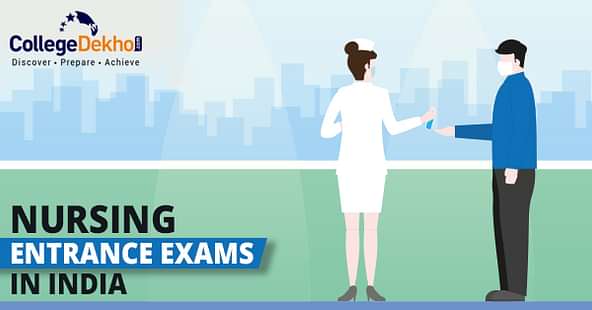 List of Nursing Entrance Exams in India: In India, there has been profound growth in the health sector. Every year, thousands of people aspire and sit for nursing entrance exams in India. For people who are compassionate and have a passion to serve humanity, nursing is the ideal career option. With constant and steady development in the medical and healthcare sectors, a degree in nursing promises a bright future. 
The nursing degree programme is offered at several academic levels like Bachelor of Nursing (BSc Nursing), Master of Nursing (MSc Nursing), Ph.D. in Nursing, and Diploma in Nursing. The minimum eligibility criteria to sit for nursing entrance exams in India is passing the higher secondary education with at least 50% to 55% marks in aggregate. 
After qualifying the nursing entrance exams, candidates are eligible for admission to a number of colleges in India. Skilled and qualified nurses are in great demand all over the world. Specializing in thriving disciplines can further help in getting one's hands on a well-paid job. Chief Nursing Officer, Critical Care Nurse, Nurse Manager/Supervisor, Assistant Nursing Officer, Rehabilitation Specialist, and Paediatric Surgery Nurse are only some of the career options that one can chase away after completing a course in Nursing.
As the number of nursing colleges/institutes keeps increasing every day, the career as a nurse is also evolving not only in India but abroad as well. Students must go through the list of nursing entrance exams in India and prepare accordingly. Browse through to find all the essential details like eligibility criteria, admission procedure, top entrance exams, and so on.
Nursing Entrance Exams 2023 After 12th
As soon as the candidates complete their 12th standard, they are eligible to explore numerous opportunities. It's on students to decide what career they aim to build. Aspirants who wish to pursue medicine as a prospect can explore options from all India nursing entrance exam 2023 after 12th. Courses from AIIMS, JIPMER, Indian Army, etc. allow you to explore unlimited opportunities. One must note that getting into these courses is challenging at times but with the right guidance and correct tips, candidates can secure a seat in any medical or nursing college they want to.
Nursing Entrance Exams 2023
Check out the complete list of nursing entrance exams 2023 here. You can also check out the revised exam dates of the respective nursing entrance exams to accordingly make your preparataion plan:
Entrance

Exam Date

AIIMS B.Sc Nursing

B.Sc Nursing (Post Basic) Exam: June 24, 2023

B.Sc (H) Nursing Exam: June 3, 2023

AIIMS BSc Paramedical

June 3, 2023

Online Admission Test (OAT) at Army College of Nursing (ACN) Jalandhar

June 4, 2023

Entrance Exam for Army Institute of Nursing, Guwahati

For BSc Nursing - June 4, 2023

For MSc Nursing - July 9, 2023

June 24, 2023

B.Sc Nursing Entrance Exam at Banaras Hindu University (Admission will be based on the basis of merit of NEET 2023)

NEET Exam - May 7, 2023

2nd week of July 2023 (Tentative)

HP (Himachal Pradesh University) B.Sc. Nursing Entrance Exam

1st week of October 2023 (Tentative)

September 21, 2023

JIPMER BSc Nursing Entrance Exam

July 2, 2023

B.Sc Nursing Entrance Exam at LHMC (Admission will be based on the basis of merit of NEET 2023)

NEET Exam - May 7, 2023

KIMS University Nursing

June 15, 2023

MMU M.Sc Nursing

1st week of July 2023 (Tentative)

Municipal Corporation of Delhi Nursing

October 17, 2023

June 8, 2023

Punjab Para Medical Entrance Test (PPMET)

October 24, 2023

PPBNET

1st week of August 2023 (Tentative)

PMNET

September 10, 2023

July 16, 2023

PGIMER B.Sc Nursing Entrance Exam

August 4, 2023

June 11, 2023

Tripura Medical College B.Sc

September 6, 2023

PGIMER M.Sc Nursing Entrance Exam

June 3, 2023

June 11, 2023

July 2, 2023

June 10, 2023

July 1, 2023
The above-mentioned dates will be updated as and when required. Stay tuned to be notified about the same.
Nursing Entrance Exam Eligibility Criteria 2023
The eligibility criteria for Nursing entrance exams at UG/ PG/ Diploma/ PhD course are given below:
Bachelor's Course: To get into a UG-level nursing course, an applicant needs to have passed 10+2 with the subjects Physics, Chemistry, and Biology. The duration of the course would be from three to four years.
Master's Course: For admission into a PG-level nursing course, the candidate must have a Bachelor's degree in Nursing. A masters-level course is two years long.
Diploma Course: To get into a Diploma course in Nursing, the aspirant should have passed class 12th. Depending upon the course, the course could last for a year or two.
Ph.D. Course: To be able to do a Ph.D. in Nursing, the candidate shall have a Postgraduate degree in the same.
Nursing Entrance Exam Syllabus 2023
B.Sc Nursing Honours:
| | |
| --- | --- |
| Subjects | Syllabus |
| Chemistry | Biomolecules, Solid State, General Principles & Processes of Isolation of Elements, Solutions, Chemistry in Everyday Life, Chemical Kinetics, Polymers, P -Block Elements, Electrochemistry, Surface Chemistry, Organic Compounds Containing Nitrogen, D & F -Block Elements, Phenol & Esther, Alcohols, Keystones, and Carboxylic Acids, Coordination Compounds, etc. |
| Biology | The Role of Plants in Human Welfare, Classification Binomial and Nominal Nomenclature, The Difference between Prokaryotic & Eukaryota, Structural Organization of Cells, Cell Theory, Mendel's Law of Inheritance, Mineral Nutrition Essential, Elements and their Function, Five Kingdom Classifications, etc. |
| Physics | Atoms and Nuclei, Magnetic Effect of Current & Magnetism, Communication Systems, Electronic Devices, Optics, Electromagnetic Waves, Dual Nature of Matter, Electrostatics, Current electricity, Alternating Current, Electromagnetic Induction, etc. |
| General Knowledge | Questions from Science, Geography, History, scientific research, current affairs, General policy, Culture, etc. |
Paediatric Nursing
Medical-surgical Nursing includes Physiology, Anatomy, and Pharmacology
Fundamentals of Nursing
Psychiatric Nursing
Professional Trends in Nursing
Community Health Nursing
Obstetrics Nursing and Midwifery
M.Sc Nursing:
Sociology
Microbiology
Nutrition
Anatomy
Management of Nursing Services and Education
Community and Health Nursing I and II
Physiology
Nursing Research and Statics
Medical-Surgical Nursing I and II
Midwifery and Obstetrical Nursing
Child Health Nursing
Biochemistry
Psychology
Pathology and Genetics
Also Read: List of short-term programmes after B.Sc Nursing
List of Top Nursing Exams 2023
While candidates can explore various options for entrance exams for nursing, there are several tests that are highly respected and renowned. Candidates appear for these exams in large numbers. Career prospects are quite bright too in these courses. Here are a few important Nursing Entrance Exams in India 2023:
| | |
| --- | --- |
| Nursing Entrance Exams | Conducting Body |
| PGIMER Nursing 2023 | Post Graduate Institute of Medical, Education, and Research (PGIMER), Chandigarh |
| JIPMER Nursing 2023 | Jawaharlal Institute of Postgraduate Medical Education & Research (JIPMER), Puducherry |
| AIIMS Nursing 2023 | All India Institute of Medical Sciences (AIIMS), New Delhi |
| Indian Army Nursing 2023 | Directorate General of Medical Services (Indian Army) |
| Jamia Hamdard  Nursing 2023 | Jamia Hamdard University, New Delhi |
| BHU Nursing 2023 | Banaras Hindu University, Varanasi |
| CMC Ludhiana BSc Nursing 2023 | Christian Medical College Ludhiana Society |
| RUHS Nursing 2023 | Rajasthan University of Health Sciences, Jaipur |
| KGMU Nursing 2023 | King George's Medical University, Lucknow |
Top Nursing Colleges in India
Here's a list of the top colleges in India offering Nursing courses along with the fee structure. Need assistance with Nursing Admissions in India? Fill out our Common Application Form, our experts will help you find the right Nursing college which matches your interest.
| | |
| --- | --- |
| Nursing Colleges | Fee |
| | INR 50,000 Per Annum |
| Maharishi Markandeshwar (Deemed to be University) - [MMDU] Mullana | INR 88,500 Per Annum |
| | INR 70,000 Per Annum |
| Centurion University of Technology and Management (CUTM), Bhubaneswar | INR 80,000 Per Annum |
| | INR 42,000 Per Annum - INR 78,800 Per Annum |
| | INR 95,000 Per Annum |
| | INR 85,000 Per Annum - INR 1.01 Lakhs Per Annum |
| | INR 34,000 Per Annum - INR 1.51 Lakhs Per Annum |
| | INR 80,000 Per Annum - INR 1.5 Lakhs Per Annum |
Get started with which Nursing entrance exam you want to sit and then, acquire the required books and take practice exams of the previous years. These would give you an idea of how to prepare for the test.
Related Articles
For any query about the same, feel free to reach out to us through CollegeDekho QnA Zone. Good Luck!