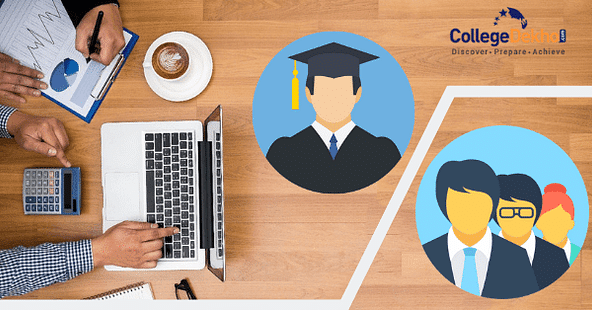 Majority of the MBA aspirants face a dilemma with respect to the importance of work experience before pursuing a specialized MBA or PGDM degree. They, most often, contemplate if it's better to pursue MBA/ PGDM immediately after graduation or should they gain some work experience and then opt for the same.
Being a graduate has its own set of advantages. You are young, enthusiastic and creative and have the ability to come up with innovative solutions for cases and problems. But at the same time, you may not have a lot of insight about the real world problems. People with work experience have a fair understanding of the corporate world and how things work.
So in case, you are also thinking whether is it better to pursue MBA/ PGDM immediately after graduation? Or should you work for some years and then opt for MBA/ PGDM? Let's take a look at both the aspects in detail in this article.
Advantages of Pursuing MBA/ PGDM after Graduation
Some of the advantages of opting for MBA/PGDM after graduation are as follows:
1. Good start and career opportunity
An MBA graduate gets a quick start and earns really well. Since they are trained during their course tenure, employers are ready to hire an MBA immediately. They don't have to struggle much to get a job.
2. Opportunities for networking and socializing
MBA aspirants get plenty of opportunities to work as an intern in leading companies and get to learn a lot of new things about the corporate world during their internship. This can prove beneficial to them once they start working.
3. Personal as well as professional skills
Doing an MBA is always beneficial for the aspirants as it not only provides professional training but also makes you more confident by boosting your personality. By pursuing this course immediately after graduation, you will get to enhance your personal as well as professional skills and become more confident about leading the corporate world.
4. International exposure
A lot of the MBA colleges in India are affiliated with top international universities and can offer their students an opportunity to complete some part of their course in their campus. Many colleges also provide internships abroad. That way, an MBA graduate will get lots of exposure along with good learning and training.
5. Enhanced knowledge
An MBA programme will equip you with the skills you must have in order to succeed in your chosen career. Specialised MBA programmes can be useful for people who are focused on a particular industry. It will open up an array of new opportunities.
Disadvantages of Pursuing an MBA after Graduation
Now, let's also take a look at some of the disadvantages of pursuing an MBA after graduation.
1. Low chances of acceptance at top B-schools
Majority of the top B-schools require you to be able to contribute to the discussions regarding business and the corporate world. This can only be possible if you have some professional experience. People who are more experienced have a better chance of getting through top B-schools as compared to freshers.
2. Tough to make the right choice at this stage
Making the right choice regarding your MBA programme is very significant. Before you gain professional experience, it may be a bit difficult to have a clear career plan sketched out.
Advantages of Pursuing MBA after Gaining Work Experience
In light of the above, let's take a look now at what are the pros of pursuing MBA after gaining work experience.
1. More practical experience
A person with a few years of experience is more likely to have a grasp on the management principles as and when they are taught in the classroom and will give more realistic examples. You'll have a better hold on the practicality with various matters.
2. More clarity
You will be clearer in your approach about what you want or regarding a specific goal if you choose to work for a few years before pursuing MBA. Once you have a set of defined career goals, you can apply to an MBA programme of your choice.
3. Soft skills
After being a part of the corporate world for some time, you'll develop the soft skills which may matter. These include things such as communication and other interpersonal skills which are important in the corporate world. Work environments offer a plethora of such opportunities to enhance such skills.
Disadvantages of Pursuing MBA after Gaining Work Experience
There are no disadvantages, as such, of pursuing MBA/PGDM after gaining a significant amount of work experience. Work experience plays a significant role in the application process and B-schools tend to give preference to graduates with prior work experience.
Since an MBA degree is considered to be one of the most important degrees of your life, it makes sense to weigh your options and then take a decision accordingly after analyzing the pros and cons of both.