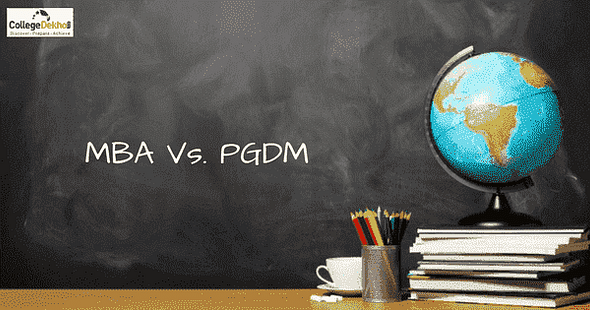 MBA vs PGDM: The MBA admission season for 2023  has commenced and top b-schools in India have started releasing their PGP admission notifications. Registrations for MBA admission 2023 seasons have begun already and CAT applications will be started soon. CAT 2022 results were announced on December 21, 2022.
Candidates aspiring for MBA admissions in 2023 must already be gearing up to prepare for some of the popular management exams such as Common Admission Test (CAT), IIFT, Xavier Aptitude Test (XAT), NMAT by GMAC, and Symbiosis National Aptitude Test (SNAP). Aspirants are looking for relevant MBA courses and MBA colleges in India or PGDM colleges in India that they can consider for admission.
This is an apt time to figure out the type of MBA course and the MBA colleges in India where you should apply. Before preparing your college list, you must know the difference between the Master of Business Administration (MBA) course and the Post Graduate Diploma Programme (PGDM) course.

Also Read: MBA vs MCA: What is Better after BCA

How is PGDM Different from MBA?
The primary distinction between the two programmes is that while the PGDM is a diploma programme, the MBA is a degree programme. A public, private, or college with a university affiliation may provide an MBA programme. Degrees may only be granted by certain institutions, which are administered by the University Grants Commission (UGC). The Ministry of Human Resource Development (HRD), which is independent of the UGC, and AICTE-recognized business schools both provide PGDM programmes. The business world, on the other hand, does not distinguish between the two. Both MBA and PGDM graduates are equally qualified for managerial positions of the same kind.

The majority of MBA programmes adhere to an established curriculum and tend to be more theoretical in nature. To keep up with changes in the business environment and employment market, curriculum revisions have a certain rigidity. These changes happen over a period of three to five years. Nevertheless, private universities with more regular curriculum updates include Symbiosis and NMIMS.

On the other hand, the PGDM curriculum is subject to revision or updating at the discretion of the B-schools, keeping it in line with evolving industry standards and requirements. The schools are able to preserve their edge over its competitors as a result, and this competitiveness fosters widespread innovation in pedagogy and curriculum. In addition, these programmes allow for more practical application-based learning than pure theoretical learning.

A top-notch PGDM programme provides much more than just classroom instruction. In PGDM courses, case study pedagogy is highly valued since these cases assist students learn how to implement concepts in practice and are based on both traditional and contemporary business situations that have impacted the field through time. In order to build a variety of soft skills necessary for management professionals, learning also occurs outside of the classroom in the form of extracurricular activities, social initiatives, events, contests, etc.

What is the difference between MBA and PGDM, which one of them is better, and what curriculum differences are there between the two – these are some of the questions that MBA aspirants seek answers for. 

Difference Between MBA and PGDM
Check the table below for an in-depth comparison of MBA and PGDM courses including their focus area, curriculum, and many other details.
Course

MBA
PGDM
Institute Type
Body of Accreditation

MBA courses are accredited by the university to which the college providing the course is affiliated.

PGDM courses are approved and recognized by AICTE (All India Council for Technical Education).

Duration of Course

MBA courses provided by universities are 2-year-long courses.

PGDM courses can be either 1-year long or 2-year long depending on the type of program.
For a PGDM course to be equivalent to an MBA, it has to be a 2-year long course.

Curriculum

MBA course norms are dependent on the university and the curriculum is not frequently revised as colleges cannot introduce changes without the consent of the university.

PGDM courses are quite flexible as they are provided by autonomous institutes that can introduce elemental changes in the curriculum of the program to make education more effective.
PGDM courses are more frequently updated than MBA courses.

Syllabus

Check:Syllabus of MBA vs Syllabus of PGDM
The focus of the Course

An MBA course focuses on developing the business and technical knowledge of a student.
Here student develops theoretical concepts that are essential in the business world.

PGDM course focuses on preparing the students for real-life situations so that they can come up with feasible solutions.
Also, PGDM aims to make the student industry-ready and adaptable for the working environment.

Fee Structure

MBA is a more affordable program and requires considerably less amount of funds as the fee is set according to the university standards.

PGDM programs are quite expensive and the cost can vary between 6 and 20 lakhs.
These are the differences between MBA and PGDM courses. It is very important to understand the different aspects of both types of courses before you opt for either of the two. Also, make sure that you read the college and program details carefully before applying. 
Colleges for MBA vs Colleges for PGDM
Given in the table below is a list of MBA colleges vs a list of PGDM colleges.
| | |
| --- | --- |
| MBA Colleges in India | PGDM Colleges in India |
| | |
Admission to MBA vs PGDM Colleges
While there may be quite a few differences between MBA and PGDM courses, the admission process to both largely remains the same. Candidates have to appear for a management entrance exam and then go through the GD/PI round of the respective colleges for final selection. The exams accepted for admission to MBA and PGDM colleges are also the same or similar.
Candidates who are interested in taking admission to MBA or PGDM colleges must fill up the application form of the respective college. CollegeDekho has made the application process easier and more convenient for the students through the Common Application Form (CAF). By filling the CAF once, a candidate can apply to the top MBA and PGDM colleges of the country from a single platform. In case any student faces an issue, they can contact our helpline number 18005729877 and talk to a student counselor.
Also Read:MBA vs MCom: Curriculum, Specializations, Career Scope and Job Opportunities
MBA vs PGDM Syllabus
Check the table below to know the syllabus for both MBA and PGDM.
MBA Syllabus

PGDM Syllabus

Managerial Economics
Financial Accounting
Marketing Management
Human Resource Management
Business Communication
Information Technology Management
Management Science
Economic Environment of Business
Financial Management
Management Accounting
Production and Operation Management
Marketing Research
Strategic Analysis
Management of Information System
Business Ethics & Corporate Social Responsibility

Organizational Behaviour
Financial Management Macroeconomics 
Research Method
Business Communication
Marketing Management
Quantitative Techniques
Operations Management
Financial Management
Strategic Management 
Human Resource Management
Management Information System 
Managerial Accounting and Control 
Managerial Economics (Microeconomics)
Business Environment (Indian and World Economy) 

MBA vs PGDM Salary
Given below are the average MBA and PGDM salary packages that candidates can expect depending on their job position.
MBA Salary 
| | |
| --- | --- |
| Job Position | Average MBA Salary in India Per Year (in INR) |
| Financial Analyst | 5,23,000 |
| Finance Manager  | 10,00,000 |
| Accounting Manager | 7,10,360 |
| Marketing Manager  | 7,86,000 |
| Business Analyst | 5,81,000 |
| Brand Manager | 51,97,300 |
| Operations Manager | 3,50,000 - 8,00,000 |
| Supply Chain Program Manager | 4,50,000 - 12,00,000 |
| HR Manager | 3,60,000- 10,30,000 |
| Risk Management Director | 52,50,000 |
| Marketing Sales Director | 38,00,000 |
| Real Estate Development Manager | 44,48,646 |
PGDM Salary
| | |
| --- | --- |
| Job Position | Average PGDM Salary in India Per Year (in INR) |
| Finance Manager  | 10,00,000 |
| Operations Manager | 7,65,000 |
| Sales Manager | 4,88,164 |
| Human Resources Manager | 7,00,387 |
| Product Manager | 17,16,878 |
| Marketing Manager | 6,88,000 |
| Senior Finance Analyst | 6,04,000 |
| Procurement Manager | 12,63,000 |
| Fema Specialist | 55,35,000 |
| International Sales Manager | 10,80,000 |
MBA vs PGDM - What to Choose?
We have provided all the major differences between both these programs in this article. You can read the differences between them before choosing one. Some of the important factors that you can consider while choosing between PGDM and MBA are fee structure and curriculum. The curriculum of the PGDM is more focused on practical knowledge while the major percentage of the curriculum of MBA includes theoretical concepts of management. 
While preparing for CAT and other such MBA entrance exams, you must ensure that you put in the best of your efforts to secure a good score in the exam. The entrance exam score is important but is not the sole criteria for admissions to top MBA or PGDM colleges of the country. The management institutes usually conduct further screening through GD (Group Discussion), PI (Personal Interview), and WAT (Written Ability Test) rounds in which the shortlisted candidates should perform well to save a spot in the respective MBA/PGDM college. Learn more about the topics and tips for the GD, PI, and WAT rounds here. Given below are some more related articles on MBA admissions in India.