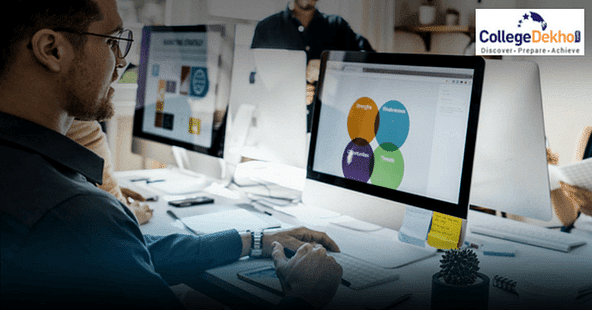 Design can be art. Design can be simple. That's why it's so complicated. - Paul Rand
There was a time when the only career path that was taken seriously in India was from a technical perspective. Very rarely would one find a person who hadn't graduated from an engineering or managerial background. However, as information has become increasingly transparent over time due to rapid developments in the digital age, it seems that this mentality has become a thing of the past. The urge to explore creative avenues has become increasingly prominent now, and one such creative course that has witnessed a significant rise in its overall demand is design.
One of the primary reasons why the demand for these design courses has spiked is because of the many forms of design that one can specialize in. This has led to an influx of designers in the job market who are well-versed in one or more kinds of design. Institutes like UPES have identified the need for these aspiring artists to specialize in the domain of their choice and are facilitating this change through a lucrative course in design that covers the following areas:
Industrial Design: The primary thought process behind the idea of industrial design is to map out and create a utility product that will satisfy the needs of the masses. The primary function of an industrial designer involves the creation of concept sketches, mapping out the requirements to help form this product, utilizing 3D models to attain a basic idea of how the product works, and finally creating the final core design of this tangible product.
Transportation Design: It goes without saying that the transport sector has quickly evolved into one of the most prominent sectors in the entire world. After all, the requirement for efficient mobility services will always take precedent in today's day-and-age, since a human's need to do everything as quickly as possible naturally bleeds over to their mode of transportation. Artists who focus on transportation design will try and figure out the best ways to innovate on pre-existing designs related to transport and, ultimately, help improve the functioning of the transportation industry.
Digital Design: The advent of the digital world has brought with it a vast number of changes, that have severely affected the very landscape of marketing itself. The internet has connected the world in such a manner that advertisers need to up the ante and accommodate this change by revamping their marketing efforts. So, to make the most of digital media, designers need to be well-versed when it comes to the creative thought process involved in formulating unique ad campaigns that will capture the attention of this target audience the most.
The design course at UPES encapsulates all these forms of design and provides aspiring artists with world-class educational services that will hone their skills by a considerable extent and, ultimately, ensure that they experience a lucrative career in design.
Students with an aptitude and interest for design can also explore other design colleges in Dehradun region here.