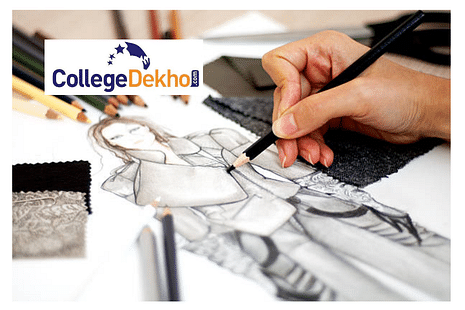 In the field of design, one of the most popular courses will always remain Fashion Designing. Fashion Design entails exactly what the name implies. It is the art of designing something in such a way that the person wearing it appears fashionable. Fashion design is a creative field associated with the creation of various lifestyle and clothing accessories. It is one of the most lucrative and sought-after vocational course options for students in India and around the world. People's attitudes change as a result of social and cultural changes, and this has a direct impact on the fashion design industry. Fashion has always been a dynamic industry. The most recent developments in it happen in a split second, and current trends trump previous ones, causing the latter's significance to fade quickly. India is one of the oldest and most prestigious textile and handmade product hubs, which has propelled it to international prominence today. There is no doubt that the performance of Indian fashion has gained enough international popularity and has stood out over the years. As a result, fashion designers' career opportunities in India are always lucrative and diverse. This article provides information on the most common job roles for fashion designers in India.
A career as a Fashion Designer is defined as the art of applying design aesthetics and natural beauty to clothing and beauty. Fashion is frequently influenced by cultural and social movements and attitudes, and it has evolved over time. A career as a Fashion Designer involves designing clothes and accessories, among other things. Some of the Designs frequently make fashion statements and reflect society.
Types of a Fashion Designer
Fashion design encompasses not only clothing but also other forms of design. The following are some examples of fashion designers:
Apparel Designers: Apparel fashion designers are also known as clothing designers. They create various outfits such as party, casual, morning, and evening wear. These fashion designer careers require them to design clothes for fashion shows, events, and individual clients for their personal needs. Designers also create clothing for major brands and retail outlets
Footwear Designers: Footwear designers create various types of footwear. They work in the manufacturing industry, retail, and high-street stores. They may also work with clothing designers to create the best product
Fashion Accessory Designer: Fashion accessory designers create accessories that enhance the overall look. They create jewellery, handbags, belts, and other accessories. Fashion accessory designers also work with footwear and apparel designers to create a link between the entire style statement
Costume Designers: Costume designers create costumes for films and television shows. They research the fashion trends of the time period in which the performance is taking place. These fashion designer careers collaborate with directors, who select and create appropriate attire based on the needs of the production
Jewellery Designers: Create accessories that match the dress using precious metals such as diamonds, beads, and gemstones. Jewelers have existed since ancient times. We can see it in movies and television shows about ancient history. It gives us a taste of how the rulers and common people used to be dressed. Drawing is not the only skill required for a career as a jewellery designer
Also Read: Fashion Designing Vs Fashion Communication
The Role of a Fashion Designer 
To begin, fashion designers create rough sketches on paper. They also use computer-aided design (AutoCAD) or computer-aided design and drafting (CADD) software to design. They design and make clothing and accessories like jewellery and handbags. To come up with effective ideas and predict the future, fashion designers must study past and present trends. Fashion designers sketch and research trends for their designs. Attending trade shows and visiting manufacturers to select fabrics and trims is required for a career as a Fashion Designer. Designers then transform those materials into various types of clothing based on market demand as well as the clients' specific needs. After that, the product is marketed to retailers and wholesalers. 
A fashion designer also does the following:
Creating a design process from conception to completion
Participating in market research, fabric and technique trends, and looking for design inspiration
Editing designs in real time and developing new ideas
Choosing appropriate fabrics and snips
Creating designs for customised packages
Working with the technical team to ensure that the packages are accurate
Product re-examination before presentations
Client presentations of story, theme, and seasonal boards
Best Courses to Become a Fashion Designer
Completing a relevant course in Fashion Designing is an extremely important and crucial step that any design aspirant will have to take in the path of becoming a fashion designer. The leading design institutes of the country offer many programmes in fashion design at the undergraduate, postgraduate, diploma, as well as certificate level. You can choose any course as per your convenience and requirement. The table given below provides a list of some of the most sought after fashion design programmes that are offered in India. 
There are different types of fashion designing courses available in UG, PG & Diploma levels. Have a look at the most popular degree types here:
Course Type

Specialisation

Fashion Design

Fashion Management

Bachelors Degree

Fashion Styling and Image Designing

Leather Design

Masters Degree

Fashion Design

Fashion Design and Business Management

Textile Management

Fashion Merchandising and Retail Management
List of Fashion Designing Courses in India
Check out the table below to learn about various fashion designing courses, as well as their eligibility requirements, duration, and fashion designing course fees:
Name of the Course

Eligibility Criteria

Duration

Annual Fees (Approx.)

B.Design in Fashion

4 years

INR 1.15 to INR 1.20 lakh

Bachelors of Fashion Design

4 years

INR 3.12 lakh

Minimum 45% marks in 10+2

3 years

INR 20,000 to INR 40,000

B.A. in Fashion Design

3 years

INR 30,000 to INR 2 lakh

Minimum 45% marks in 10+2

3 years

INR 20,000 to INR 40,000

Diploma In Fashion Design

Candidates must have passed 10+2 with at least 50% marks

1 year to 3 years

INR 60,000 to INR 80,000

Computer-Aided Diploma in Fashion Designing

Candidates must have passed 10+2, however, graduates can also apply for the course

4 months to 1 year

INR 75,000

Advanced Diploma in Fashion Design and Management

Candidates must have successfully cleared 10+2 in order to apply

2 years

INR 90,000

M. Design in Fashion & Textiles

4-year Bachelor's Degree in Design (for NID)
Bachelor's Degree in Design with minimum qualifying marks

2 years

INR 97,000 to INR 1.39 lakh

Graduation Degree in Fashion Design

2 years

INR 1.19 lakh

M.A. in Fashion Design

Graduation Degree in Fashion Design

2 years

INR 1.63 lakh

Bachelors of Fashion Design with a minimum of 50%
A valid score in NIFT PG Entrance Test, AIEED PG Test, etc

2 years

INR 3.12 lakh

Candidates must have pursued graduation (preferably in fashion designing)

1 year to 18 months

INR 60,000 to INR 90,000

Diploma in Fashion Design & Merchandising

Aspirants can apply after passing 10+2

1 Year

INR 40,000 to INR 90,000

6 months to 1 year

INR 14,000 to INR 60,000

Advance Certification in Fashion Design

1 Year to 2 Years

INR 80,000 to INR. 1.3 Lakh
Skills Required to Become a Fashion Designer
Becoming a fashion designer is the ultimate dream of a huge population of today's youth. However, the process of reaching those heights and becoming a fashion designer is not as easy as it looks or sounds. One has to have certain skills and a particular thinking process to become a fashion designer.
If one day you wish to stand next to Ralph Lauren, Calvin Klein, Ritu Beri or Manish Malhotra, you should work on some particular set of skills. An aspiring designer should have some of the same qualities which will help him/ her in the journey of becoming a fashion designer and also when he/ she has set a benchmark professionally. Here are some of the qualities you'll need to succeed as a designer:
Creativity: Being creative is as important for a designer as for a pilot to know how to fly a plane. Being creative is the fuel for a designer's career. To design anything you need to be artistic and a creative mind can take you ahead.
Good Communication Skills: Creation of a garment is not only a designer's job but many people are also associated with it like tailors, retailers etc. So, you must be able to effectively communicate with everyone involved what he or she expects.
Time Management Skills: A Fashion Designer is required to have a sound time management skills as they have to multi-task and complete the projects before the allotted deadlines.
Strive to do Better: The need to improve and to be better should never leave your mind. Fashion industry works on a very fast pace and to keep up you need to work on yourself and your way every day. You should strive to do better than your peers to come up with quality innovative designs quickly.
Sketching Skills: A designer requires to sketch his/ her designs to make people understand their point of view or their vision. So, having really good sketching skills are a must.
Trendy: Being trendy is a designer's livelihood. A designer needs to keep up with the trends and to create something that people like and want. Being trendy keeps you on top of your game and on top of the industry.
Career Prospects for Fashion Designers
The fashion industry of India is among the most emerging and successful industries due to the constant demand by consumers. The preferences for designer apparel is changing day by day and fashion brands are occupied with launching new lines for every season. People are more concerned about choosing the designer outfit and wish to have the best outfit for every occasion. Thus, it is not likely for the sun to go down on the demand for fashion in India. The fashion industry offers a lot of opportunities to the hardworking, creative, and competent candidates. Renowned fashion companies and designers hire these candidates to upgrade their garment designing creatively.
Check out the top employment areas, job roles and recruiting companies that an aspiring Fashion Designer must know of before entering the industry.
Employment Areas

Job Profile

Top Recruiting Companies

Fashion Brands
Fashion Houses
Retail
Fashion Magazine
Exhibitions
Self Employment
Fashion Websites
Textile Industry
Television
Film Industry
Brand Management
Accessory Design Sector
Show Business
Production
Footwear Sector
Marketing
Jewellery Sector
Quality Assurance
Illustration
Fashion Designing

Textile Designer
Personal Stylist
Retail Merchandiser
Stylist
Personal Shopper
Makeup Artist
Fashion Editor
Fashion Advisor
Model

Shoppers Stop
Myntra
Zara
Raymonds
Manish Malhotra
Pantaloon
Levis
Proline
Snapdeal
Sabyasachi Mukherjee
Rohit Bal
Also Read:Course Comparison: Fashion Designing vs.Textile Designing
Fashion Designer's Job Role & Salary
India is the world's second largest textile and clothing exporter. In today's world, there are countless opportunities in the fashion industry, with a variety of jobs offering competitive pay for those with creative minds. With so much excitement and competition, the fashion industry's scope and potential are constantly expanding. Fashion design, research, and garment manufacturing, as well as textile design, are the most popular occupations in the fashion industry.
Here are some of the most popular fashion designer job roles, along with their salaries:
Fashion Designer: You can make a lot of money if you are good at what you do and unquestionably relevant. Fashion design entails creating one-of-a-kind designs for clothing and accessories in order to meet people's fashion needs with changing trends. Fashion design is a broad field that includes jewellery, footwear, accessories, luggage, and other products. The starting salary for a fashion designer varies depending on location and reputation, but on average, a fashion designer earns between INR 3 - INR 6 lakhs per year.
Fashion Stylists: Maintaining the appearance and elegance of fashion shows, events, publication shoots, and other similar fashion-related promotional initiatives is part of a fashion industry professional's job. They pay close attention to makeup, clothing, and hairstyle to ensure that the show and current cast members look their best. The starting salary is approximately INR 4 - INR 5 lakhs and the year's experience is approximately INR 8 - INR 7 lakhs.
Fashion Merchandiser: To determine which products to provide for a company, they investigate their clients' historical purchasing habits. Budgets and revenue-generating goods are typically created in collaboration with management by fashion designers. A Fashion Merchandiser's starting salary ranges between INR 3 - INR 5 lakhs per year. After gaining experience, it is possible to earn more than INR 8 - INR 9 lakhs per year.
Retail Manager: A store manager is in charge of a variety of tasks, including setting sales goals and promoting products. One of its primary responsibilities is to provide the highest possible level of customer satisfaction. Retail managers in the fashion industry have the same functions and responsibilities as they do everywhere else. The starting salary is around INR 3 - INR 5 lakhs, and after working for a few years, the income will be around INR 10 - INR 12 lakhs.
Textile Designer: Textile designers in textile and fashion design studios are in high demand. Their work determines the product's inherent quality, composition, and general suitability. This field pays a starting salary of more than INR 4.5 lakh per year, which increases with experience.
Popular Colleges to Become a Fashion Designer 
Some of the most well-known colleges for aspiring fashion designers are listed below. You can use the link to learn more about the college or to apply for admission.
Also Read:How is a Fashion Designer Different from a Fashion Stylist?
To make the application process of a desired design college hassle-free, do not forget to either dial 1800-572-9877 (toll-free) or fill up the Common Application Form. For any further queries, write to us in the QnA zone.
You can also go through the top design colleges in the country and shortlist the best institute for yourself. Some popular design entrance exams are conducted for selecting students for the fashion design course in India.
Stay connected to CollegDekho to get more information about design admissions in India!