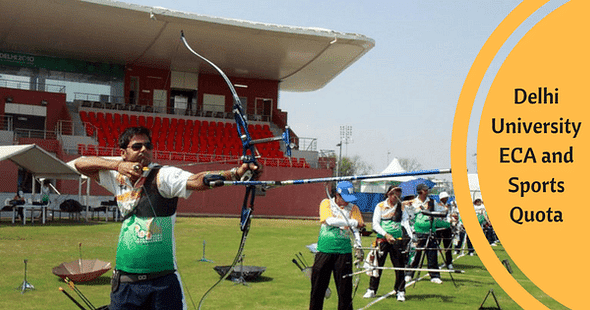 Delhi University is one of the most sought-after universities for students aspiring to pursue commerce, arts and science undergraduate courses. The university has a very distinct selection criterion as it gets applications from candidates belonging to different regions. DU cut-offs for commerce, Science, and Arts Courses is quite high, but students who have been active in sports and extracurricular activities can avail relaxation of marks in DU cut-offs.
DU ECA quota admissions and DU sports quota admission is the best way to secure admission to the Delhi University if you have represented the district, state or country in any of the DU's prescribed ECA activities or sports. Apart from the merit list and entrance exams, DU also has other selection procedures for ECA Quota admission and Sports Quota admission. Application for the same can be filled through the common admission portal of DU. Find out the details regarding DU ECA and Sports quota admissions below.
DU ECA Quota Admission 2022
Delhi University reserves a few seats for students who have indulged in Extracurricular Activities (ECA) during their school education. Candidates who are applying through this category can expect marks relaxation of up to 15% (for unreserved candidates) in merit lists. In order to apply for these seats, you can register yourself on the official website of Delhi University.
Check the detailed DU admission guide to find out more.
DU ECA and Sports Quota Admission Dates 2022
The tentative schedule for the same is mentioned below. 
| | |
| --- | --- |
| Events | Dates (Tentative) |
| DU Online Registration Commence | August 2022 |
| DU Online Registration Ends | August 2022 |
|  ECA/ Sports Quota Admissions Begin | November 2022 |
| Classes Commence | December 2022 |
| Admissions Close | December 2022 |
DU ECA Quota Application Procedure 2022
The application procedure for DU ECA Quota admissions 2022 can be checked below -
Go to the official website of DU and fill the application form.
Opt for the ECA category and the corresponding activity through which you want to qualify.
Upload your ECA certificate as evidence of your participation in the respective activity.
The certificate through which you are applying must not be more than three years old.
Your candidature for the ECA category will be considered only if you have won or participated in the respective ECA activity at the International, National, State, Zonal or School level.
Also Read: DU UG Admissions 2022
DU ECA Quota Application Fees 2022
The application fee for DU ECA Quota admissions is as follows -
| | |
| --- | --- |
| Student Category | Registration Fee |
| UR/OBC | Rs. 150 (Non-Refundable) |
| ECA (Every Category) | Rs. 100 (Additional, Non-Refundable) |
| SC/PwD/ST | Rs 75 (Non-Refundable) |
DU ECA Quota Selection Process 2022
DU ECA Quota selection process fo various UG courses is as follows -
According to the rules of DU, you will be eligible for ECA seats if you have a valid certificate for the respective extracurricular activity.
Under normal circumstances, you would have had to qualify for the Trials conducted by DU, but this year, due to COVID-19, the university will not be conducting trials. However, the admissions through this quota will be done.
DU gives 25% weightage to certificates, whereas, 75% weightage is given to ECA Trials.
Trials will be conducted at the Preliminary and Final level.
All candidates are allowed to appear for preliminary trials only once.
Those who clear the preliminary trials are then called for final trials.
It is important to secure at least 50% marks i.e. (38/75) in the final trials in order to qualify through ECA quota admissions.
The merit list will be prepared by the authorities on the basis of final trials and their percentage in class 12. Admissions will be done on the basis of this list.
DU List of Activities for ECA Trials
Dance (Indian Classical/ Western/ Indian Folk/ Choreography)
NCC
Music Vocal (Indian Classical/ Western Classical/ Indian Light & Folk/ Western Light)
Quiz
Creative Writing (English & Hindi)
Digital Media (Still Photography/ Animation/ Film Making)
Music Instrumental (Indian/ Western)
Fine Arts (Sketching & Painting/ Sculpture)
Theatre
Debate (English & Hindi)
NSS
Divinity for minority colleges (For Mata Sundri College, Sri Guru Gobind Singh College of Commerce, Sri Guru Nanak Dev Khalsa College and Sri Guru Tegh Bahadur Khalsa College)
The details regarding the ECA Activities and schedule of ECA Trials is provided on the official website of DU. The University and colleges conducting trials also release notices regarding the same both online and offline.
Also Read: DU PG Admissions 2022
DU Sports Quota Admission
DU also offers provision for a young sportsperson to apply through sports quota seats. Admissions are done either directly or on the basis of sports trials once the candidate has filled the DU application form. Candidates who have not represented the country in any of the below-mentioned sports competitions usually have to appear for sports trials in order to secure admission under the sports quota. However, the trials will not be conducted this year. 
Candidates aspiring to take admission in DU through sports quota can take direct admission without appearing for sports trials if they have represented India in either of the following sports leagues:
Olympic Games by International Olympic Committee (IOC)
Asian Games by the Olympic Council of Asia
World Championship/ World Cup by International Sports Federations (ISF)
Asian Championships by International Sports Federations (ISF)
Commonwealth Games by Commonwealth Games Federations (CGF)
South Asian Games (SAG) by South Asian Sports Council (SASC)
Paralympic Games by International Paralympic Committee (IPC)
DU Sports Quota Admission Application Procedure
The process is similar to applying for ECA trials. You will have to fill the DU application form through the official university website.
Apply through the sports quota and upload your Sports Certificate on the DU admission portal.
DU Sports Quota Selection Process
DU gives 40% weightage to the sports certificate and 60% weightage to the sports trials of the game for which the candidate has received the certificate.
The sports trial will include Sport Specific Fitness, Overall Playing Ability and Fundamental Skills.
Marks for the sports trial will be awarded out of 60 and candidates will have to score at least 30 marks (i.e. 50%) in order to qualify for admission through the sports quota.
Candidates applying for the sports quota must also be eligible on the basis of age to participate in inter-university competitions of DU for the next three years of their course duration.
Also, candidates must not be employed either part-time or full-time while pursuing UG courses at DU through sports quota.
Games or Sports that are played across the colleges and during inter-college and inter-university competitions at DU will be given preference.
Final merit list for students applying through sports quota will be displayed by DU on its official website.
For more such information, stay tuned with CollegeDekho.
Good Luck!