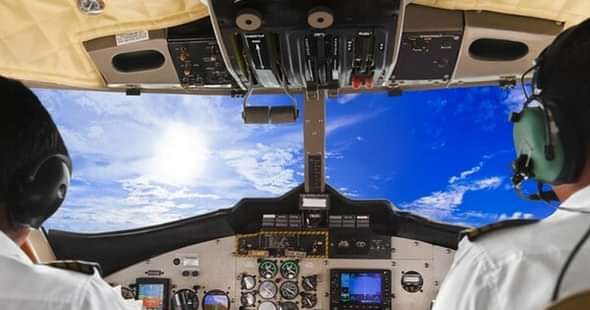 Choosing a career as a Commercial Pilot is not only a challenging task but also a rewarding one. Piloting has always been considered to be one of the most exciting career choices and many students aspire to become pilots from very young ages.
A career as a Pilot not only offers high salaries but also thrilling experience and exposure. Usually, if you want to become a pilot, you need to start at the age of 17. For becoming a Commercial Pilot, the students need to get the license and start as a trainee. There are chances to become a Capitan by the time you turn 25 depending upon experience and skills.
Who is a Commercial Pilot?
A Commercial Aircraft Pilot is a highly-skilled professional who flies aeroplanes or helicopters for business purposes, which may include transportation of passengers or cargo, traffic monitoring, emergency rescue and evacuation operations, aircraft testing, firefighting and crop dusting. Usually, commercial airlines appoint at least two persons as pilot crew, i.e. a Capitan and the First Officer or Co-Pilot.
Also read: All You Need to Know About a Career in Animation
Commercial Pilot: Courses & Eligibility
Given below are the details regarding the courses and the eligibility criteria for becoming a Commercial Pilot in India.
In India, if one aspires to become a Commercial Pilot, he must have a Commercial Pilot License (CPL).

Directorate General of Civil Aviation (DGCA) is the authority which gives CPL.

Initially, the candidates who aspire to become a Commercial Pilot must have passed +2.

They need to join in a pilot training course in a DGCA-approved institution.

The candidates who want to join in DGCA-approved institutes need to clear a written test.

Apart from the written test, the candidates must be medically fit as per DGCA Class I medical assessment rules.

For getting eligible for Commercial Pilot License, the candidates must complete 200 hours of flying.

Passing theory paper is also mandatory to apply for CPL.
Commercial Pilot: Training
Before gaining the CPL, a candidate has to undergo thorough training not only in flight but also in the science and mechanics involved in flying an aircraft. Candidates have to take their training very seriously as the lives of hundreds of passengers will depend on their expertise.
Given below are the details regarding the training required or CPL in India.
Initially, aspiring pilots will undergo extensive training in academics and later the fight instructors will proceed with the flight training.

Initially, the candidates will be given training on dual flights.

If the candidates can complete 15 hours on a dual flight, he is eligible to fly solo.
What Commercial Pilots Learn During the Training Period?
During the training period, Commercial Pilots are taken through all of the aspects involved in flying an aircraft, its maintenance, the physics and science involved in aircraft flight, training in equipment found in a cockpit, how to communicate with air-traffic control etc. Given below are some of the subjects that are taught during Commercial Pilot Training.
Cockpit Resource Management

Air Regulations

Air Frames and Engines

Aviation Meteorology

Air Navigation

Flight Planning etc.
Also read: - All You Need to Know about a Career in Nutrition
Commercial Helicopter Pilots
The pilots who need to fly a helicopter need to have Commercial Helicopter Pilot License or CPL (H).
The license can be acquired after completing the formal training for prescribed hours and clearing exams on aviation subjects.
Commercial Pilot: Salary Packages
Given below are the salary details of Commercial Pilots in India.
A fresher has chances to earn around Rs.10 to 15 lakh per annum depending upon the airlines.
Commercial Pilot: Training Institutes
The training institutes for Commercial Pilots are called Flight Training Organizations or FTOs. FTOs have to be approved by DGCA and their training staff, including the Flight Instructor, is also appointed by the DGCA.
Given below are some of the FTOs providing CPL Training to interested candidates,
Nagpur Flying Club, Nagpur

Ludhiana Aviation Club

Orient Flying School, Chennai

Gujarat Flying Club, Vadodara

Ahmedabad Aviation and Aeronautics

Faculty of Fight Safety Services, Delhi Flying Club

Bihar Flying Institute, Patna

Assam Flying Club, Guwahati

Flying Training Institute, Kolkata
Also Read:Best Flying Schools in India
If you have any doubts, get them answered by our experts on the CollegeDekho QnA Zone. For admissions-related help, call our toll-free student helpline number 1800-572-9877 or fill our Common Application Form (CAF).