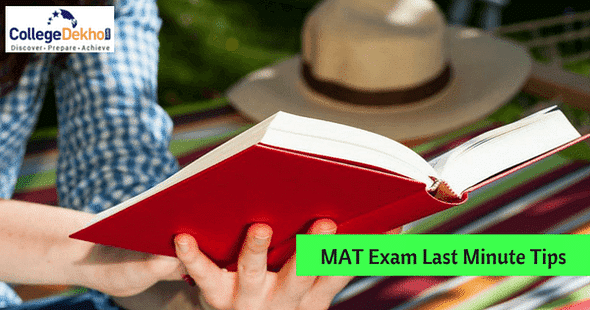 Last-Minute Preparation Tips for MAT 2023: Students seeking admission into MAT participating colleges leave no stone unturned in preparing for the exam. MAT CBT and PBT exams will be conducted in May and June 2023. From joining the top coaching institutes to studying from the best available materials and taking regular mock tests, they ensure to prepare well for the exam and crack it successfully. However, sometimes the experience of taking the exam is ruined when a candidate forgets to bring the hard copy of the MAT hall ticket or fails the manage time while attempting the question paper.

Thus, to avoid last-minute hassle and make sure candidates focus entirely on the MAT question paper, we have come up with some last-minute preparation tips for MAT 2023 curated by our MBA experts. By going through the pointers given below, students who are appearing for MAT 2023, will get an idea of what to do and what not to do before the exam.

MAT (Management Aptitude Test) is one of the most popular national-level MBA entrance exams in India conducted by the All India Management Association (AIMA). There are four months each year in which the MAT is conducted. These are February, May, September, and December. It is the only MBA entrance exam in India that offers candidates the option to appear in Paper Based Test (PBT), Computer Based Test (CBT), and Internet Based Test (IBT) modes.

MAT question paper has 200 MCQs from five subjects - Language Comprehension, Data Analysis & Sufficiency and Mathematical Skills, Intelligence and Critical Reasoning, and Indian & Global Environment. Through valid MAT scores, graduates in any discipline can get admission into MBA/PGDM courses in over 800 B-Schools in India. With this, let's move forward to the last-minute preparation tips for MAT 2023.
Last Minute Preparation Tips for MAT 2023
There is a very popular saying that 'Anything can go wrong, will go wrong.' To avoid that, it is best to be well-prepared and ready before you appear for MAT 2023. Here are some of the best tips, which will help you during the last few days of MAT preparation.
Tip #1 - Make Things as Simple as Possible for The Exam Day
One of the best things that you can gift yourself on exam day is a clear and worry-free mind. Make sure you carry out all of the basics well in advance of the exam date. If you have already gone through our checklist given above, this should already be done but if you haven't, make sure you:
Take a printout of your MAT 2023 Admit Card.
Keep an original copy of your valid ID proof.
Make sure you know how to reach your exam center before the reporting time.
Tip #2 - Plan Out Your Strategy to Approach the MAT Question Paper
To attempt the MAT question paper smoothly, make sure that you have a strategy ready for the day of the exam. Plan the order in which you are going to attempt the different sections of the question paper based on your strengths and weaknesses. Attempt the easy and more familiar questions before the moderately tough and difficult questions to ensure that you don't miss out on these scoring questions. Solve the previous year's question papers of MAT to help you out.
Tip #3 - Do Not Pick Any New Topics to Study
Now that only a few days are left for MAT 2023, revise what you have studied so far. Don't waste time studying any new topics. Now is the time to strengthen the topics that you have already prepared. Revise the concepts that you deemed tough during the preparation and practice questions to strengthen them.
Tip #4 - Get Familiar with the Question Types
Make sure that you understand the MAT Exam Pattern and the type of questions that are asked in the exam to be prepared on the day of the exam. Find out which are the less time-consuming sections in the exam to attempt first on the day of the exam. Also, find out the different types of questions that are asked in the verbal section such as grammar questions, synonyms, etc.

Also Read: MAT 2023 Exam Day Checklist - What To Do Before MAT 2023
Tip #5 - Think About Time Management During Exam
It is very important to manage your time properly while you are attempting the questions in the exam. To get real-time experience, make sure that you take MAT 2023 Mock Tests. These will help you to pick the sections that you will attempt first. It will also help you in dividing the time equally into two different sections.
Tip #6 - Analyse Your Mock Scores
Just taking a MAT mock test is not enough if you truly want to enhance your performance and improve your estimated score, analyze the mock test result thoroughly. Keep track of the mistakes you have made and ensure that you don't repeat them on the day of the exam. With a thorough analysis, you can increase your score by up to 10 points.
Tip #7 - Practice Reading Accurately and Fast
To avoid silly mistakes, make sure that you read the questions carefully. Practice this while you are giving mock tests to reduce the chances of errors. If minute mistakes are reduced, you can maximize your performance.
Also Read: Sample Papers of MAT- PDF Download
Tip #8 - Take Quick Notes and Do Revision
Notes are the best way to revise the entire syllabus and cover all the essential topics. Since notes are your customized textbooks, they are easier to read and follow. Scan your notebooks before the exam to revise all the formulae and concepts.
Tip #9 - Take Proper Rest
Taking a good 8-hour sleep is the most important factor before the exam. Don't overexert yourself before the exam as it is essential to take proper rest to power up your brain for the day of the exam.
Also Read:Colleges Accepting MAT Score and Expected Cut-Off for Colleges
With a good plan and proper rest, you will be able to achieve your target score on the exam. Check out these articles for the best section-wise preparation tips for MAT 2023.

We will also provide a detailed analysis of MAT 2023 after the commencement of the exam to help you evaluate your performance. Stay tuned for all of the latest updates regarding MAT 2023. For any queries, post your question on the CollegeDekho QnA Zone.