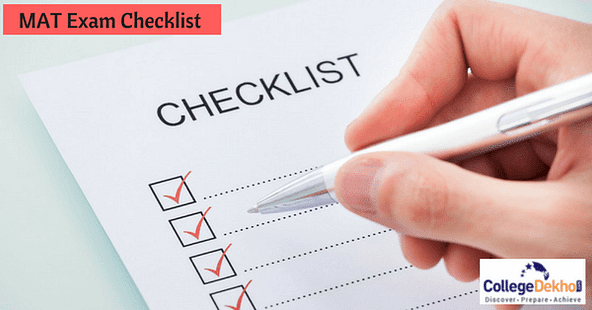 MAT December 2023 Exam Day Checklist: It takes a lot of time and hard work to be well-prepared for entrance exams, but some various tips and tricks can add to your performance and help you score well in your MAT 2023. Candidates appearing for MAT 2023 in IBT, CBT, and PBT modes must ensure to have all the important documents and check every detail of the exam for a smooth experience.
The selection process after MAT will begin once the cut-offs are out. Aspirants will have to sit for further admission rounds which include group discussions, personal interviews, and others. Since MAT Exam test scores are used as admission criteria at various top MBA colleges, management, and PGDM institutes, it is essential to be well-prepared for the big day.

Here are a list and tips of all the important things you need to know and do before taking up the exam.

Also Read: MAT 2023 IBT (Remote Proctored Internet Based Test): Exam Instructions
MAT December 2023 Exam Day Checklist
Here is a checklist to help you get ready for the MAT 2023 Exam Day:
Download Admit Card
Candidates appearing for the exam can download the MAT 2023 Admit Card from the official AIMA website. It is mandatory to carry your admit card to the respective examination center at the time of the examination.
Valid Photo ID Proof
Appearing candidates must carry any one of their valid photo ID proofs to enter the examination center. Make sure the ID proof you carry is original and is not a copy of it. Candidates can carry any of the following photo ID proof:
Aadhar Card
Voter Card
Driving License
PAN CARD
Check Exam Centre & Reporting Time
This, being one of the most important days of your life, is advised to cross-check your MAT examination centers and reporting time one day before the examination day to avoid any sort of day/ time/ venue confusion. It is advised to reach your center one hour before the commencement of the exam.

Also Read: Last-Minute Preparation Tips for MAT 2023 Exam
Do What Is Right for You
Every individual has a strategy when it comes to exam preparation. Some people prefer listening to music right before the exam, while some prefer last-minute revisions, and few candidates wish to be alone to soothe their minds and recollect necessary points.
Review the Important Points
Rather than going through the syllabus day before, it is good to make flashcards of important topics. This will not only help you retain better but will also you to perform better on your MAT examination.
Stay Positive
It is always good to take some time off a day before the exam to overcome the text anxiety that most candidates go through. Getting anxious right before the exam will affect your scores as the brain will be working hard to calm your nerves down rather than focusing on what you have learned. So it is good to relax a little.
Also Read: MBA Colleges in India Offering Best Placements
The best way to score well in the MAT exam is to worry less. Hence, it is better to not stress and wait for the cut-offs patiently. The MAT 2023 Cutoff varies every year depending on several factors.
Once the exam is over, we will provide you with a detailed MAT 2023 Exam Analysis here. Wish you all the very best!