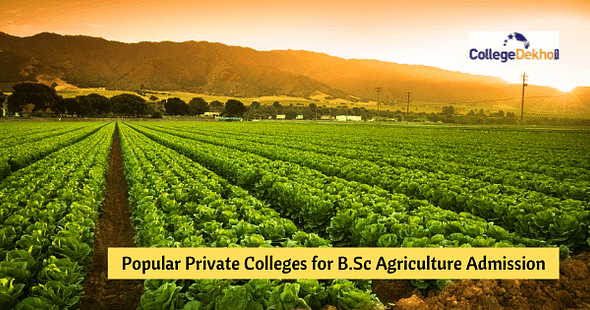 Top private colleges for BSc Agriculture 2023: BSc Agricultureis one of the good course options these days for students after Class 12th as the scope of the BSc Agriculture course is broad in the Agricultural industry. However, when it comes to choosing a college, students are mostly in a dilemma as there are manyBSc Agriculture Colleges in India. 
The selection of college is an important decision in a student's life. However, it is easy to choose a college when various factors like location, fees, selection criteria, infrastructure, facilities, placement, etc of the college is taken into consideration. The government or a private college does not affect the standard of study if the college is recognized in UGC/ AICTE. The important thing is to choose the right college based on the opportunities that the college provides to students. 
This article covers the list of top BSc Agriculture private colleges in India, fee structure, eligibility criteria, selection process, and placement opportunities in a private college.  

Also Read: Maharashtra BSc Agriculture Admission 2023

List of Top Private Colleges for BSc Agriculture Admission 
Ranking-based list of India's top private agriculture colleges 2023 is listed below:
Indian Agricultural Research Institute, New Delhi
IVRI Bareilly, Bareilly
NDRI, Karnal
Banasthali Vidyapith, Jaipur
CIFE Mumbai, Mumbai
Dr DY Patil College of Agriculture Business Management, Pune
Sam Higginbottom University of Agriculture, Technology and Sciences – (SHUATS)
Mahatma Jyoti Rao Phoole University
Mewar University
IIHR Bangalore
Top Private BSc Agriculture Colleges in India
Here is a list of the top private colleges where students may pursue a BSc in Agriculture in 2023 if they are interested in doing so. Each institute has its own selection procedure, and each institute sets its own fee schedule tabulated below:
University/ College 

Location

Selection Process 

Fees 

Noida 

Group Discussion (GD) and Personal Interview
(PI).

INR 66,000 per year 

Jaipur 

Entrance Test and Personal Interview round. 

INR 77,000 per year

Jaipur

JET or JUEE Entrance Exam followed by Interview 

INR 40,000 per year

Solan

Shoolini University Entrance Exam 

INR 98,600 per year

Jalandhar

Merit Basis

INR 98,000 per year

Ludhiana

Merit Basis

INR 50,500 per year

Sehore

Merit Basis

INR 60,000 per year

Dehradun

Merit Basis

INR 50,000 per year

Kolkata

Merit Basis

INR 87, 500 per year

Lucknow

Merit Basis

INR 60,000 per year

Jhanjeri, Mohali

Merit Basis

INR 85,000 per year

Gunupur

Merit Basis

INR 55,000 per year

Rajkot

Merit Basis

INR 40,000 per year

Bhopal

Merit Basis

INR 60,000 per year

Moradabad

Merit Basis

INR 61,200 per year

Mohali

Merit Basis

INR 50,000 per year

Birbhum

Merit Basis

INR 72,500 per year

Ludhiana 

Merit Basis

INR 53,900 Per year

Indore

Merit Basis

INR 85,000 per year

Bharath Institute of Higher Education And Research (BIHER) 

Chennai

Bharath University Engineering Exam (BEEE)

 INR 1.25 Lakhs per year
Note: The figures mentioned above are subject to change. 

For a complete list of top private colleges for BSc Agriculture 2023, check the link given below
Also Read:BSc Agriculture Admissions 2023

BSc Agriculture Eligibility Criteria 
The minimum eligibility criteria for admission in BSc Agriculture course is given below: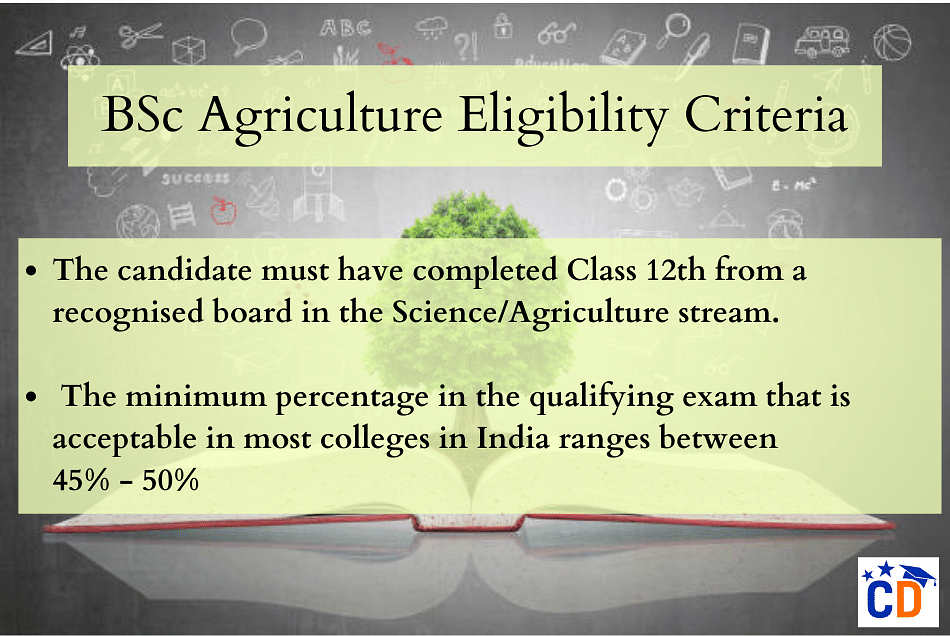 Private Colleges BSc Agriculture Admission Process 
The private colleges in India that offer BSc Agriculture course sets their own admission process to enroll students. Some institutes admit students on the basis of entrance tests, GD, or PI for admission while others enroll students on a merit basis. The BSc Agriculture Admission Process 2023 have been initiated for many colleges. Candidates must start applying by visiting the official website.
The candidate is considered for admission only when they apply for admission at the respective college. For this, they must fill in the application form within the deadline date as defined by the institute. The applicants must ensure to provide accurate details in the application form as all information mentioned in the application form are scrutinized and cross-verified before the confirmation of admission.
The candidate who applies for admission must appear in the entrance exam (if applicable). Based on the candidate's performance in the entrance exams or marks obtained in the qualifying exam, the student's merit list is prepared after which the candidate must report at the institute to get their documents verified on the defined date. 
Once the admission is confirmed, the candidate must make the payment of fees as defined by the college to confirm admission.  

Also Read: BSc Agriculture Admission without Entrance Exam

BSc Agriculture Placement Trends in Top Private Colleges
The top private colleges for BSc Agriculture 2023 conducts placement drives to help students get an internship opportunity or job in the relevant sector. Dhanuka Agritech Ltd, Bayer CropScience Ltd, Monsanto India Ltd, Insecticides India Ltd, Bharat Rasayan Ltd are some of the leading private organizations in India that hire a BSc Agriculture candidate. 
Students enrolled in BSc Agriculture program are placed in companies with an average annual package of INR 3 LPA. 
BSc Agriculture Course Fees
BSc Agriculture cours fee ranges between INR 2 - 3 LPA. Initially, the BSc agriculture salary ranges between INR 3 - 5 LPA. The term "responsibility" refers to the act of determining whether or not a person is responsible for his or her own actions.

Related Articles
For BSc Agriculture Admission updates, stay tuned to CollegeDekho!