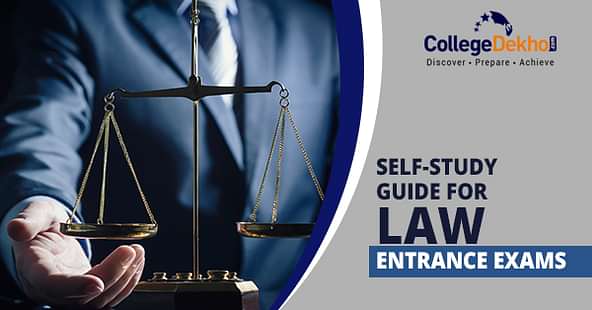 Every aspirant goes through dilemmas while preparing for a law entrance exam. Studying for popular law entrance exams like CLAT, AILET, MH CET Law, LSAT, ULSAT, AP LAWCET, TS PGLCET, LFAT, KIITEE (Law), BHU UET (Law) etc. is not a piece of cake. It requires immense dedication and hard work. Candidates appearing for a law entrance exam are required to opt for either coaching or self-study as per their convenience. Students who choose to take up coaching classes also need to go through the phase of self-study. Without devoting time for self-preparation, it is almost impossible to crack an entrance exam of law.
An aspirant must be ever ready to invest time in practice, study and revision as these are the keys to having a successful result. With the outbreak of the coronavirus pandemic and the nation-wide lockdown, multiple law entrance exams have been postponed. Candidates are advised to utilize the extra time provided through self-study to enhance their preparation for the law entrance exam.
CollegeDekho brings forth a self-study guide for the candidates willing to invest their time in studying on their own. The article gathers important dates, preparation tips and tricks, syllabus and best books for the law entrance exam that a candidate can refer to while preparing for the same.
Why is Self Study Important for Law Entrance Exams?
Candidates are often unaware about the power of self-study and do not understand why aspirants undergoing coaching or without coaching must stress on studying on their own. Enlisted below are the reasons why a candidate should focus more on self-study for law entrance exams.
It provides the aspirant control over their learning. He/she can devote and divide the time to study a particular subject or topic as per the interest or requirement.

Self-study has the ability to enhance the efficiency of the student. Aspirants are more focused while studying on their own as they are their own masters.

The self-study leads to deep learning that makes the concepts clear. A candidate can go to much depth as he/she wants while preparing for the law entrance exam.

Practice makes a man perfect. Through the medium of self-study, a candidate is able to lend more time to practice which solidifies the preparation of the aspirant.

Self-study provides self-confidence to the candidate. It makes them tackle their own queries and solve their problems which in return boosts their confidence.
Syllabus for Law Entrance Exams
Before building a preparation strategy, an aspirant must be fully aware of the syllabus of the exam. It becomes quite challenging for a candidate to conduct self-study for Law Entrance Exams without the full knowledge about the syllabus. Mentioned below are the popular law entrance exams with their detailed syllabus.
How to Prepare for Law Entrance Exams
Choosing self-study for a law entrance exam pays off well if an aspirant has a plan on how to go about with the preparation. Cracking a law entrance exam does not come easy which is why many students prefer to enrol in coaching classes. Each law entrance exam has a separate set of exam patterns and subjects that require different strategies and tricks.
An individual must have a plan in handy so that the process of implementation becomes clear and easy. Mentioned below are the law entrance exams with some tips on how to prepare for the entrance exam of law.
Also Read: Coaching vs Self Study – What's the Right Path to Crack an Entrance Exam?
Best Books for Law Entrance Exams
Books are an essential part of the preparation for any entrance exam. Picking up the right kind of books from reliable sources helps a candidate in performing better in the final law entrance exam. An aspirant must always go for the books that have content as per the updated developments made in the entrance exam of law. Enlisted below are the books that a law aspirant can depend on for their law entrance exam self-study.
Study Material for Law Entrance Exams
Practice is considered as the best of all instructors. An aspirant must not neglect the power of practice as it helps in enhancing the preparation. A candidate can always refer to the previous year's question papers, sample papers and mock tests in order to brush up their knowledge and work on their speed. Listed below are the practice materials that an aspirant can refer to while self-preparing for Law Entrance Exams.
Also Read: Difference Between CLAT, AILET and LSAT
General Preparation Tips for Law Entrance Exams
When you think of making your career in law, the first thing that comes to your mind is "How to prepare for the Law entrance exams and crack the examination at one go?" Law is quite a respectable and important profession as lawyers play an important role in safeguarding the law and legislature of the country. Lawyers help people to stick to the rules/ laws formed by the government. 
When candidates are studying on their own, it is very important for them to follow proper books, study materials, etc to clear any one of the law entrance exams in one go. We have listed below some general preparation tips that will help you to self study for law entrance exams. 
Stick to the Exact Syllabus: Candidates preparing for law entrance exams have a tendency of reading everything even if it's not important or not part of the syllabus. Our advice for you would be to stick to the exact syllabus. A thorough study of your syllabus will take up a lot of time but will also help you to score more. There is absolutely no need to fill up your brain with irrelevant information, just follow the exam syllabus. 
Arrange your Books and Study materials: Once you know the syllabus, it will be easy for you to collect the right books and study materials that will help you in your preparation. The list of all the books for different law entrance exams has already been provided above. 
Divide your Subjects according to Dates: It will be beneficial for you if you divide your subjects according to dates. You can make a study plan where you can mention which subjects you will study each day, this way you will cover the syllabus and will have ample amount of time to revise. For example, the first week must be dedicated to a specific subject, the next week to some other subject and so on and so forth. Once you complete studying all the subjects, you can start revising one after the other. 
Be Inquisitive: You get to learn only when you start asking questions as it is not possible for you to know everything that's happening around you. When you have doubts, try to get them cleared. If you don't know the answer to a question, try to find out the solution rather than blindly memorising the answer. The colleges/ universities that are holding the law entrance tests are way smarter than you. 
Analyse your Answers: After solving every previous question paper or mock test, analyse your answers. This way you will understand where exactly you are going wrong and how you can improve your preparation. Practising mock tests and previous question papers will improve your time management skills, speed, accuracy and problem-solving techniques.
Mistakes to Avoid while Preparing for Law Entrance Exams
Law has become quite a popular career choice for students in India. As a result, most colleges/ universities are holding law entrance exams to provide admission to different courses of law. Lots and lots of students are appearing for the law entrance exams in India every year. So, you must be prepared really well for the examination and avoid all sorts of mistakes so that you can clear the examination easily.  
Some of the common mistakes that candidates usually make are provided below so that students appearing for law entrance exams should avoid them.
Not starting your preparation early: The law entrance exams that are conducted in India are not the same in terms of syllabus, difficulty level, etc. When an individual has made up his mind to appear for a particular law entrance exam, they must immediately chalk out a plan to start the preparation early. Planning ahead is very important as you get enough time to complete the syllabus and revise it. While some students may need 3-4 months to prepare, some might need a year to prepare. Keep in mind that it takes months to prepare for a law entrance exam in order to score a higher rank.
Not realising how important mock tests are: Each law entrance exam has a different approach to solving the questions. Candidates can only understand the techniques or strategies to solve the questions if they solve mock tests or previous question papers. Not only your speed and accuracy will improve, but you will also learn the techniques or approaches to solve the question paper. In order to overcome the exam fear, candidates must try to appear for the mock tests and get the feeling of the real exam environment. Try to take the tests at the same time of the day when the actual exam is conducted. 
Overlooking the mistakes: While taking the mock tests, candidates should look at the mistakes that they are doing. Not only do you get accustomed to the exam pattern while solving the mock tests, but you must also analyse your mistake so that the same mistake is not repeated again. Keep a track of the time you take to solve each question or which questions you found to be unfamiliar. Once you start understanding your mistakes, you will eventually score more next time. 
Too much study leading to burnout: Excess of anything is always bad which includes preparation for law entrance exams. It is important to work hard for the exams, but it is also important to take rests in between. Physical and mental burnout will severely affect your performance. In order to avoid burnout, set goals that you know you can achieve. Make a study plan and figure out which time of the day is suitable for you to study. Remember to get proper sleep, eat nutritious food and do light exercises to feel relaxed.  
Top Law Colleges in India
Through an entrance exam of law, you will get admission to several law colleges in India that offer various programmes of law. Some of the top law institutes of the country have been listed below.
| | |
| --- | --- |
| College Name | Location |
| | Dwarka, Delhi |
| | Dehradun, Uttarakhand |
| | Noida, Uttar Pradesh |
| | Moradabad, Uttar Pradesh |
| | Jaipur, Rajasthan |
| | Mumbai, Maharashtra |
| | Bhubaneswar, Odisha |
| | Bangalore, Karnataka |
| | Bangalore, Karnataka |
| | Greater Noida, Uttar Pradesh |
Aspirants opting to self-study for law entrance exams must stay dedicated and must believe in hard work. Remember that nothing is impossible in this world and anything is possible with confidence. Persistent practice is the key to success and being regular at it provides the candidates with the desired outcome. CollegeDekho wishes you all the best!
Fill our Common Application Form (CAF) or give a call on the student helpline number (toll-free) 1800-572-9877 to find the best college for yourself. You can also write to us through the QnA zone of CollegeDekho.