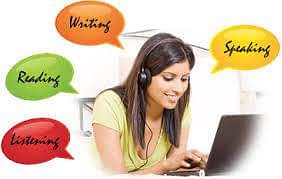 Graduates and even coming graduates are so passionate to enroll themselves in a top class university that they worked all day long. Their dedication and hard work sometimes fail due to the less affluence of English.
This may not be true for everyone and especially for Delhiites but the students from other places like Bihar, Haryana and Northen part of the India faces this problem. To attain fluency in English, we go to coaching institutes and other English people to teach us but the fact is that English could be learned only by speaking and writing. T
he more you read, speak and write, the more you will be able to perform well. Those who are good readers, listeners are good speakers also. Here are some points which will help you to improve your English. English is a weird language Unlike Hindi, which sounds exactly the way its letter are written, English is a mad language. The more early you accept this fact, more you will learn faster. For example, why are "read" (reed) and "read" (red) the same word, but pronounced differently depending on whether you're speaking in the past or present tense? Or why is "mice" the plural of "mouse", but "houses" is the plural of "house"?
Go Deep The best way to learn English is to know more and more words with its true meaning. It is not enough to study an hour in a week to learn this language, you need regular practice. First and foremost thing you should remember is be confident and speak this language without a feeling a guilt. Start Speaking it Don't treat yourself as a student, just think you are an English language user and speak it freely. This small change will contribute in a larger way. It will make you feel more confident and help you to use the English you already know more effectively. First Listen The major problem with all of us that we don't listen.
To speak better English, you have to be a good listener. First, you ought to listen others carefully and understand the meaning. Remember the answer lies with-in the question. If someone asks you, Can you do that? The answer is 'Yes, I can..' So, listening is equally important. Use It or Lose It This is an expression in English:"Use it or lose it". It means if you don't practice an ability, you might forget it. This idea can be used to help you remember new English vocabulary comparably quickly.
Don't read too much grammar The problem is we started reading too much grammar to speak good English, which is actually wrong for a beginner. Actually, grammar is presented in different ways by different people. So, reading it too much will land you in confusion.
Start implementing these ideas from now and go hard!