Bachelor of Business Administration (BBA) is one of the most popular choices of Management courses after 12th in India. The course has a great scope for jobs and further studies. BBA is a course that provides the best start to your Management career.
BBA is a professional course and many students opt for placements and start their career after BBA. However, another great option would be to look for postgraduate courses to pursue after BBA.
In this article, we will take a look at some of the best courses you can pursue after completing a BBA. However, before moving on to that, let's take a look at why should you opt for further studies after completing a BBA programme.
Why Pursue a Course after BBA
BBA is a professional course that has been designed to make a student ready for the industry. The course improves the managerial skills as well as the communication skills of a candidate while also providing practical exposure. The curriculum is perfectly packed to help candidates look for private as well as government jobs.
So, why even consider going for higher studies after BBA? Every student can have a different answer to this question but here are a couple of reasons we can think of.
Best Courses after BBA
It is important to understand your reasons for taking up a postgraduate course after BBA. It will help you in choosing the right course and in charting your career pathway. There are many choices of courses available after a BBA degree. Here are some of the best courses that you can consider.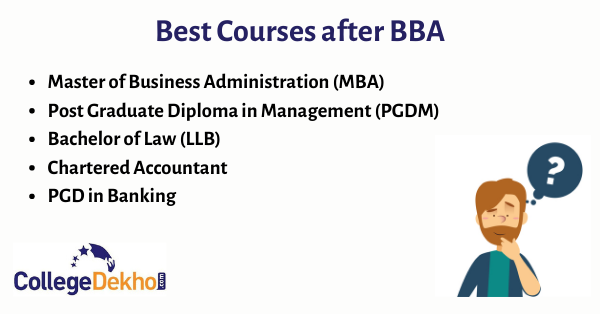 1. Master of Business Administration (MBA)
MBA is the most popular choice for a BBA graduate. The course takes you one step further in the management stream and builds on the basic principles that a student is taught in the BBA course. The average course fee for MBA in India is around Rs. 5,00,000. However, in the top colleges with a national and international reputation, the course fee can easily extend beyond Rs. 15,00,000 mark. Despite the high fee, the MBA remains a popular course because of the excellent returns it offers.
An MBA course is the pathway to some of the most well-paying jobs available in the private sector. There is no shortage of job opportunities after MBA in the private sector. You can also go for government-sector jobs after an MBA. You can also choose to go for a particular sector or industry after MBA by choosing the correct MBA specialization as per your requirement.
Top Colleges for MBA in India
There are over 6,500 MBA colleges in India. You can check some of the popular options given below.
Here is the complete list of MBA colleges in India.
2. Post Graduate Diploma in Management (PGDM)
PGDM is another top choice of BBA graduates. The course curriculum of PGDM is so similar to the MBA degree course that many PGDM courses are often simply referred to as MBA courses. However, the difference lies in the fact that PGDM courses can be offered by standalone institutes without the need of being affiliated to any university.
Since universities are not involved, the PGDM course curriculum can be updated more quickly than MBA courses. You will also find that a greater variety and larger number of specializations are offered as PGDM courses. PGDM courses have the exact same career opportunities and scope as an MBA degree. However, it must be noted that the value of an MBA degree is higher in the industry.
Top PGDM Colleges in India
Given below are some of the popular colleges for PGDM in India.
3. Bachelor of Law (LLB)
Many students may decide to go for an LLB after BBA. Having a degree in law along with the management skills can work in the favour of a student and help them earn more money, take up cases in their chosen specialization or switch fields completely. LLB gives you a wide range of career options and provides a great alternative skill set to rely on.
For example, a friend of mine decided to take admission into an LLB course after seeing that the company he was working for regularly reached out to third-party lawyers and law firms for legal counsel. Once he had completed the course, his company started relying on him for help related to legal matters and he got a pay raise.
Top LLB Colleges in India
Given below are some of the good options for LLB colleges you can consider after BBA.
4. Chartered Accountant
The course of Chartered Accountant is another great option for students who wish to explore a career in the field of financial management and analysis. Pursuing CA after BBA can be very effective for candidates who have completed their BBA in Finance, Accounting or any other similar specialization.
In fact, CA is a course that you can take up along with your MBA studies. That will give you an incredible advantage and will expand the areas in which you can seek career opportunities. However, it is very important to do your research and plan carefully when considering this option as both of these courses require a lot of time and study.
On a similar note, you can also consider the Company Secretary course.

5. PGD in Banking
Banking is one of the main career avenues taken up by BBA graduates and PGD in Bank Management is a good choice of course. The course develops the skills required to succeed in the banking sector.
Top PGD in Banking Colleges
Check the list of some of the best colleges for PGD in Banking.
Choosing the correct postgraduate course is very important after completing graduation. It will help you go on the right career pathway and improve your salary and payscale. If you need help with choosing the right course, you can talk to our career counsellors at 18005729877.
If you have any doubts or queries, you can ask our experts on the CollegeDekho QnA Zone. If you want to apply to top colleges after pursuing BBA, you can fill our Common Application Form (CAF).