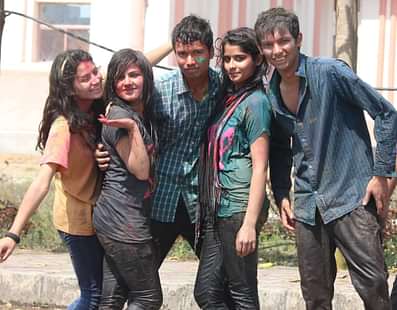 March is a month which is a combination of two emotions which collide in a student's mind till the time he/she is in college. Every year our festival of colours Holi generally falls in the month of march and even the final semester examinations. Recently encountered in a meeting with a group of students in a common market of Dehradun that they are not really happy with the examinations falling in the month of march and also the festival they enjoy the most, even when the know nothing can be done of this they have found ways to celebrate it their own way, all those who live in the city itself don't really worry but students from far away are confused and have to ponder a lot before going home.
" Staying back is also fun, " says Mohee Purohit a law student from petroleum. Celebrating this festival with friends doesn't give you a feeling that you are not at home. All of us who stay here in the hostel plan pranks and play with colours and many times the local friends also get all the sweets like gujiya etc which make students feel like home.
The college heads say they give students enough vacations to head home and come back. Generally, the vacations are of about a week and exams are either before or after holi. Sometimes it happens that an exam would fall right after holi and creates an unnavoidable situtation. Vacations here in Dehradun universities for holi are from 20th march to 26th march. Time for students to refresh and rejuvenate themselves, play with colours and spend quality time in the the college.