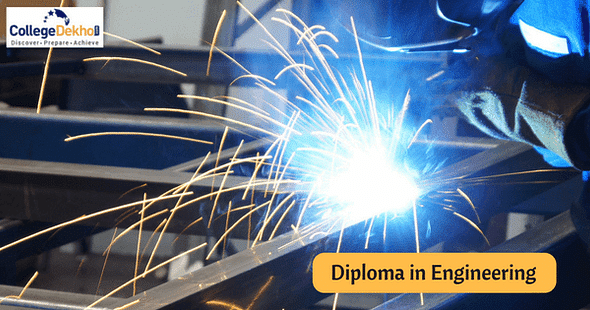 Diploma in Engineering is a great option if you want to pursue technical education and start working early. The 3-year long programme is offered in almost all the engineering streams including the conventional ones like Diploma in Computer Science, Diploma in Civil Engineering, Diploma in Mechanical Engineering, etc.
The good thing is that you are eligible to apply for diploma programmes after giving your class 10 board exams. On completing the course, you will get a lot of job opportunities in both government as well as private sector. Also, you can strengthen your technical qualifications by pursuing advanced technical programmes. Following is all you need to know about Diploma in Engineering.
Advantages of Pursuing Diploma in Engineering
These programmes are best for students who want to start earning early as these programmes open really good opportunities. Students who successfully complete their Diploma in Engineering can apply for various technical roles in reputed firms.
Diploma in Engineering is a cheaper programme thanB.Tech or BE. Therefore students who do not wish to spend too much money for technical education yet want a quality education can pursue these courses. You can expect the fees of these programmes to vary between Rs. 1.5 lakh to Rs. 3 lakh depending on the type of institute.
It is also advantageous for students who wish to skip rigorous engineering entrance exams like JEE yet want to pursue B.Tech. After completing your Diploma, you can apply for B.Tech lateral entry in reputed engineering colleges through state-level entrance exams that grant admission in B.Tech second year.
For students who want to pursue B.Tech, diploma helps them strengthen the technical foundation as they get to study core subjects that are taught in B.Tech as well.
Also Read:Career Guide for Merchant Navy: Find Career Prospects & Salary Here!
Diploma in Engineering Admissions
Most of the institutes shortlist students for Diploma in Engineering on the basis of state-level engineering diploma entrance exams. Following are some of the entrance exams that you can apply for in order to enroll for Diploma in Engineering:
Entrance Exams for Diploma in Engineering
Arunachal Pradesh Joint Entrance Examination (APJEE)
Assam Polytechnic Admission Test (Assam PAT)
Bihar Diploma Certificate Entrance Competitive Examination (DCECE)
Chhattisgarh Pre Polytechnic Test 2017 (CG PPT)
Delhi Polytechnic Common Entrance Exam (Delhi CET)
Haryana Diploma Entrance Test (HSTES DET)
Himachal Pradesh Polytechnic Admission Test (HP PAT)
J&K Diploma Polytechnic Entrance Test (JKBOPEE Polytechnic)
JEXPO and VOCLET WB Polytechnic Entrance Exam
Joint Entrance Examination Council of Uttar Pradesh (JEECUP)
Jharkhand Polytechnic Entrance Competitive Exam (Jharkhand PECE)
Kerala Polytechnic College Admission Test
Maharashtra State Board of Technical Education Polytechnic Entrance (MSBTE)
Madhya Pradesh Pre Polytechnic Test (MP PPT)
Odisha Diploma Entrance Test (Odisha DET)
Punjab Joint Entrance Test (Punjab PET)
Rajasthan Polytechnic Admission DTE Rajasthan
Polytechnic Common Entrance Test Telangana State (TS POLYCET)
Uttarakhand Polytechnic Entrance Exam (UBTER JEEP)
Karnataka Diploma Common Entrance Test (DCET)
Polytechnic Admission Test Rajasthan (DSRRAU PAT)
Polytechnic Common Entrance Test Andhra Pradesh (AP POLYCET)
Also Read:JEE Advanced Aftermath: 7 Reasons Why Students Fail in IITs
Job Opportunities after Diploma in Engineering
There are various job opportunities after pursuing a diploma in engineering. Some of the good colleges also offer campus placement opportunities after the programme. Various government organisations also offer roles for individuals who hold a diploma in engineering. Indian Railways, Power Grid, BHEL, Electricity Department, BEL and NTPC are some of the organizations that hire engineering diploma holders.