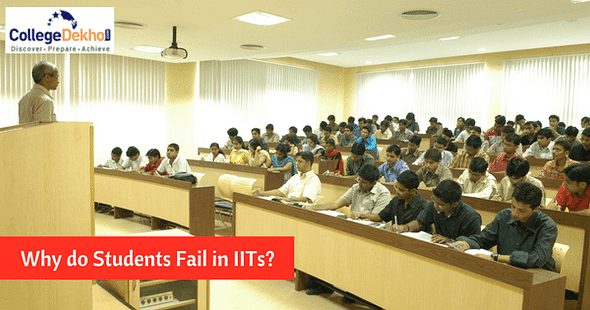 Top 7 Reasons Why Students Fail in IITs in the Aftermath of JEE Advanced: All aspiring engineers in India dream to pursue their technical education at the prestigious IITs (Indian Institutes of Technology). Although lakhs of students prepare for JEE Advanced, only a few are shortlisted for the B.Tech and BE programmes offered by the IITs. Most of you might think that clearing JEE Advanced exam is where life becomes easier. However, this is not the case. Getting into IITs means that the going gets tougher as the course progresses. Students at IITs are required to work very hard in order to cope with the highly advanced curriculum.
Quick Link
Following the successful completion of the JEE Main 2024 exam in both January and April sessions, the top 2,50,000 candidates who qualified are eligible to participate in the upcoming JEE Advanced 2024 exam. This highly anticipated exam is expected to be held on June 2, 2024.
Most of the students fail to estimate the magnificence of the IIT coursework resulting in various backlogs by the end of the first year. This may seem unlikely to the students preparing for JEE Advanced as it is hard to believe that the students who had cleared the toughest exam in the country have failed in the engineering programmes. The director of IIT Delhi, Prof. V. Ramgopal Rao, spoke about the issue and said that every one out of five students at IIT has a backlog in one or two subjects in the first year. He also added that it becomes difficult to clear backlogs in successive years as the course is quite demanding.
Despite clearing an exam as tough as JEE Advanced, students struggle with backlogs in IITs. Following are some of the reasons why students fail in IITs:
Reasons Why Students Fail in IITs:
1. Lack of Fundamental Knowledge:
Although coaching institutes may help students a lot in clearing the JEE Advanced Exam, they allow students to rely on superficial knowledge rather than ensuring that every student gets the fundamentals right.
Therefore, these students may clear the JEE Advanced Exam but find it difficult to clear the IIT course exams as they are totally based on fundamental knowledge that demands intense processing of their concepts and relatively answering the questions.
2. Students of Reserved Categories not being able to cope with the Curriculum:
The events at IIT Roorkee also shed light on the fact that students from the reserved categories (OBC/SC/ST) are not able to cope with the courses at IITs. Experts suggest that admitting these students as lower cut-offs make them vulnerable as there is no reservation within the IITs and these students may find it difficult to clear the exams.
In 2016, IIT Roorkee expelled 18 students who had a CGPA below 5, however, the decision was reverted later due to protests. It was reported that close to 90% of the students who fail belong to the reserved categories.
3. Language Barriers at Graduation Levels:
Students coming from non-English education boards also face a lot of difficulty in coping with the curriculum and lectures that are delivered entirely in English. These students face problems while adapting to drastic changes from their native language to English and therefore are not able to perform well.
To bridge the language barrier, IITs have taken up initiatives such as guidance lectures and setting up language centres to help these students.
4. Taking up the wrong Branch of Engineering:
Some students take up engineering specializations (branches) that they do not understand or do not find it interesting. Developing a lack of interest in the subject becomes counterproductive. This often turns out to be the reason why students fail at IITs.
5. High-Headedness and Distractions:
Feeling of achievement after cracking JEE Advanced exam has often been stated as the reason behind backlogs and students failing in IITs. In their elation after making it to the IITs, students forget to work hard in order to thrive throughout their course. Many of these often fail in exams.
Having studied hard for 2 years, students also find the dynamic extracurricular activities at IITs very distracting and are not able to manage their time well in order to cope with their studies.
6. Peer Pressure of Performance:
Some students find it easy to manage stress and performance pressure, whereas, others succumb to difficult situations. Few of the students take the competition very hard upon themselves and it often results in poor performance.
7. Minimum Pass Percentage:
Many of the students depend on last-hour preparation to clear their semester exams and fail to secure passing marks as the passing marks are decided by the professor heading the course.
Also Read: Branch Change Possible at IITs after 1st Year! Here's What You Need to Do

Related Links
In order to reap the benefits of studying at the most popular educational brand in India i.e. IITs, you will have to put in a lot of hard work even after clearing JEE Advanced exam 2024 to ensure a bright future. Making it to a good college is just the first step in your career and there is a long way ahead before you reach your goal.