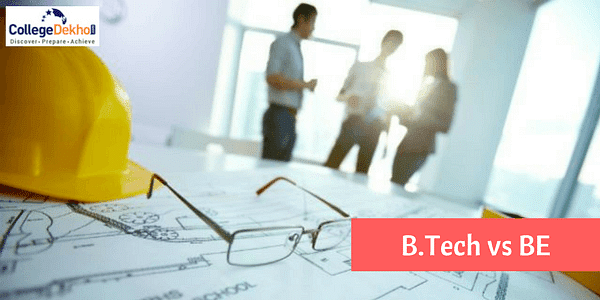 One of the most important questions on the mind of the students targeting the best engineering courses in India is – what is the difference between Bachelor of Technology [B Tech] and Bachelor of Engineering [B E] degrees.
To clarify the confusion, one must understand what is the difference between BE and BTech. Though these seem similar, they have quite a few differences. The prime difference between B tech and B E, in terms of study, is the fact that B Tech emphasizes more on practical application, while B E program concentrates more on the theoretical knowledge that is applied to develop equipment and gadgets in the field of science and technology.
Candidates who pursue B Tech and B E can specialize and pick-up streams that are widely available in both the degree structures and curriculum. What differentiates between the two is the orientation of these programmes as well as the course materials that are used.
In the current scenario, the name of degree doesn't make much of a difference if the institutions that offer B Tech or B E, are following AICTE (All India Council for Technical Education) approved courses. AICTE is the nodal body that approves technical courses across engineering colleges in India and is said to follow some standard guidelines.
Table of Contents
Difference between B Tech and B E
| | | |
| --- | --- | --- |
| Course | B Tech | B E |
| About the course | It is skill orientated. B.Tech course focuses on core subjects of the branches from the very first year. | It is data orientated. The curriculum is based more on theory. A B.E. student has to study subjects of other branches also. This makes people think that B.E. has more scope since the student must have knowledge of other branches as well. |
| Duration | 4 years with eight semesters. | 4 years i.e. eight semesters in total, two per year. |
| Eligibility | 10+2 with both Physics and Chemistry among the science subjects with at least 50% marks. You need to clear particular exams like JEE Mains, GUJCET, etc. for getting into certain colleges. | 10+2 with both Physics and Chemistry among the science subjects passed with a minimum of 50% marks. For particular colleges, you may have to crack specific entrance exams. |
Which is Better BE or BTech?
Both these engineering degrees have their own importance in society. If a student wishes to join a field that is engaged in the manufacturing of hardware, then the B.E. field is more suitable for him. However, if a person wishes to join a field that makes hardware more efficient or attractive by modifying them, then the B.Tech course is more suitable.
Students can choose either of these fields on the basis of their interest, strengths and their future plans. But there are certain universities offering only a degree course in B.E. and some only B.Tech. So, a student may opt for a particular degree on the basis of his/her preference for the colleges. At present no degree, B.E. or B.Tech is superior to the other.
Job Prospects after B E and B Tech
The job prospects for both degrees are very similar. An engineering student can either opt for a job or for higher studies - say M.Tech or M.E. through the GATE exam or even pursue M Tech without a GATE score. When an aspirant applies for higher education, both courses hold equal importance. Even in the other countries both the degrees are considered at par with each other.
After completion of B.E., a student may pursue further courses like M.E., MBA, and MSc. One can either go for an M.Tech/MS degree or do an MBA. If the reason for you doing engineering was your passion and interest and not for the sake of your parents then surely M.Tech or MS is a good choice. For this, you need to score well in the entrance exams like GATE, GRE, and IELTS to get into a good college in India as well as abroad.
There is a good prospect to get a job in either public, private or government sector after engineering. All you need is score of at least 60 per cent in B.E. / B.Tech courses. Those who are interested in government job should appear for IES - Indian Engineering Service Examination which offer jobs in various government departments.
Misconceptions Regarding BE vs BTech
There are some misconceptions regarding B.E and B.Tech which clouds the judgement of the students wondering which is better BE or BTech - 
| | | |
| --- | --- | --- |
| Misconceptions | True  | False |
| Private Institutes offer B E and Govt Institutes offer B Tech | | √ |
| Industrial training is not offered in B E and B Tech | | √ |
| B.E is more valuable than B Tech or vice versa | | √ |
Popular Engineering Specialisations:
Popular Engineering Colleges in India
Here is the list of some of the popular engineering colleges in the country along with their average fee structure - 
| | |
| --- | --- |
| Name of the College/University | Average Fee (In INR) |
| J B Institute of Technology, Dehradun | 62,000/- per annum |
| Amity University, Gwalior | 1,56,000/- to 2,70,000/- per annum |
| Jagran Lakecity University, Bhopal | 1,15,000/- per annum |
| Maharishi University of Information Technology, Noida | 1,00,000/- to 1,38,000/- per annum |
| G N Group of Educational Institutions, Noida | 84,000/- to 95,000/- per annum |
| Samskruti Group of Institutions, Hyderabad | 62,000/- to 1,00,000/- per annum |
| Jaipur National University | 1,41,000/- per annum |
| Teerthankar Mahavir University, Moradabad | 1,04,000- to 11,00,000/- per annum |
| Swami Vivekananda Group of Institutions, Kolkata | 99,000/- per annum |
| Heritage Institute of Technology, Kolkata | 95,800/- per annum |