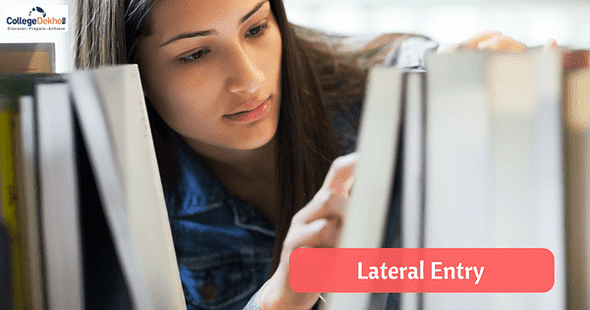 B.Tech Lateral Entry Admissions 2023: One of the many technical education options in India is B.Tech Lateral Entry (LE). If you are aspiring to become an engineer, you can apply for B.Tech Lateral Entry. The programme allows you to pursue B Tech programmes from the second year of the usual B.Tech programme at various engineering colleges in India. Students who have completed their engineering diploma programme can apply for admission to B.Tech LE. Nowadays, there are various engineering specialisations for which lateral entry is considered. Some of the examples are Fire Safety Engineering, Marine Engineering, Mining Engineering, Petroleum Engineering colleges, Software Engineering etc.
The course path for B.Tech LE is different from regular B.Tech, be it the preparation for the course or the admission process. Here you will find all the information about B.Tech LE programmes, entrance exams, selection process, curriculum and job opportunities after B.Tech Lateral Entry.
Popular Universities in India
List of B.Tech Lateral Entry Entrance Exams
The list of B.Tech Lateral Entry entrance exams along with 2023 dates can be checked below -
| | | | |
| --- | --- | --- | --- |
| Name of the Exam | Application Form Released on | Last Date to Apply | 2023 Exam Date |
| AP ECET | March 10, 2023 | April 10, 2023 | May 5, 2023 |
| TS ECET | March 2, 2023 | May 5, 2023 | May 20, 2023 |
| WB JELET | December 29, 2022 | January 17, 2023 | June 10, 2023 |
B Tech Lateral Entry Eligibility Criteria
If you are planning to apply for B.Tech LE then you must have successfully completed a 3-year (most colleges only accept full-time diploma) diploma in engineering. Most of the engineering colleges in India require a 60% aggregate in a 3-year diploma (Engineering – any stream) after the class 10 board exam.
Doing a diploma in engineering itself has a lot of possibilities. You can either do a 3-year diploma after your class 12 board exams or apply for diploma programmes right after giving your class 10 board exams. With this, you can take admitted to various industrial training institutes in India like Mechanical Deisel Colleges, Refrigeration & Air Conditioning Colleges, Draughtsmanship Colleges in India etc.
It is up to you when and whether you want to pursue your diploma in engineering after class 10 or class 12. However, time constraint must be considered as engineering diploma plus B.Tech lateral entry means six years of rigorous education. Therefore decide carefully when you want to start your diploma course.
B.Tech Lateral Entry Admission Process
Admission in B.Tech Lateral Entry programmes offered by engineering institutes is done on the basis of entrance exams. Different institutes consider different entrance exams. Most of the regional government and private colleges take admission on the basis of state entrance exams.
Some deemed universities and autonomous institutes might conduct their own entrance exam for admission to B.Tech LE programmes offered by them.
Difference Between Regular B Tech and B Tech Lateral Entry
There is no significant academic difference between regular B.Tech and B.Tech Lateral Entry. The main difference is highlighted in the following table:
| | | |
| --- | --- | --- |
| Parameter | B Tech Lateral Admission | B Tech Regular Admission |
| Duration | 3 years | 4 years |
| Admission Type | Direct Admission to Second year | Entry in First Year |
| Eligibility | Diploma in relevant field after Class 10 | Class 12th with Physics, Chemistry and Mathematics as the main subject |
As we have discussed above, the entrance exams and career paths are different but the subjects of B.Tech LE and regular B.Tech are same. According to some career experts, adapting the course line of B.Tech LE is easier as the student has already completed an engineering diploma prior to that.
Which one is better - Regular B Tech or B Tech Lateral Entry?
As far as job opportunities are concerned, both programmes are considered equivalent in the market. Students who purser B.Tech LE are offered the same opportunities and positions as regular B Tech graduates.
Some of experts say that the practical and core subject knowledge gained in engineering diploma can really help LE students understand machines better. This can sometimes be an added advantage for students who are pursuing B Tech from trades like Electrical Engineering, Civil Engineering and Mechanical Engineering.
Plan your education well and take the right entrance exams to secure a seat in either of the good colleges offering B.Tech LE programmes. As long as you score well, you will get the best opportunities in the engineering and technical market.
Good luck!
Go to CollegeDekho for more such articles.