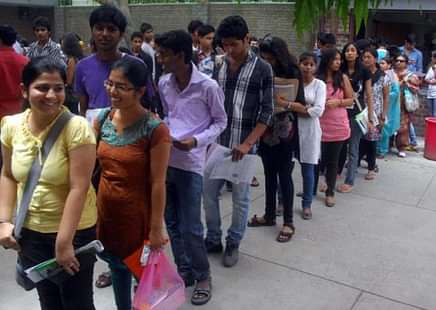 There were a lot of firsts for Delhi University in the admission 2016. A lot of previous year trends were forgotten and replaced by a whole new phenomenon. From the completely digitized application process to the cut-offs, DU has seen a lot of variations at the beginning of the academic session 2016.
In another trend changing event, Evening Colleges at Delhi University have gained popularity among the high scorers that applied for the university in 2016. This has shattered a lot of myths that only low scorers and male students are the ones who enroll in evening schools. The cut-off announced by DU made it clear that the seats in some of the evening colleges were filled up even faster than the regular colleges. A large number of students had enrolled for the different courses by evening colleges.
Also Read:Is Delhi University Transforming the Education Process in India?
Another highlight of admission process 2016 was the narrowing down of cut-offs between the regular and evening colleges. The competition is equally tough for taking admission in evening colleges as it is for the regular colleges.
The changing landscape of employability in the Indian market has largely affected the college preferences of students. Students are realizing the importance of work experience against degrees and are smartly weighing their career options. As per the trends, a larger group of students now want to earn while they learn.
Another reason for working while pursuing higher education is the economic independence that it offers the students. This has largely resulted in the increasing popularity of the DU evening colleges.
Also Read:DU Comes with New Admission Rule
Numerous students interested in professional courses and part-time jobs have shown great interest in evening colleges. Evening colleges start their schedule from 2 pm, therefore, allowing students to work as well as balance their education. This becomes a big advantage for students from economically weaker sections.
Many high scorers have shown interest in evening colleges hence proving that academic standards of evening colleges are equally good as their counterparts. The gender ratio in DU's evening colleges has also been changing, nullifying the perception that only male students enroll with evening colleges further improving the student intake of these colleges. P.K. Khurana, Principal, Shaheed Bhagat Singh (Evening) College informed that 45% of the students enrolled in the college are girls.
Also Read:DU Colleges Get Thousands of Applications for Limited Seats
Placement records, that have been a matter of concern for students applying for evening colleges, have also been improving over the years. Like regular colleges, evening colleges have also started providing on-campus placements. They also encourage their students to participate in extra-curricular activities such as dance, music, dramatics, debates, fine arts, etc.
Some of the evening colleges are now counted amongst some of the mainstream colleges of the Delhi University. For students who want to pursue professional courses and consider the prospects of earning while learning, evening colleges can prove to be a very beneficial higher education option for them.