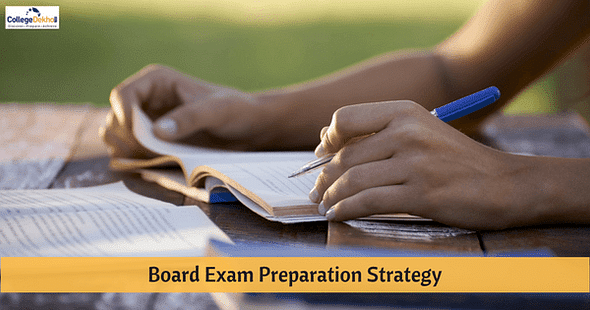 Board exams are the first benchmark in a student's life and are very important from the career perspective. Getting a good result in the board exams is not easy. With tremendous performance pressure, it is very important to channel your energy in the right direction to get good results. With a few tips to increase concentration and strategy, one can score excellent marks in Board exams.
With Class 10 and 12 board exams approaching, students appearing for the exams have the same question in mind – how to schedule studies for a good score? A good preparation strategy is what you need to perform well in your board exams. So if you haven't already devised a strategy, now is the time to plan.
Also Read:UG Courses you should pick if you want to pursue MBA in the long run!
Tips to Perform Well in Board Exams 2018:
Following are the tips to perform well in Class 10 & 12 Board Exams:
Smart Schedule:
Subjects and Topics: It is very important to balance your subjects properly. Figure out the subjects that require more attention and devote more time to them. Only you can figure out your strengths and weaknesses and schedule your studies accordingly. For example: If you have a strong hand in English and Sciences but need more time for mathematics then you can devote 4 hours to mathematics five days of the week and devote one or two hours each to English, Sciences and likewise. Further, if you are planning to appear for entrance exams after board exams, you can also check out some tips to crack JEE Main 2018 and Class 12 Board Exams simultaneously.
Focused Hours: It is important that you dedicate a large portion of your days to the preparation and plan the rest of your day accordingly. Making a schedule is not enough, following it is will give you the desired results. Eight hours of dedicated study time every day is enough to get you the desired score in your board exams.
Study Material: With less than a month left for exams, it is important that you don't start any new books or material. Stick to your original course books and notes. Try to cover your syllabus from the prescribed syllabus books as that will be followed in the board exam pattern.
Time Management:
Balance the Subjects: Repetitive studies is what you should avoid. Don't stick to one subject. Try to cover all the subjects and give more time to your weak subjects. Make a weekly timetable to cover all your subjects. This way you will be able to cover up the entire syllabus.
Take Breaks: Continuous studies are also not good. Break your daily studies into segments where you can take breaks and relax your mind. Listen to songs or take a fifteen-minute tea break after every 3 hours of studies to keep your mind fresh.
Revision and Mocks:
Retain what you have learned: preparation without revision is incomplete. Unless you are able to recall what you have studied, you will not be able to give your 100% in the board exams. Devote the weekends to revise what you have studied over the week.
Cover the Left-outs: Revising what you have studied will also help you in covering topics that you had left out for later and doubts that you need to clear.
Mocks: Give mock exams and solve last year question papers to make yourself familiar with the board exam pattern. This will also help you in understanding your speed and approach towards the question paper.
Also Read:Career Options for you if you have studied PCM with Computers in Class 12th
The score of both class 10 and 12 Board exams play a key role in higher education. Be it undergraduate courses or post-graduate courses, the percentage in these exams is considered to assess your skills and academic performance. A good score can help you get admission in some of the top colleges in India. So, stay calm and keep preparing.
All the best!!