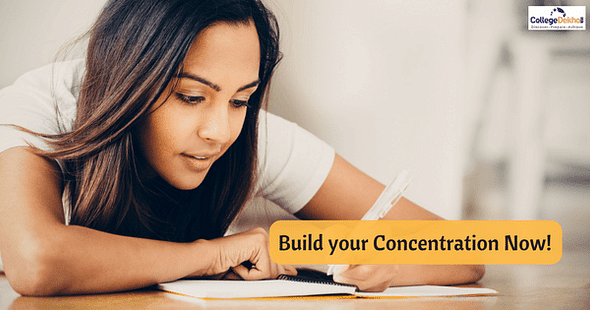 With board exams at your doorstep, all your thoughts must be consumed by preparation. Certainly, all of you will want to give your best shot; therefore, it is very important to work on concentrated studies at this hour. CBSE board exams require dedicated studies and good study plan in order to get good results. There are some preparation tips that can help you score better in Board Exams.
Concentration is a part of effective preparation that goes hand in hand with a good study plan to catalyze your effort. Achieving concentration for the preparation of CBSE Board Exams is not difficult if you put in your best effort. For those of you who find it hard to concentrate on your studies, we have just the solution that you need.
Tips to Increase Concentration for CBSE Board Exam Preparation
Here are the tips to increase your concentration for the CBSE Board Exams preparation:
Efficient Study Plan:
Make weekly targets and try to cover different subjects so that your mind does not get exhausted with one subject.
Try to mix one difficult subject with an easy subject like mathematics with English or physical education. This way your mind will not get exhausted and you will be able to focus.
Try to fit in all the subjects so that you have a varied revision scheme for the entire week. This will also help you cover different subjects and maintain a concentration equilibrium.
Slot your Study Time:
Instead of studying for long exhaustive hours, try to study in short slots of 2 to 3 hours with concentration.
Make sure you take a 10 to 15-minute break after every three hours of rigorous studies. Sip a cup of tea or treat yourself with a snack to freshen up your brain.
Change subjects with slots if possible. This way you won't get bored by focusing on just one subject.
Make Short Targets:
The best way to increase your studies is to make short goals. Aim to complete a chapter or an exercise in a slot of two to three hours.
Incentivize your studies by awarding yourself every time you have achieved a goal. For example, treat yourself with a chocolate or a 20-minute break of your preference once you have finished a chapter or exercise.
Understand your strengths and make the targets according to your comfort zone. Don't plan huge targets as they will take a longer time and your concentration will be hampered.
Keep your mind fresh:
No one can understand your concentration and strength better than you, therefore, it is important that you take time to rest. Keeping your mind fresh is the key to concentration.
It is important to take 8 hours of sleep to get yourself ready for the day-to-day study schedule.
Also Read:Courses you can Pursue after 12th Science apart from B.Tech and Medical
Studying for CBSE Board Exams can be a tiring exercise. Make sure that you keep yourself motivated and stick to the plan to achieve the best results. With dedication and the right schedule, you will be able to build your concentration and do well in your exams.
All the best!!