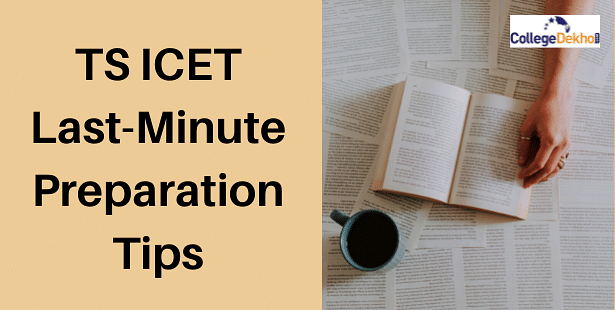 TS ICET 2023 was conducted on May 26 and May 27, 2023. While preparing, candidates must keep certain last-minute preparation tips in mind to score well in the exam. The final stage before the exam is crucial as it can have a major impact not only on the preparation but also on your mentality and confidence. Hence, it is important to keep a cool head and keep a steady pace at this time.
In this article, we cover important tips which you have to keep in mind during the last-minute preparation for TS ICET. Also, take a look at the exam-day guidelines of TS ICET 2023 to ensure that you have a smooth and worry-free examination day.
TS ICET 2023 Last Minute Preparation Tips
Some of the last-minute tips for TS ICET preparation can be found below.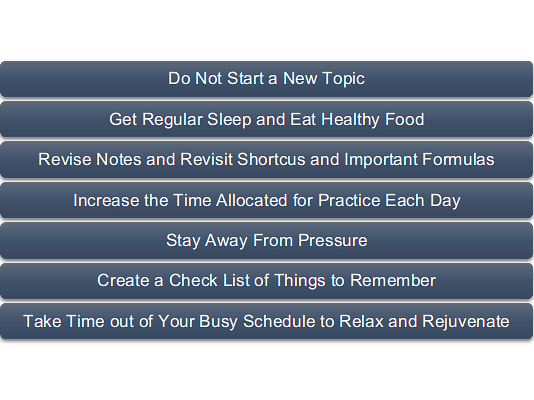 Do Not Start a New Topic
One of the biggest mistakes candidates are often seen doing is starting a new topic at the last moment. However, simply knowing that there is ground to cover before the exam can lead to anxiety, loss of confidence and stress.
This has the potential to ruin the hard work you have put in over the previous months. Hence, experts advise avoiding starting any new topics from the TS ICET 2023 syllabus at the last minute. Instead, it is better to focus on revision and practice.
Get Regular Sleep & Eat Healthy Food
Your mental and physical health is of paramount importance. It is important to get at least 7 hours of continuous sleep each day. Sleeping not only relaxes your brain but also gives it time to process newly-learnt information.
Try to avoid any activities that can have a negative impact on your health especially in the last days of TS ICET preparation. Maintain a healthy diet and include physical activity in your daily routine. Only with a healthy body and mind will you be able to make the best use of your studies and perform well in the exam.
Also Read:MBA Admission Process 2023: Last Date to Apply, Eligibility, Selection Criteria, Top B-Schools
Revise Your Notes & Revisit Shortcuts and Important Formulas
Keep separate notes for information such as important shortcuts and formulas and give it a quick glance every now and then. Revising your notes will also help remind you of any frequent mistakes you make when solving questions, which will be very helpful in the exam.
Candidates who have trouble remembering such important topics and formulas may find it helpful to write them down on a separate piece of paper to give a quick read just before entering the exam centre.
Increase the Time Allotted to Practice Each Day
Practice as many TS ICET 2023 question papers as you can when in the final stages of preparation will help you get ready for the exam. Think of it like warming up before a race.
A quick word of caution is not to overdo it and tire or bore yourself from solving questions. Solving 1 TS ICET 2023 Sample Paper or the previous year's question paper each day during the final week before the exam will be sufficient.
Stay Away from Pressure From Any Source
All of your practice, studies, and preparation will help you do your best in the exam. Have confidence in your abilities and you can also take time out for any activities that can help boost self-confidence.
Try to avoid discussing your preparation strategy with anyone when in the final few days of preparation as that can lead to unnecessary pressure build-up. Keep calm and rock the exam!
Also Read:MBA Entrance Exams in India - Check Schedule Here
Create a Check List of 'To-Be-Completed' Tasks
Sometimes that feeling of 'Am I forgetting something?' is unavoidable. Take some time to create a checklist of important things you have to do before the exam and just tick all of the items off the list. It will help you keep that nagging feeling out and allow you to focus more on the important stuff.
Take Time Out to Relax and Rejuvenate
The final week before the exam can get hectic. There is a lot to take care of and it is easy to get lost in the activity. However, it is important to take time out for the things you love to do even at this point. Whether it might be an evening stroll, hanging out with friends, or some time playing video games, recreational activities can help you destress and restore your energy before the exam.
TS ICET 2023 Exam Day Guidelines for COVID-19
Given below are some important exam day guidelines for TS ICET 2023 candidates.
Reach the examination centre early to avoid any last-minute rush. Follow the instructions given out by the conducting authorities.

Maintain at least 6 feet distance from other candidates and exam conducting authorities at all times. Avoid touching any foreign surface.

Make sure you wear your mask properly at all times. Avoid touching your face and sanitize your hands from time to time.

Avoid sharing or borrowing your items such as water, hand sanitizer, pens etc. with or from any other candidate.

Make sure to read all of the important instructions mentioned on your TS ICET admit card and follow the instructions provided.
Also Read:List of Documents Required for TS ICET Counselling 2023
What to Carry to the TS ICET Exam Centre
Candidates must ensure that they are carrying the following items at the TS ICET 2023 examination centre.
| | |
| --- | --- |
| TS ICET 2023 Hall Ticket  | Valid ID Proof - Aadhar, Passport, Driving Licence, Voter ID, PAN Card, etc. |
| Passport Size Photograph - Should be the same as the one uploaded in the TS ICET Application Form | Two Black or Blue Ball-Point Pens and Pencil |
If you have any queries about TS ICET 2023, please write to us on the CollegeDekho QnA Zone. Check these other related articles for more information.