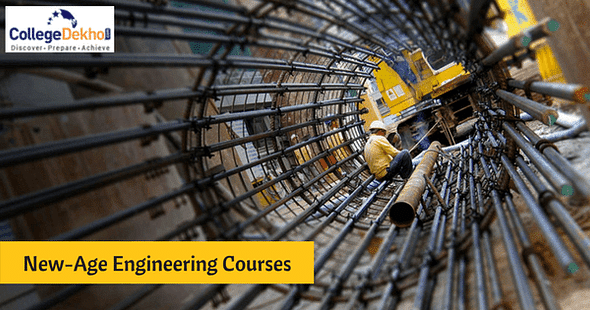 If you are looking for some offbeat engineering specialisations to pursue after class 12, then Industrial Engineering and Aircraft Maintenance Engineering are two of the most promising courses. Both these courses not only offer great job opportunities but also a chance to work with some of the best public sector organisations.
Apart from aircraft maintenance engineering and industrial engineering, there are some other new engineering courses that have been gaining popularity. You can pick engineering courses like environmental engineering, structural engineering and biomedical engineering in order to explore the latest arenas of technology and development. Of these, structural engineering is another popular course that offers good job opportunities. Following are the courses, type of programmes, salary and colleges of the above courses:
Latest Engineering Courses and Career Scope:
Specialisation
About the Course
Degree Type

Expected Salary (Per Annum)

Popular Colleges
Industrial Engineering
This branch of engineering is concerned with the optimization of industrial processes, setting up equipment. The branch teaches about quality control, statistical and economic procedures in an industrial environment.

B.Tech in Industrial and Production Engineering
BE in Industrial Engineering
B.Tech. Industrial Engineering and Management
ME/M.Tech. Industrial and Management Engineering
Ph.D. Industrial and Production Engineering

After Graduation: Rs. 3 lakh to 5 lakh

After Post-graduation: Rs. 4.5 lakh to 10 lakh
Biomedical Engineering
The programme covers a major portion of environmental science. The programme also covers parts of other engineering specialisations such as civil, electrical and mechanical engineering. Students are prepared to work in the pharmaceutical and healthcare equipment industry.

BE/B.Tech Biomedical Engineering
ME/M.Tech Biomedical Engineering
ME/M.Tech Biomedical Instrumentation
Ph.D. in Biomedical Engineering

After Graduation: Rs. 2 lakh to 3.5 lakh

After Post-graduation: Rs. 3 lakh to 5.5 lakh
Environmental Engineering
This branch of engineering focuses on basic sciences, ecology, radiological sciences and other general areas of engineering. The courses focus on training candidates to find innovative ways to deal with air, water and other types of pollution.

BE/B.Tech in Environmental Engineering
ME/M.Tech in Environmental Engineering

After Graduation: Rs. 1.5 lakh to 2.5 lakh

After Post-graduation: Rs. 2.5 lakh to 4.5 lakh
Structural Engineering
Structural engineering imparts education regarding design of building, machinery, vehicles, medical equipment and others. Engineers in this field are required to design structures with the help of software, assess budget and other aspects required to design an infrastructural unit.

M.Tech in Structural Engineering
MS in Structural Engineering
Ph.D. in Structural Engineering

After Graduation: Rs. 2.5 lakh to 3.5 lakh

After Post-graduation: Rs. 3.5 lakh to 8 lakh
Aircraft Maintenance Engineering
In this course students learn about aerospace, aeronautical as well as aircraft maintenance. The branch is great demand since the aircraft and air travel industry in India is flourishing and engineers are required to look after the aircrafts. You can only apply for these jobs after passing Associate Membership Exam conducted by Aeronautical Society of India. You can also pursue Aerospace Engineering to get jobs in this field.

Aircraft Maintenance Engineering License
BE/B.Tech Aerospace Engineering
ME/M.Tech in Aircraft Maintenance

After Graduation: Rs. 4.5 to 6 lakh

After Post-graduation: Rs. 5 lakh to 12 lakh
Eligibility Criteria for Engineering Courses:
You can apply for all the courses above after passing class 12 exams.

Some colleges may have their previously defined criteria for minimum marks scored in class 12 (i.e. at least 50%, 60% or 70%) in order to get admission.

Admissions are done on the basis of entrance exams such as JEE Main, JEE Advanced, BITSAT, WBJEE, GATE, etc
Since JEE Mains is the most widely accepted entrance exam for the engineering courses and colleges, JEE Mains preparation can help you secure admission in some of the top colleges offering the above courses.
Since some of these courses are new and are not provided by all the colleges, make sure that you check the accreditation of the institute before securing admission.