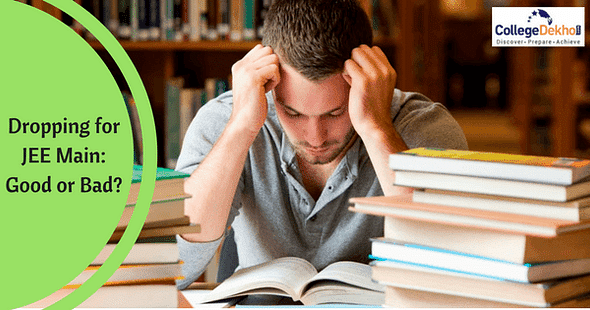 The stress of cracking a competitive examination and getting into a good college after Class 12 is one of the most unnerving phenomena of a student's life. Close to 10 lakh engineering aspirants appear for the exam and compete for the 17,000 seats offered by different IITs and 23,000 seats offered by NITs in India. The severe competition often results in students not getting their desired college or stream. The National Testing Agency (NTA) has declared the JEE Main exam dates 2023 along with the official notification on December 15, 2022.

Dropping a year for the preparation and getting a better rank can be a crucial decision. Since a gap is reviewed by employers and post-graduation colleges alike, the decision must be made clear. If your JEE Main was not good and you are planning to drop a year in order to reappear next year, the following are the factors that you must consider.
Factors to Consider before Deciding on Dropping Year for JEE Main
Here are some of the important factors that need to be taken into consideration before making a decision on dropping a year for JEE Main - 
Your current score and colleges you can get: One of the most important things that you must consider before dropping is whether you will be able to get a decent college on the basis of this year's score or not. If chances are that you can get your desired stream in a good college, it is advisable that you take admission instead of investing a year to get a seat in your dream college.
What was the reason behind not getting the expected score: Before you decide to drop and start preparing, make sure that you analyse your current score in detail and think clearly about what went wrong with your performance. If you have realised the factors that influenced your performance, you can start working on them to give a better performance next year.
How can you enhance your performance: Coming up with a plan is paramount if you are planning to drop a year to prepare for JEE Main. Device a strategy and figure out how you are going to clear the exam and get a seat at the desired college. Talk to counsellors and coaching experts if necessary.
Are you ready to give up a year for preparation: This is something that you must think about thoroughly. The pressure of preparing after taking a gap of one year is tremendous. The preparation phase can sometimes be very frustrating and you might not enjoy the fact that you are appearing for entrance exams while most of your batch mates have started their first year in college. Think it through before giving up a year.
Also Read:
Pros of Dropping a Year for JEE Main
Here are the advantages of dropping a year to prepare effectively for JEE Main -
More time to prepare: An extra year for the preparation of JEE Main can be very helpful as you are through with the entire syllabus in class 12. A year's time will enable you to make an effective JEE Main study plan or take JEE Main coaching classes to perform better.
No pressure of Board exams: Getting to the college of your choice is relatively difficult on the first attempt as you have to prepare for Class 12 board exams and JEE Main simultaneously. After dropping you can devote your full attention to the preparation for this competitive exam.
Working on your strengths: With this extra time, you can enhance your strengths and work on your weaknesses to give it a better shot.
Also Read: JEE Mains Opening and Closing Ranks at NITs
Cons of Dropping a Year for JEE Main
Here are some of the disadvantages of dropping a year for JEE Main -
Performance pressure: Preparing for the exam after dropping can be a stressful experience as you have to deal with the expectations of your parents and teachers besides your own. It is a big gamble, one that you should only make if you are sure that you can keep a cool head and perform.
Losing a year: Giving up a year of your education can either be a driving influence or be a demotivating influence. If you are planning to drop then you must not be affected by the result of others and must prepare yourself to face the consequences.
Impact on resumes and applications: You must also note that dropping a year for preparation is not seen as a positive impact on the resume. While applying for b-schools (especially abroad) and jobs, a gap year is seen as a negative impact on the candidate's profile.
Also Read:
So these are the few points that you must consider before dropping for the preparation of JEE Main. Arrive at a decision only if you are certain.