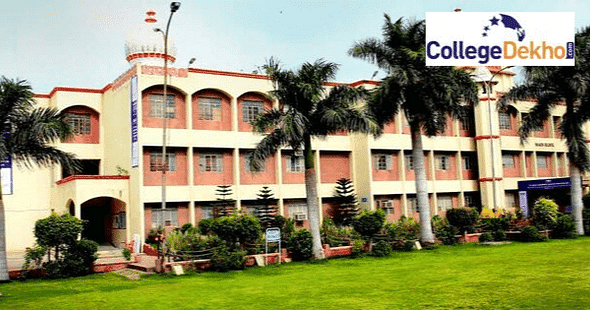 Shri Vaishnav Vidyapeeth Vishwavidyalaya BBA and MBA admissions begin in May every year. If you are one among the MBA/ BBA aspirants of SVVV, you are at the right place. All the major details about MBA and BBA admission at SVVV are discussed here. The aspirants can check all the details about SVVV MBA and BBA admissions 2020 such as application form, eligibility, important dates etc here. Every year, hundreds of students aspire for MBA and BBA admission in SVVV, and the admission process is based on the rules specified by the respective institute. On the other hand, SVVV accepts the national-level entrance exam score for MBA admission, and students from any part of the country can enrol for admission at SVVV. More details with regard to SVVV BBA and MBA admissions 2020 can be checked below.
About SVVV MBA and BBA Admissions 2020
Students aspiring for postgraduate in Management, often start by doing a course in Bachelor of Business Administration (BBA) as a part of their undergraduate degree. BBA focuses on imparting management related problem-solving skills in students, hence preparing them for the future. For getting admission in BBA, the candidate needs to meet certain eligibility requirements.
MBA or Masters of Business Administration is a two-year post-graduate programme offered by Shri Vaishnav Vidyapeeth Vishwavidyalaya. The selection in this programme totally depends upon the marks scored by the candidates in various examinations.
SVVV MBA Specialisations 2020
A student with good Public Speaking and Team Binding skills must always go for MBA in Human Resource. Similarly, a person who is good at marketing and sales skills must choose Marketing in MBA. One who is good with numbers must always choose MBA in Finance over any other specialisation. Since MBA offers various specialisations to students, one must know his/her area of interest and choose the specialisation wisely.
Few MBA specialisations offered by Shri Vaishnav Vidyapeeth Vishwavidyalaya are:
Engineering Management
Agri-Business
Media Management
International Business
Family Business and Entrepreneurship
Advertising
Tourism
Business Analytics and Executive MBA
Public Relations
Marketing
Human Resource Management
SVVV BBA, MBA Important Dates 2020
The admission dates and exam dates for Shri Vaishnav Vidyapeeth Vishwavidyalaya are not yet released. The tentative dates for SVVV admission process 2020 are: -
| Event | Date (Tentative) |
| --- | --- |
| Registration for UG and PG courses (Start Date) | May last week 2020 |
| SVET Exam conducted | June midweek 2020 |
SVVV MBA and BBA Eligibility Criteria 2020
The programmes of BBA and MBA have different eligibility criteria for admission in SVVV. For BBA, 12th grade must be cleared by the student with the minimum required percentage. For pursuing an MBA, a bachelor's degree prior to applying is mandatory.
SVVV BBA Eligibility Criteria 2020
For admission in BBA from Shri Vaishnav Vidyapeeth Vishwavidyalaya, one has to meet the following criteria:
The candidate should have given (10 + 2) examination and secured at least 50% marks.
For the general category, the minimum required percentage is 50%. For SC/ST category, the rules vary as per the government.
SVVV MBA Eligibility Criteria 2020
Eligibility criteria for MBA from Shri Vaishnav Vidyapeeth Vishwavidyalaya:
MBA eligibility criteria for Shri Vaishnav Vidyapeeth Vishwavidyalaya
Bachelor Degree, minimum marks 50% for general. Minimum marks 45% for SC/OBC/ST
Duration of Bachelor's degree must be 3 years minimum
Must have class 12th certificate
SVVV BBA, MBA Application Process 2020
There are simple steps to apply for courses in Shri Vaishnav Vidyapeeth Vishwavidyalaya:
The application form is available on the official website of the university. You need to sign up and have an ID and password and log in with the same credentials every time you open the site. Follow these steps:
Keep an email id and mobile number as you would be asked to put in the details of the same.
You will get a One Time Password on your mobile number as a part of the registration process
Make sure you keep your Aadhaar card details handy
Make sure your passport size photo is in JPEG format with size less than 25kb. The copy of signature should also be less than 25kb and the scanned copy of 10th and 12th certificates and JEE and another mark sheet should all be in pdf format and less than 10 Mb.
You must know your blood group.
Upload the degree, mark sheets and caste certificate on the portal itself.
Fill in your personal details correctly.
Application forms must be filled with caution and should not be left incomplete.
You must have attempted any state level or national level entrance test, prior to applying for admissions in Shri Vaishnav Vidyapeeth Vishwavidyalaya.
The candidate can either pay online or offline as both the options are available. In the offline mode- a print out of bank challan is required and a specified fee would be paid.
SVVV MBA Admission Process 2020
Candidate before applying has to make sure to adhere to eligibility criteria and meet all requirements. The 2-year programme is offered in the following fields in this college- Engineering Management, Agri-Business, Family Business and Entrepreneurship, Advertising, Public Relations, International Business, Tourism, Media Management, Business Analytics and Executive MBA.
Candidates are required to give these examinations and clear them to be able to apply for an MBA from Shri Vaishnav Vidyapeeth Vishwavidyalaya: CAT, MAT, ATMA, CMAT and XAT. Even if the candidate is studying in the final year of bachelor's, he/she can still attend counselling for MBA from the college. Make sure to take the proof of the same to the counselling session, to make sure your admission stands uncancelled.
SVVV BBA, MBA Course Fees 2020
The course fee for BBA from Shri Vaishnav Vidyapeeth Vishwavidyalaya and the course fee for MBA programme from SVVV is subject to change slightly every year.
| Programme | Duration | Yearly Fee | Total Course Fee |
| --- | --- | --- | --- |
| BBA | 3 years | INR 45,000 | INR 1,35,000 |
| MBA | 2 years | INR 70,000 | INR 1,40,000 |
Scholarships at SVVV 2020
For MBA and other programs at SVVV, scholarships are granted to people who have attempted and cleared certain examinations, with the required score. The university always helps students who are willing to learn and work hard towards their goals. The assessment criteria is usually the marks obtained by the students.
Scholarships at SVVV for First-Year Students
Test
Per cent Required for Scholarship
Scholarship
MAT/XAT/C-MAT/ATMA
You need to have a percentile of 90 and above
50% off on tuition fee
CAT
A percentile of 70 and above will only get you scholarship benefit
Scholarships at SVVV for Second-Year Students
| Students obtained CGPA of 9.5 and above in their chosen programme | Scholarship benefit of 75% of the tuition fee |
| --- | --- |
| CGPA in between 8.5 to 9.5 | Scholarship benefit of 50% of the tuition fee |
SVVV BBA Curriculum 2020
BBA syllabus 2020 focuses on subjects related to the field of management:
Human Resource Management
Managerial Economics
Financial Management
International Management
Market Research
Supply Chain
Global Business Management
Public Relations Management
Brand Management
International Marketing
Rural Management
SVVV Placements
Shri Vaishnav Vidyapeeth Vishwavidyalaya is renowned for its remarkable campus placements every year. More than 50 companies visit the campus every year and take up students from the batches. Few of the companies are:
| Amazon | Cognizant |
| --- | --- |
| Voltas | WIPRO |
| HDFC Bank | Tata Consultancy Services |
| ZYCUS | BYJU's |
| Gujarat Ambuja | Shahlon Group |
| Bestpeers | Ilead Group |
| Universal Hunt | Jaro Education |
| Vardhaman Textile LTD | Advanz 101 |
| Welspun Group | Mphasis |
| TCS Technologies | Arvind Mills |
SVVV has collaborated with TCS, Cisco, IBM and Red Hat for offering programmes to students. They have signed an MoU with IBM and Red Hat for the same. This is to offer industry-specific programmes to students and make them corporate ready. Shri Vaishnav Vidyapeeth Vishwavidyalaya is an esteemed institution for those who seek skills and education and a profound career path. Both the programmes of BBA and MBA will enhance your career.
For the latest updates on Shri Vaishnav Vidyapeeth Vishwavidyalala admissions 2020, stay tuned to CollegeDekho.