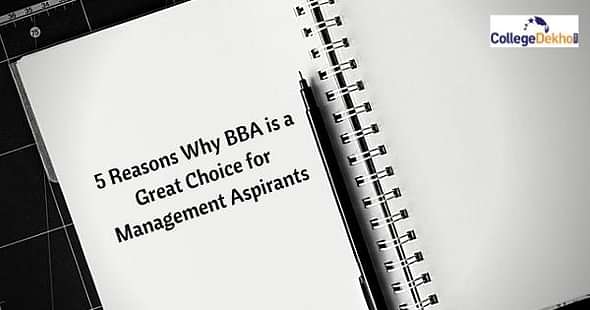 Selecting the right course after class 12th comes with many challenges. Lack of information and improper counselling are the major hiccups that cause this problem. The best way to tackle it is to research as much as possible and ask yourself which career pathway you want to take. Gathering information also helps you find new career options and courses, which you might not have heard of before.
Talking about management aspirants in India, Bachelor of Business Administration or BBA is one of the well-known undergraduate courses in management. Especially for students who wish to take up an MBA in the future. For many others, it is a course that is easy to take admission to or just a course that their friend is taking up. However, that is like finding the right answer through the wrong calculations.
BBA is indeed one of the best management courses after class 12th. But is pursuing MBA the only reason for taking up BBA? Or are there other factors that increase the value of BBA as an undergraduate course? In this article, we have listed 5 reasons why BBA can provide to be the best way to start a management career.
Reasons to Start Your Management Career With BBA
Personal interests and career aspirations aside, here are some reasons why you'd want to think of BBA as not just another undergraduate course but a solid foundation block to a career in management.
1. Helps Develop Managerial Skills Early
BBA provides a headstart for candidates to develop management skills. The course takes a student over the core areas of management including marketing, sales, strategy management etc. and it also covers key areas of finance and economics. Plus, soft skill development such as business communication is also taught in the BBA course.
The skills learned by a candidate in a BBA course go a long way in their management career. These theoretical and practical skills learned by a candidate in a BBA course are applied on a daily basis in every business. When coupled with work experience and technical knowledge, they can help open up more job prospects.
Also Read:BBA vs BBM vs BBS
2. Industry-Oriented Course with Great Exposure
BBA courses are well adapted to train students as per the industry requirements. The combination of practical and theoretical knowledge provided in a BBA course help increase the value of a student in the market. Well-established companies and startups stay on the lookout for BBA students as they are suited to carry out a range of responsibilities in the organization. Thus, a BBA student can get the experience of a range of business activities from marketing to sales, data analysis, strategy building etc. before deciding what they want to do next.
This is one of the reasons why BBA is a great choice of an undergraduate course for an MBA aspirant. A BBA student can gain relevant work experience in a relevant before deciding which MBA specialization they wish to go for. Plus, there is a varied range of BBA specializations available, which helps a candidate gain expertise in their choice of field.
Also Read:BBA General vs BBA Hons
3. Open Job Market With Scope for Growth
Since they fit into a variety of roles in an organization, BBA graduates have plenty of job opportunities available in the market. Organizations stay on the lookout for young graduates who can bring energy and new ideas to the table. BBA graduates can fit into a varied range of roles and responsibilities in an organization. Plus, the BBA course is also suited for students who want to learn how to manage their own businesses or entrepreneurs.
Students also have good prospects for growth after completing a BBA course. Graduates with work experience can stay on the lookout for new and challenging job opportunities. The starting salary of a BBA graduate working on executive-level posts can range from around Rs. 2.5 - 4 LPA. Experience candidates become eligible to take up higher positions such as Associates and Asst. Managers and can earn anywhere from Rs. 5 - 7 LPA in the field.
Also Read:Government Jobs After BBA
4. Takes Less Time and Money to Complete
BBA is a 3-year course unlike many other popular professional courses available at the undergraduate level (looking at you BTech). 4-year Integrated BBA + MBA courses are also available at some colleges. This provides candidates with an academic year extra and allows students the freedom to gain work experience or plan/prepare for their postgraduate study or any other task.
Students can start earning as soon as they complete a 3-year course. This gives you a headstart in a number of areas be it increasing your earnings, switching jobs to find the perfect fit or even payment of student loans. Gaining financial independence at an early age is not only beneficial for your growth but also provides a confidence boost.
Also Read:BBA vs Integrated MBA
5. Great Foundation Course for MBA
BBA is an excellent foundation course for an MBA course. The foundation of business administration, management knowledge and practical skills learned by a student in BBA help provide them with an excellent base for pursuing an MBA. The BBA course curriculum of top BBA colleges in India is also designed while keeping this in mind.
Students who pursue BBA after MBA generally get a better idea of the management course, especially at the start, and this can work to their advantage. An MBA can boost the growth in salary and job prospects of a BBA graduate.
Pursuing BBA after class 12th can prove to be an excellent choice. If you are confused about which career pathway would be the best for you, take our Career Profiling Test.
Also Read:BBA vs BTech After Class 12th
Check out the list of the top BBA colleges in India.
For all queries and doubts, ask our experts on the CollegeDekho QnA Zone. If you need help with admission to the BBA colleges in India, fill our Common Application Form (CAF) or call 1800-572-9877 for FREE student counselling.