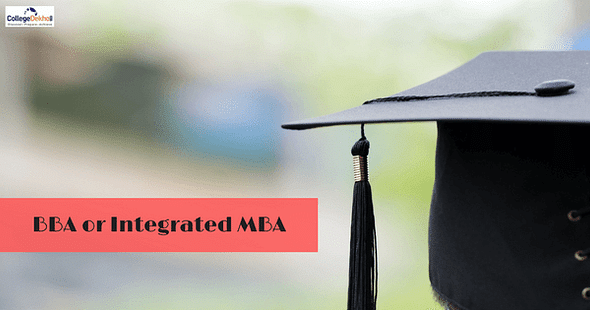 Do you aspire to become a manager but don't know what is the right career path for this field? A career in management needs to be thoroughly planned. The earlier you start planning the better! Most of the students are confused regarding the programmes they should pick after class 12 in order to start their career in management. So, what really is management study?
Management is a field of study that equips a student with skills to run the end to end of a business or a business function. While courses in management are available both at the UG & PG level separately, a BBA and MBA integrated course or an integrated MBA course is gaining immense popularity in the recent past. There are various top management colleges in India that offer Bachelors of Business Administration (BBA) and Masters of Business Management (MBA) courses individually or as a 5-year integrated MBA or other management courses after Class 12.
Two of the most favourable courses that management aspirants look forward to after class 12 are Bachelors of Business Administration (BBA) and Integrated MBA (BBA+MBA). While many students prefer doing MBA after BBA course, the idea of saving a year has attracted many students towards a BBA and MBA integrated course or integrated BBA MBA course to a great extent.
But first of all, you need to understand the difference between BBA & MBA programmes and their benefits before picking either of them.
Basic Differences between BBA and Integrated MBA
Here are few of the basic or general comparison of the BBA and Integrated MBA courses.
| Programme | Bachelors of Business Management (BBA) | Integrated MBA (BBA+MBA) |
| --- | --- | --- |
| Duration | 3 years | 5 years |
| Eligibility Criteria | Class 12th in any stream from a recognised board of education | Class 12th in any stream from a recognised board of education |
| The objective of the Programme | This programme is the basic level of business education. It is aimed to develop the business acumen of aspiring managers and instil entrepreneurial insights into them. | The objective of this programme is to make the students familiar with the various fields of management, prepare them to deal with complex management-level issues and decision making. |
| Course Fee | Rs. 27,000 - Rs.8,00,000 annually | Rs. 1,50,000 to Rs. 9,00,000 annually |
| Curriculum | The course comprises of 6 semesters where students study groundwork of management and business world. | The 10-semester programme comprises of both field-specific education, logistics and case studies to teach students. |
| Job Opportunities | After completing this course you will be able to get entry-level positions in reputed organizations. These positions will help you gain experience in the field to move up in the organization hierarchy. | Since this programme provides a field-specific education, job opportunities are better. Having pursued advanced education, students are able to get positions in the middle and upper management level. |
| Admission Process | Entrance Exam Based/ Merit-Based | Mostly Entrance Exam Based |
| Exams Accepted | NPAT, SET, IPU CET, AIMA UGAT, CUET etc. | IPMAT Indore, IPMAT Rohtak, JIPMAT, LPUNEST etc.  |
Difference between BBA & MBA Integrated Course
Having learned that both the course are good, your choice must depend upon the path you want to follow after graduation. While MBA after BBA course is still a popular choice, the trend is giving way to integrated MBA courses. Because of this integrated MBA colleges in India have mushroomed most rapidly and are finding quite a lot of takers.
The biggest difference between a BBA and integrated MBA is that with the former one, an applicant can get an entry-level position in an organization. More career opportunities arise only after an aspirant has completed an MBA. With integrated MBA, a lot more job opportunities will be available for an individual in the job market. The integrated MBA provides a specialization in a certain field which grants more career opportunities over someone with a just a bachelor's degree.
Having said that, with the right skills, aptitude and knowledge, anyone can make big after completing a management's degree. An individual just needs to ensure that they have completed education from a reputed college or education institute.
Top BBA Colleges in India
BBA is a popular course amongst the students passing class 12th. The course is offered by various colleges in every state. Here is the list of top BBA colleges that provide good exposure and placement opportunities to all the students:
| Name of College | City / State |
| --- | --- |
| | Bangalore |
| | Mumbai |
| | Bhubaneswar |
| | Mumbai |
| | Mohali |
| | Gaziabad |
| | Jaipur |
| | New Delhi |
| | Faridabad |
| | New Delhi |
Top Integrated MBA Colleges in India
The trend of integrated course is quiet recent yet there are several colleges offering this combination to students. Here is a list of top BBA + MBA colleges for students interested in pursuing the 5 years integrated course:
| Name of College | City / State |
| --- | --- |
| | Phagwara |
| | Ahemdabad |
| | Chennai |
| | Mumbai |
| | Matura |
| | Sikar |
| | Bijnor |
| | Guwahati |
| | Dehradun |
Career Options for BBA Students
As BBA is a professional course, most of the students pursuing this course get employment in one way or the other. Some of the best career options for BBA students are as follows:
Research & Development Manager
​After working for a few years, BBA students can also prepare for MBA. Plenty of top MBA schools like IIMs prefer candidates with work experience in the field.
Career Options for Integrated MBA Students
BBA+MBA course opens up the chance of working at a managerial post form the beginning. Here is a list of popular career choices of BBA+MBA students:
Some of the top BBA MBA integrated course colleges in India are situated in the location mentioned below:
Besides this, you may want to look at the top BMS colleges in India as well.
Also, you must choose the programme on the basis of the colleges you are getting. It is important to pursue Integrated MBA from a renowned institute as the programme is both costly and lengthy. If you are investing 5 years of your career, make sure that you pick only the best Integrated MBA course college.
The difference between BBA and Integrated MBA course is the course content and the timeline as BBA is a three-year course & Integrated MBA is a 5-year course. Students pursuing BBA will get another chance to apply for the best MBA colleges in India after graduation but Integrated MBA is a one-time investment, therefore, exercise caution while selecting the BBA and MBA integrated college.
To get expert guidance on BBA 2023 or know more about Integrated MBA admissions 2023, you can contact us on the 1800-572-9877 (toll-free) or fill the Common Application Form. You can also write your query at Question and Answer zone.
For more such updates, visit CollegeDekho.