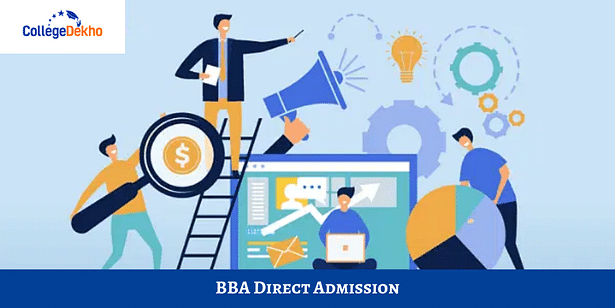 BBA Colleges Offering Direct Admission Without Entrance Test: Bachelor of Business Administration (BBA) is an undergraduate management program that prepares students for a career in management and makes them industry-ready. The program is the first step taken by the students who wish to make a career in management. There are plenty of BBA colleges in India but due to the plethora of options available, students generally face problems while selecting a college for BBA admission.
Each college has its admission requirements and selection process. Some colleges offer admission based on merit while some colleges offer admission only based on scores of the entrance exam. Clearing the BBA entrance exam is not an easy thing as the candidates need to excel in Verbal Ability, Data Interpretation, Reading Comprehension, and Problem-Solving Skills. There are many BBA entrance exams in India each having its eligibility criteria and selection process.
Some institutes/ colleges offer admission based on merit. These colleges consider the 10th/ 12th scores of the candidates during the selection process. Shortlisted candidates then have to attend the Personal Interview/ Group Discussion rounds to complete the selection process. Given below is the list of some colleges which provide admission based on merit. Candidates can also check the admission process of the top 10 BBA colleges in India.
Also Read:BBA Scholarships in India
Popular BBA Colleges Offering Direct Admission 2024
Check out the list of all the colleges that offer admission directly on the basis of merit along with their location and fees.
Also Read: List of Top BBA Specialisations, Best BBA Courses
Eligibility Criteria for BBA Direct Admission 2024
Candidates who wish to take admission to the colleges offering direct admission to the BBA colleges must ensure that they meet the eligibility criteria specified by the college. The eligibility criteria for BBA has been mentioned below.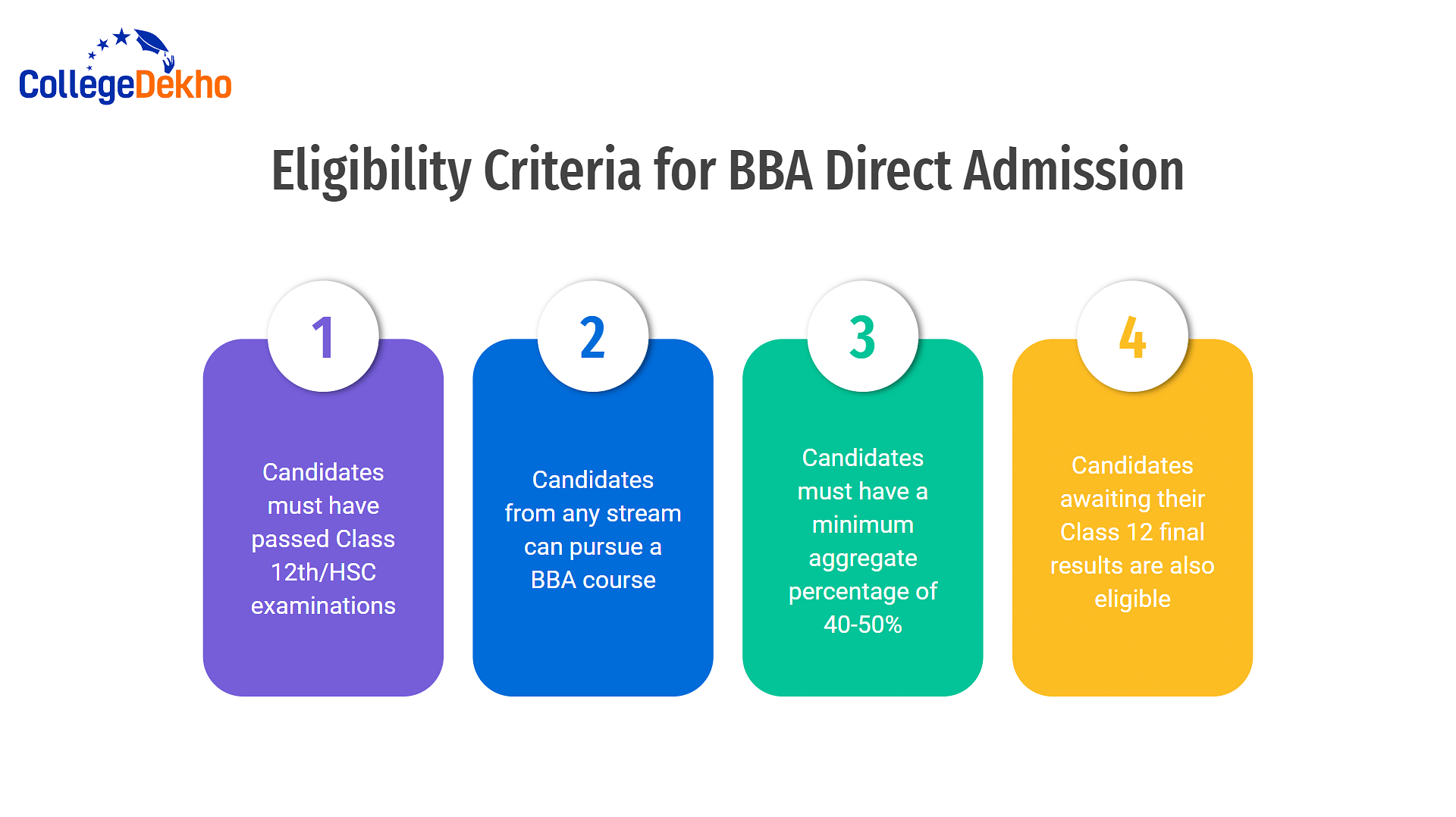 Candidate must have passed Class 12th / HSC examinations conducted by a recognized board.

Candidates from all educational backgrounds are considered eligible for BBA courses.

Colleges may also require candidates to have a minimum aggregate percentage generally ranging from 40 - 50%.

Candidates who have appeared for their Class 12 final exams and are waiting for the result can also apply to BBA courses. 
Apart from these, colleges may have additional conditions that a candidate must fulfill. All of the information about eligibility can be found on CollegeDekho.com.
How to Apply for BBA Direct Admission 2024
Applications can be made for Direct BBA admissions in India through CollegeDekho's online Common Application Form (CAF). Through this form, you can apply for multiple BBA colleges in India from a single place. Please note that you will need to enter your information only once but you will have to apply to each college separately.
You can look for the college by entering the name or search for the college. Select the management stream and after selecting the stream, you will come across a list of colleges for BBA admissions.
Choose the relevant colleges and pay the registration fee. The application fee can also be paid through the CAF.  Once you do that. our counsellor will get in touch with you and take you through the admission process.
It is also advisable for students to check the admission process of the selected colleges to have a complete idea of the application process. Our counsellors will also assist you with the same.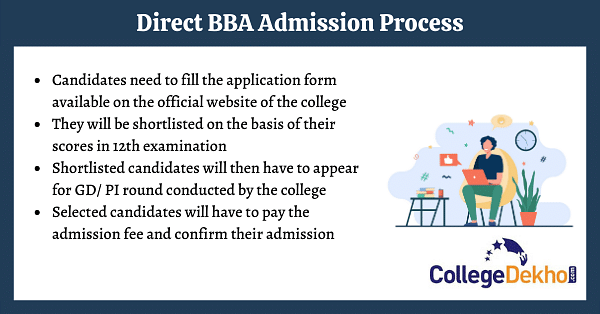 Documents Required for BBA Direct Admission 2024
Some of the document required for direct admission in BBA program are provided below
10th Mark sheet
12th Mark sheet
Domicile Certificate
School Leaving Certificate
Passport size photos
Aadhar Card or any other identity proof
Also Read:
BBA Vs BBM Vs BMS
BBA Fee
The course fee of BBA program will vary from college to college. The average fee of the program is INR 3,00,000. Candidates may check the official website of the college to know the semester wise as well as year wise fee of BBA. 
Selection Process for Colleges offering BBA Direct Admission 2024
The selection of candidates for BBA colleges offering direct admissions is done on the basis of merit. The college compiles the list of candidates who have filled the application form and then shortlists the candidates based on their application.
The shortlisted candidates are then invited for a Group Discussion and Personal Interview round for final selection. Colleges generally consider the academic competence and performance in GDPI rounds for admission.
Related Articles:
You can post any doubts or questions about BBA admission on the CollegeDekho QnA Zone. If you require any help with admissions, talk to our student counsellors on our helpline number 18005729877.