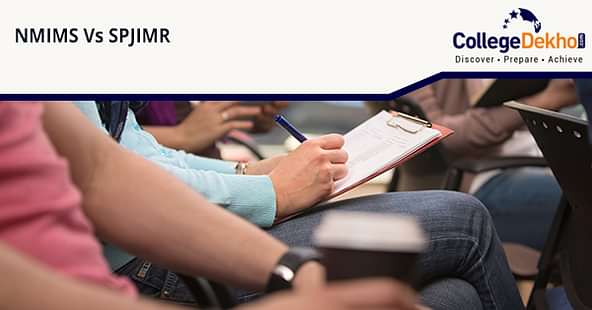 Planning for upcoming MBA exams and worried about which college to choose after that? There is a solution to your problem. NIRF has released a list of top MBA colleges in India with rankings and other relevant details. However, we all know that the rank of any institute is not enough to determine whether or not it is the right pick for you. If you are looking at the top b-schools in west India, SPJIMR and NMIMS are amongst the best options. The major advantage with these colleges is that they are located in Mumbai, the business hub of India. But if given the opportunity to study in both of these colleges, which one will you pick? We have the answer to this question for you below.
S.P. Jain Institute of Management and Research (SPJIMR), Mumbai and Narsee Monjee Institute of Management Studies (NMIMS), Mumbai, are colleges that can definitely fit-in your choice list if you are looking for a quality learning experience and the right kind of industry exposure. CollegeDekho can help you decide the best college for your future goals. All you need to do is compare NMIMS and SPJIMR and find out the best college as per your requirements.
One of the things that can help you choose the college of your dreams is the placements at SPJIMR and NMIMS placements. the number of companies visiting both the colleges and the average packages can help you determine which college is offering better ROI and will make it easier for you to afford education. However, there are various other factors such as the fees, student strength affiliation that play an important role in decision making while picking a college. Check the detailed comparison of NMIMS and SPJIMR below:
College Comparison: NMIMS Vs SPJIMR
Name of the Institute

Naresee Monjee

S.P. Jain Institute of Management and Research (SPJIMR)

Year of Establishment

1981
1981

Approved By

UGC
AICTE

Affiliation

University of Mumbai

Associations of Indian Universities

NIRF

20
16

Entrance Exam

NMAT by GMAC

Courses Offered

MBA
PGDM - Bengaluru campus
PGDM - Navi Mumbai
PGDM - Indore Campus
PGDM - Hyderabad campus

PGPFMB Business Excellence Programmes
PGMP for Women
Executive PGDM
PGDM
Global Management Programme
PGP in Development Management
PGP in Family Business Management
Post Graduate Executive Management Programme
Owner Business Management
Women's Management Programme
Advanced Leadership Programme in Energy Management
Post Graduate Certificate in Advanced Project Management
Agile Project Management

Total Number of Seats

MBA: 500 seats
MBA Pharmaceutical Management: 60 seats
PGDM - Hyderabad campus: 120 seats
PGDM - Navi Mumbai: 60 seats
PGDM - Bengaluru campus: 180 seats
MBA Human Resource: 60 seats
PGDM - Indore campus: 60 seats

*30% Seats in the MBA or PGDM Programs of NMIMS will be offered to Girls.

PGDM: 276 seats

Fees Range

MBA/MBA HR Program: Apx Rs. 8.75 lakh
PGDM Bangalore /Hyderabad /Navi Mumbai /Indore: Rs.7.25 lakh
MBA Pharmaceutical Management: Apx Rs. 5.25 lakh

Rs. 9.37 lakh to Rs. 19.99 lakh varying from programme to programme

Average Package

MBA Core: Rs. 17.58 LPA
MBA HR: Rs. 13.57 LPA

Rs. 22.24 LPA

Highest Package

MBA Core: Rs. 34.11 LPA
MBA HR: Rs. 20.76 LPA

Not Available

Number of Companies Visiting Campus

105

Popular Companies Visiting Campus

MBA Core:

Bajaj FinServ
ITC
Barclays
L'Oréal
Vodafone
Lava International Sunlife
Sony Music

MBA HR:

Honeywell
H&R Johnson
ICICI Bank
Ferry
Interiors Info
HPCL
IOCL
Korn
IBM
Larsen & Toubro

Aditya Birla Group
General Electrics
Deloitte
Mahindra & Mahindra
Bristlecone
Reliance
GEP
Amazon
Flipkart
Cloudtail

Exchange Program
NMIMS has tie-ups with various universities such as Athens University, Harvard, ESSCA, Grenoble Ecole De Management, Case Western Reserve University, Royal Melbourne Institute of Technology, etc for exchange programs.
IntEx (International Exposure) Program in the second year sends students for an exchange program to countries such as Japan, USA, etc. Students from Germany, France, Singapore and other universities abroad visit SPJIMR for an exchange program.
Internship

Students at NMIMS have to spend 6-8 weeks for a summer project between the 1st and the 2nd year while pursuing a full-time MBA. The project has 100 marks.

SPJIMR is the only b-school that has autumn internships as compared to summer internships. The students opt for internships after they choose their specialisation. Also, by the time the students opt for the internships, they study a few subjects related to the specialisation and are better prepared.

Entrepreneurship Cell
NMIMS has an Entrepreneurship Cell which conducts various workshops, competitions, events and entrepreneurship forums.

SPJIMR has a Start-Up Incubation Centre which is accessible to all the alumni, faculty and people who participate in the relevant courses at SPJIMR.

Unique Selling Point (USP)
NMIMS has partnered with the Harvard Business School for a Faculty Development Programme.
SPJIMR is known for its NCL (Non-Classroom Learning) programme.

Also Read: Location & Financial Times Ranking of top 20 MBA Degrees Online
Admission and Selection Process at SPJIMR Mumbai and Narsee Monjee:
If you are planning to target either of the above-mentioned institutions, remember to check for the eligibility criteria required for the admission and selection process. Candidates planning for SPJIMR must clear CAT or XAT to become eligible for admission. Whereas, the marks of the entrance exam accepted by NMIMS is NMAT by GMAC. The selection process will also include marks obtained by the candidates in the group discussion and personal interview conducted by each institute. Read in detail about the selection process of SPJIMR Mumbai and NMIMS selection processto find out about the different stages of admission and shortlisting at the two colleges.
Also Read: Check for MBA Colleges in West India, Along with Courses, Selection Process & Fees.
Colleges Similar to SPJIMR Mumbai and Narsee Monjee
Given below is the list of colleges which are similar to SPJIMR Mumbai and Narsee Monjee:
Popular College Comparisons:
Read about some of the popular college comparisons below: