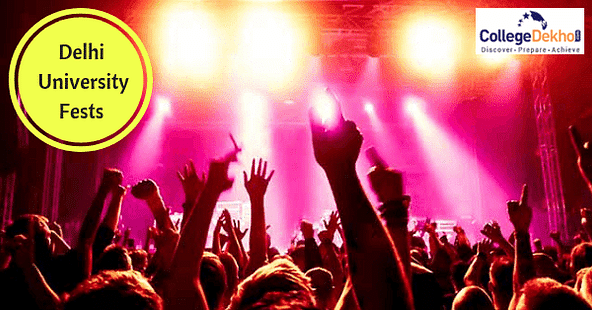 If we talk about the monotonous life of a student, the college life revolves around lectures and hectic schedules. In such a case, events that are organised by the college students themselves bring enjoyment and entertainment to them during their college life. India's most popular Delhi University (DU), is well known for the college fests that it organized for students enabling them to showcase their talent on a large platform. Delhi University College Fests season usually begins in the month of December and continues until February of the following year. Different colleges organise unique college fests at their campuses, that builds excitement throughout the university. DU students work hard with the different sponsors and organizers to roll out a great show.
Reasons to Attend Delhi University College Fests
DU college fests season is that one time of the year where students can enjoy to their fullest and can live their real college life. The fest season does a lot more than we can see or witness when it comes to building student experiences. There are a lot of reasons why a student should not miss out on the college fests, some of which are mentioned below.
Finding your interest areas: College fests never fail to provide a great platform to students to showcase their talent that can range from arts, sports, educational to jamming. Colleges organize different events throughout the day and encourage students to participate in them to bring out their hidden talent. Apart from that, college fests tend to boost the confidence of shy and introvert students. The college tries to make students comfortable and make them feel important.
Meeting the right people and networking: It is important that students network with like-minded people or other fellow students who share the same interests and goals with respect to their careers. Finding the right kind of people is something that matters the most during college life. This time is also an opportunity to interact with faculty members in an informal way where your discussions may not revolve around academics.
Break from books: All throughout the year, college students are involved in studies, assignments, examinations, practicals, lab work and whatnot. College fest season is the time when students can take a break from studies and books and make the most of the college life. It can help break the monotony of regularly finding yourself studying.
Fun with friends: It is wisely said that with good friends around, tasks become simpler and more fun. College fest season is a great way to spend time with friends, build friendships that are expected to stay with you for life.
Also Read: List of Colleges in Delhi University: Affiliated/Recognised Colleges in DU
Top Delhi University College Fests 2020
Now, let us look at the list of the top Delhi University College Fests 2020 that are expected to promote good times to students along with the schedule and the expected line-up of events planned.
Name of the College

Name of the Fest

Event Details

Fest Dates

Reverie

Magic shows
Fashion stalls
Dance performances

4th Feb to 6th Feb

Aaghaz

Celebrity performances
A night full of laughter, dance & music

20th to 22nd Feb

Tarang

Talent shows
EDM nights

1st Feb to 3rd Feb

Montage

Graffiti competitions
Music, dance and drama events

15th Feb to 16th Feb

Quintessence

Music and dance events
Star night

9th Feb to 10th Feb

Ecophoria

Fashion show: Glitz
Horse trade
Barter game
Dance event

5th Feb 2020

Nexus

Karaoke, western solo & duet singing competitions
Debates and quizzes

12th March to 14th March

Lashkara

Punjabi folk culture
Star night

27th Feb to 29th Feb

Sri Guru Nanak Dev Khalsa College

Tvesh 2.0

Fun Event
to be declared
Tide

Singing Competitions
EDM Events
Fashion Events
Literary EVents

19th Feb to 20th Feb

Mosaic

Intercollege competitions

To be declared

Zeitgeist

Literary events
Fashion shows
Street plays

6th Feb

Crossroads

Street plays
Competitions
Business quizzes

7th March to 10th March

Tempest

Battle of bands
DJ nights
Dance, singing competitions

14th Feb to 16th Feb

Confluence

Choreography competitions
Battle of bands
Fashion shows
Street plays

9th March to 12th March
Also Read:8 Advantages of Studying in Delhi University
DU college fests have come a long way. From organizing events to candidates showcasing their hidden talent, DU fests never fail to amaze the masses.
Related Articles
Click on the links mentioned in the table below to learn more about Delhi University:
In case you are looking for more options to pursue your higher studies, you can check out the top colleges in India 2020 and apply to them simply by filling out the Common Application Form. You can also write to us for further assistance or call our toll-free number 1800-572-9877 to get in touch with one of our admissions experts directly. 
Stay tuned to CollegeDekho for more updates and videos on DU College Fests!