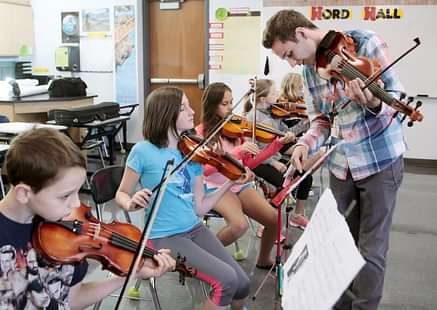 The colour of life comes when a tinge of music imbibed into it. And if you are a college going student, life is filled with hopes and colors so if music is added onto it, life will start soaring like a bird.
Be it a soulful touching melody or a rock peppy jazz, each music has its own thrill that engages us towards life and its beauty. No song is bad because every song has its own depiction to life and its conditions. Lyrics, music and the situation create an impact on your life and help you enjoy every beat of life's music along with the song itself. Friendship, love, romance, teachers, books, city, family among every other relationship is covered by songs and fulfill you from within.
Here are few popular songs to listen
• Woh Pehli Baar..Jab Hum Mile.. A beautifully song sung by Shaan that particularly denotes life in college and the romanticism during college days. Its heart touching lyrics, woh pehli baar..jab hum mile..haathon mein haath..jab hum chalein..Can connect souls easily.
• Yaaron dosti..badi hi haseen hai.. This song from Rockford connects life to college friends and the eternal friendship and crazy fun associated with life in college.
• Purani Jeans aur Guitar.. Haha! Every student could attach oneself to his/her college days with this lovely song. Lyrics of this song takes you back to your college days and keeps your memories fresh. If you are still in college, enjoy and live every day to the most as these days will be your only source of memory in the later years.
• Haaribaazi ko Jeetna humein aata hai.. Jo Jeeta Wohi Sikander and its storyline captures the life of a college among teens. This song would immediately remind you of that friend who was always your partner-in-crime or any suitable moments when you were left alone.
• 50 Ways to say Goodbye: Every college student has had that breakup or two and this song is good to get over that phase. Train's music on break up has a funny approach which helps you give excuses to yourself on the reasons your ex has left you and therefore a must listen!
• Welcome to the jungle: Guns n Roses' famous song reminds you of those days when you were so doubtful and anxious about the new place, new city, new friends, new classes and everything new! It seemed like you have been entered into a jungle where you know nobody!
• Yaar Anmulle: This Punjabi song by Sharry Maan reminds you of your precious friends who have left an imprint on your lives. This song perfectly describes the bond and togetherness of friend zone people. Listen to all these songs and cherish your college days!
Hope you are going to listen to a few of them right away!!