Are you planning to take admission in First-Year Junior Colleges (FYJC) after Class 10 in Maharashtra? If yes, you are in the right place. As the Class 10th results of Maharashtra have been released, it is time to check all details of the FYJC admission. The 2021 FYJC process has started, and the first merit list was released on August 23. The online admissions Part 1 form filling for FYJC will start first. The official notice of FYJC 2021 admissions will be released by the authority on its website. Students who have passed Class 10th are eligible to participate in the FYJC admission process. After the registration process concludes, the FYJCs release their merit lists for different courses and students then take admission if they qualify the FYJC cutoff marks of their preferred FYJC.
About FYJC 2021
The total number of colleges this year in the Mumbai Metropolitan Region is 849. The state education department is also going to release a matrix of the available seats soon. 
The seat matrix is important as it helps in deciding the college preferences which need to be filled in the second part of the admission form. The form will have to be filled in once the results have been declared. With the implementation of the new quotas, 83-93 per cent of the colleges will be reserved.
There are 39 guidance centres in the region and the admission officials have asked students to not go to cyber cafes to fill in their forms instead they should stick with schools or guidance centres to complete the process. 2,82,000 booklets related to the admission and related processes have been distributed. The demonstration sessions to explain the process also begins in May for state board authorities and a meeting of all principals of various other boards is likely held after that.
After the declaration of class 10th board exam results of 2021, candidates will be able to proceed with their FYJC registration process 2021. They will be required to enter details such as course choice, college preferences and other subject related choices in the form. FYJC 11th admissions are done on the basis of the merit of the candidates in the class X examination.
FYJC Admissions Eligibility Criteria 2021
Before filling the FYJC 2021 application form, candidates need to make sure that they meet the FYJC 2021 eligibility criteria. The basic eligibility requirement for FYJC admissions 2021 is that candidates must have passed class 10th or its equivalent from a recognised board.
FYJC Admission 2021 Schedule and Time Table
The detailed schedule and timetable for FYJC 2021 admissions can be checked in the table below:
| | |
| --- | --- |
| Event | Date |
| Student Registration | August 14 to 22, 2021 |
| FYJC first general merit list | August 23, 2021 |
| Release of Cut-off Lists & Vacancy Lists | To be notified |
| FYJC merit list release for round 2 | To be notified |
| Release of Cut-off Lists & Vacancy Lists | To be notified |
| FYJC merit list release for round 3 | To be notified |
| FYJC merit list release for a special round | To be notified |
CollegeDekho brings you an in-depth understanding and detailed insight into the online admission process involved in FYJC. In this article, candidates can find information regarding admission to FYJC in the following regions:
FYJC 11th Online Admission 2021 Mumbai Region
FYJC 11th Online Admission 2021 Nagpur Region
FYJC 11th Online Admission 2021 Pune Region
FYJC 11th Online Admission 2021 Nashik Region
Usually, many students plan to join Diploma courses after Class 10, while others choose science or commerce as their study field. Before understanding the online admission process of FYJC, it is necessary to have a clear idea of what FYJC is. As mentioned above, FYJC stands for First-Year Junior Colleges (FYJC), which is regarded as Class 11. FYJC is a term that is mostly used in Maharashtra. If you are enrolled in FYJC, it means that you are pursuing Class 11.
Check the detailed process of FYJC 11th Admissions here:
Candidates taking FYJC Online Admission Mumbai Region 2021-22 and FYJC Online Admission Pune Region will have a lot of advantages as they can get higher education-like experience after class 10 in some of the most developed cities in India. However, FYJC Online Admission Nashik Region and FYJC Online Admission Nagpur Region is also a good idea.
FYJC 11th General Admission Rules and Regulations: -
If you are willing to join FYJC 11th, you must primarily check the number of streams available.
As per the admission rules, students will have a chance to select only one stream.
Even though many colleges offer admission to FYJC in different streams, some colleges reserve seats exclusively for students who score good marks and rank in the merit list.
After filling the seats that were reserved for bright students, seats under various quotas are filled
While selecting colleges, numerous options will be available to the students. However, students will be allowed to choose only 10 colleges. Therefore, think properly before taking any decision.
If you wish to change the stream, you can do the same during the admission rounds.
If you change the stream, your seat will be allocated to another student. Therefore, you can't switch back then.
FYJC Instructions for Non-State Board Students:
Students belonging to non-state boards like ICSE, NIOS, CBSE and IB who wish to take admission to state board junior colleges can start filling up 'Part A' of the first-year junior college (FYJC) application forms.
The CAP committee has instructed that the non-state board students will have to fill up their 'best five' scores in the admission forms.
On the other hand, NIOS students will have to fill up marks as shown on their mark sheet. Students must note that those who have received the remark 'subject yet to be declared' on their mark sheet will not be eligible to fill the application form for FYJC.
The subject group for ICSE students will be considered for admission to FYJC.
For the International Board (IB) students, marks secured in all the subjects need to be calculated and converted out of 500. IB students will not be eligible for the 'best of five' formula.
Also Read: Career Scope after PCM with Computers in Class 12th
Advantages of Online Admission Process:-
The advantages that all applicants can avail of by the online admission process of FYJC are listed below.
Through the online admission process, students need not visit each and every college individually to submit the application form.
The online admission process will save time
FYJC Online Admission Process 2021
The detailed step-by-step FYJC admission process 2021 is provided below. Students can go through it to get a clear understanding of the admission process of FYJC -
The FYJC online admission process for the academic session 2021 will begin after the conclusion of the application process.
The admission rounds are expected to be conducted in August/ September
In the first round, students can select the college in their region. If they wish to change the college, they can do it in the second round.
The allocation of the seat will be based on the number of seats vacant in the respective college.
If all the seats are allocated in the college, which student has opted, he/ she can choose another college.
Admission to Science, Commerce and Arts stream for class 11th is done online but there are few streams/junior colleges where admission is not done online. They are Technical Junior Colleges (TJC), Home Science, HSC Vocational (MCVC), in-house quota, minority quota, and management quota admissions are also done through the respective junior colleges, and even admission to the night junior colleges.
Documents Necessary for FYJC Online Admissions 2021
The list of documents that are required for FYJC admissions 2021 is given below. Candidates must have all of these documents before proceeding with the online admissions of FYJC 2021.
Original School Leaving Certificate
Original Class 10 Marks Sheet
Caste Certificate (only for reserved categories)
Also Read: Bachelor of Arts Courses after Class 12th: Scope and Career
FYJC Online Application Process 2021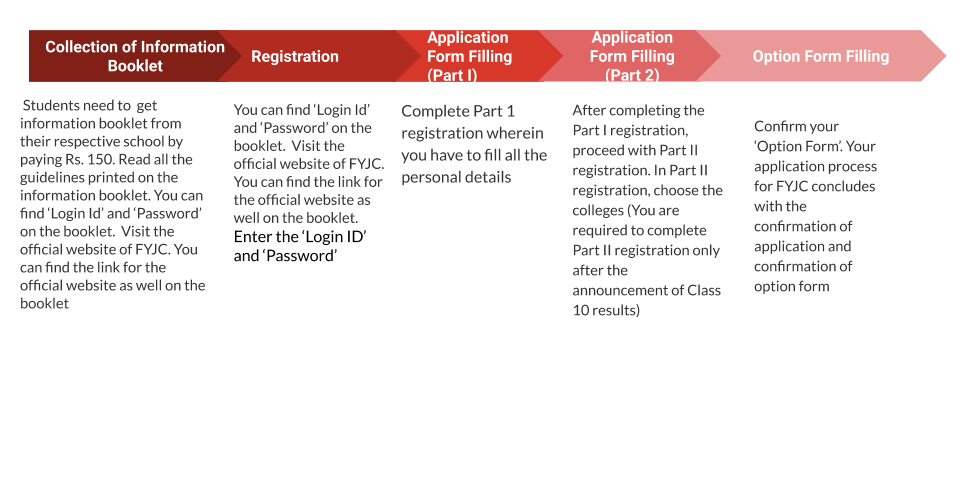 Before beginning the online application process, it is advisable that the students obtain an information booklet from their respective school by paying Rs. 150
Read all the guidelines printed on the information booklet
You can find 'Login Id' and 'Password' on the booklet
Visit the official website of FYJC. You can find the link for the official website on the booklet
Enter the 'Login ID' and 'Password'
Complete the 'Part I' registration where you will have to fill in all the personal details
After completing the Part I registration, proceed with Part II registration
In Part II registration, choose the colleges (You are required to complete Part II registration only after the announcement of Class 10 results)
Confirm your 'Option Form'
Your application process for FYJC concludes with the confirmation of application and confirmation of option form
Top Arts Colleges in Maharashtra
Top Science Colleges in Maharashtra
Top Commerce Colleges in Maharashtra
CollegeDekho wishes Good Luck to all the aspirants. Stay tuned to our website for FYJC latest news and updates.