With the rapidly growing increase in the demand for design courses in India, the number of colleges offering design programmes has also increased. Every year, thousands of candidates apply for admission to the leading design colleges of the country and aspire to make a career in the field of design. The admission process followed by these colleges varies at several levels. One of the most important things that someone interested in pursuing higher education in the field of design must know is the selection process of the desired colleges.
A huge number of design colleges conduct an interview round in order to shortlist candidates for their programmes. At some colleges, the interview round follows an entrance test while some institutes select candidates solely on the basis of their performance in the interview. In any case, the interview round is a major criterion of selection at design colleges. Due to the spread of COVID-19, many design institutes have started to conduct personal interviews through a virtual mode. The video conferencing software, such as Skype, Zoom and Google Hangouts allows the interview to take place remotely without meeting face-to-face with the interviewer.
In this article, we have provided you with all the necessary information that you need for cracking design interviews. Some basic but important tips have been explained for performing well in the interview round of design colleges.
Tips to Crack Design Interviews
Every candidate who aspires to take admission to any design college must be prepared for the interview round. It is a one-on-one interaction round that is conducted by the authorities. The candidates will have to face a panel of interviews and answer whatever questions are put to them. Go through the points given below to know what all you have to keep in mind while appearing for the interview rounds.
Before the Interview:
You must know the venue of the interview and the other details regarding the process. If the venue is new to you, it is advisable to visit it sometime before the scheduled day of the interview in order to acquaint yourself with the place.

If the interview is being held through a virtual mode, you must test your equipment and internet connection beforehand. Doing so can help you in avoiding any potential technical glitches or difficulties during the interview.

Keep the email address or username professional and simple for the virtual interview as they create the first impression on the mind of the interviewer.

Gather all the documents including the portfolio or forms that you may be asked to produce during the interview. Make sure you do not miss out on any certificate or document and prepare your file carefully.

Go through your portfolio and make any last-minute changes if necessary.

Do proper homework and try to learn as much as you can about the interview process conducted by the college.

Be well rested and get a good night's sleep a day before the interview. Do not skip any meals and take care of your diet.
Also Read: Importance of Portfolio for Admission in Design Courses
During the Interview:
The first step towards making a good impression is being punctual. Reach your venue before the allotted time so that you are in no rush. Being punctual will fetch you enough time to be prepared for everything.

Make sure that you dress appropriately and follow the dress code if any. It is always the safest and best idea to opt for formal outfits while appearing for an interview. You must also ensure that the clothes you choose to wear are comfortable.

Throughout the interview process, you must be on your best behaviour and extremely polite. Greet the interviewers when you enter the room.

Use proper phrases when asking them to repeat the questions. Make sure that your tone is not rude or impolite.

Do not use any informal language or slang during your interview. Resort to the proper, formal English language and refrain from using terms that are considered casual or unofficial.

Keep your confidence up and do not become nervous or anxious for the interview. A confident person sets a positive tone for the interview and ensures that the whole process is smooth.

Mind your actions and body language while giving the interview. Refrain from actions like fidgeting, touching your face, settling your hair, sitting inappropriately, being clumsy, talking too loudly, etc. Make eye contact while giving answers and use appropriate hand gestures at certain intervals.

When you are asked a question, pause for a few seconds to gather your thoughts and frame the sentence in your mind. Answering right away is not necessary. If you take a moment to process the question, you will definitely answer it in a better way. It will also show the interviewers that you are thoughtful and mindful of what you say.

Avoid giving conventional or cliched replies as much as possible. Try to bring something new to the table and be creative with your answers.

If you do not know the answer to any question that has been asked, accept it and let the interviewers know. Making up answers to things you do not know about sets a negative image. Instead, you should admit that you are unaware of the subject and move on.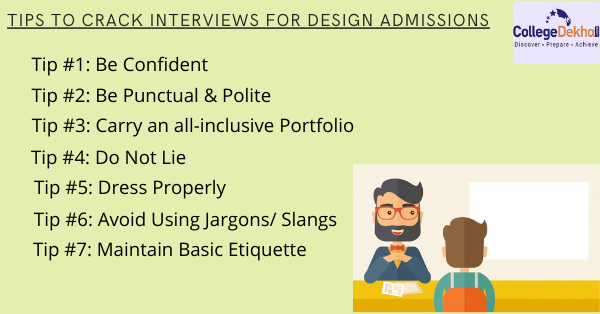 Also Read: Features to be Considered Before Choosing a Design School
Tips to Crack Design Interviews Amid COVID-19
Due to the widespread of coronavirus pandemic, most of the design interviews are being held virtually. Institutes such as NID, SID, IIAD etc. are conducting design interviews online through popular platforms such as Skype, Zoom, and Google Hangouts. Some colleges such as Amity University are asking candidates to submit 1-2 minutes long 'video' in lieu of an interview. 
Here is a list of pointers explaining all about design interviews amid COVID-19:
The conversation between the interviewer and the candidate is held in the allotted time frame communicated to the candidate. Applicants need to make sure that the internet connectivity is not slow.

The objective of the interview is to assess the skillset, knowledge, personality, aptitude and goals of the candidates.

Since the interview is not being held through an offline mode, aspirants need to be polite, attentive and prepared for the same.

It is easy to get distracted or misunderstood via an online interview. Listen carefully and wait for their turn to speak. Interrupting the interviewers may appear rude and pompous.

Do not use your mobile phones during the interview.

Make sure that the place is quiet and does not have any background noise.

Keep your device charged as the low battery may interrupt the interview which may not create a strong impression in the interview's mind. 

 Do not take the online interview casually. Be prepared for all the possible questions and stay ready to present your portfolio (if required) to the best of your abilities.

Candidates must prepare a few impressive questions for the interviews in advance. It helps in addressing their doubts and making a strong impression in front of the panel.
Top Colleges for Design Admission in India
Here is the list of top design colleges in India that candidates can shortlist as per their required preference:
| | |
| --- | --- |
| College Name | Location |
| | Pune, Maharashtra |
| | Delhi, Delhi |
| | Jaipur, Rajasthan |
| | Bangalore, Karnataka |
| | Mumbai, Maharashtra |
| | Mumbai, Maharashtra |
| International Institute of Fashion Design, West Delhi (INIFD) | New Delhi (Delhi) |
| | Bangalore, Karnataka |
| | Pune, Maharashtra |
| | Pune, Maharashtra |
Also Read:Best Design Colleges Apart from NID & NIFT: Courses, Fees, Entrance Exams
All About Design Admissions in India
Go through the links given below to get a deeper understanding of Design admissions in India.
Following these tips while preparing for the interview round of any design institute will definitely give you an edge over other applicants. You will be able to ace the round with ease. You can fill our Common Application Form (CAF) or call on the toll-free student helpline number 1800-572-9877 in order to get help from our admission experts to find the best college for yourself. Through the QnA section, you can also send your doubts and queries to us.
Stay tuned to CollegeDekho to get more information on design admissions, courses, and colleges!