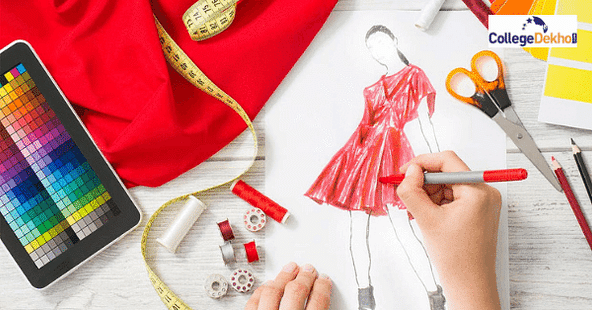 Are you someone with a creative bent of mind and are interested in a career in Design? If yes, you can opt for a course in Design which will give you the appropriate knowledge of the stream. However, students often find themselves confused between pursuing BDes or BFTech. This happens because, at the outset, both courses appear to be similar and one is not able to differentiate between the two.
However, students must examine both the programmes closely as that will help them in understanding which course is better suited for them. It is better to have an understanding of both BDes and BFTech in detail in order to make a wise career choice. This article covers both the courses in detail along with the duration, course fee, eligibility criteria and specialisations of both.
BDes Vs BFTech
Everyone thinks that Fashion Design and Fashion Technology are the same as they both deal inherently with Fashion. However, both these courses are different, they just belong to the same stream. Fashion Designing is all about creating new designing pieces with clothes and materials whereas Fashion Technology is about applying technology and science to create fabric materials.
About BDes
Bachelor of Design is an undergraduate degree that offers many specialisations from which interested students can select the one best suited for them according to their interests. This course comprises both theory and practical work which includes workshops, fashion shows, etc. Candidate who are passionate about design and have good creative skills can opt for the BDes degree. 
About BFTech
Bachelor of Fashion Technology is a mix of both creativity and technology. The candidate are taught how to design, conceptualise, manage and market fashion products. It is also compulsory for students to do at least one internship during the course so that they understand how the fashion industry works and get hands-on experience.
BDes Duration and Course Fee
The average course fee details and the duration of BDes is mentioned below:
| | |
| --- | --- |
| Duration | 4 years |
| Course Fee (Average) | Rs. 2 lakh/year |
BFTech Duration and Course Fee
The duration and the average course fee details for BFTech is given below:
| | |
| --- | --- |
| Duration | 4 years |
| Course Fee (Average) | Rs. 1 lakh/year |
BDes Eligibility Criteria
Candidates who are interested in pursuing BDes should have an idea about the BDes eligibility criteria before applying for this course. The BDes eligibility criteria are mentioned below:
Candidates need to pass Higher Secondary i.e. class 12 from a relevant board.
Candidates from any stream can pursue BDes course.
Though the eligibility criteria differ from institute to institute, the candidates need to score a minimum of 45% or more in Higher Secondary in order to get admission in this course. The candidates need to be between 19-20 years in order to pursue the B.Des course.
BFTech Eligibility Criteria
Candidates who are interested in pursuing the BFTech course can go through the BFTech eligibility criteria listed below:
Candidate need to qualify Class 12 i.e. Higher Secondary from any relevant state board or central board.
It is compulsory to have subjects like Chemistry, Mathematics, and Physics in Higher Secondary to pursue B.F.Tech.
Candidate who pursued three-four years diploma course in any Engineering specialisations from a college or university recognized by AICTE are also eligible for applying for the BFTech course.
BDes Specialisations
The BDes course has many specialisations which the candidates can opt. The candidate can check the specialisation given below.
Animation Film Design

Film and Video Communication

Accessory Design
Note: BFTech is a specialisation itself, however, all these specialisations are incorporated in the BFTech syllabus.
BDes Syllabus
BDes has many specialisations and the syllabus varies from one specialisation to the other. However, the BDes specialisations share the same core subjects, industrial exposure, and learning technique. The BDes syllabus is given below:
| | |
| --- | --- |
| Conceptual Skills | Basic Design skills |
| Strategy for Innovation | Creative Mobilization Process |
| Tools and Equipment | Production processes |
| Material Sciences | Research |
| Trade and Professional Practice | Marketing, Promotion, and Merchandising |
| Industry Orientation | Business Management |
| Socio-Culture History of Fashion | Art and Design |
| Structure and Processes | Production Environment |
BFTech Syllabus
The syllabus of BFTech varies from one college to another but there are certain common topics which are taught in all the colleges. The BFTech syllabus is given below.
| | |
| --- | --- |
| Retail Merchandising and Management | Fashion Merchandising |
| Accessory Design | Graphic Design |
| Advanced Fashion Illustration | Pattern Grading |
| Industrial Pattern Making and Sewing | Production Management |
| Apparel Production Process | Entrepreneurship Development |
| Environmental Studies | Fashion Marketing and Advertising |
| Computer-Aided Designing: Apparel Industry | Fashion Merchandising |
| Total Quality Control | Apparel and Fashion Merchandising |
| Fashion Design and Illustration | Pattern Making/ Cutting |
| Quality Control | Concept of e-Commerce |
| Financial and Management Accounting | Import and Export |
| Surface Ornamentation | Customer Relations Management |
| Garment Construction | Pattern Making through Drafting and Flat Pattern Techniques |
| Fashion Illustration | Introducing to Pattern Making and Stitching |
| Fundamentals of Textile Fibers and Yarns | Fashion Communication |
| Fundamentals of Computers | Principles and Elements of Design |
| History of Costumes | Fundamentals of Fashion Design |
BDes Career Scope
The BDes course comes with many specialisations so the career scope for BDes is according to those specialisations. Candidates pursuing BDes can also opt for the following jobs after completing the course -
Fashion Designer: Fashion Designers need to research and predict the market trends as well as keep themselves updated about the trends all the time. They have very detailed knowledge about the designs and patterns for each body type and personality. The job of a fashion designer is fun as well as challenging. For being a successful fashion designer, one needs to be a good listener, observer, critical thinker and should be socially perceptive.
Graphic Designer: In the fashion industry, graphic designers are responsible for creating placement prints, overprints, and graphics for various garments.
Textile Designer: A Textile designer needs to come up with new designs and prints for different fabrics for different articles of clothing as well as non-clothing materials, furnishing materials using both manmade and natural fabric.
Product Designer: Product designers discuss designs with clients and colleagues. They also work closely with model makers, engineers, marketing and sales staff, etc. They use computer designs, 3-D models, drawings to project their ideas.
Art Director: An Art Director is responsible for the overall visual feature of a media or advertising campaign. They also help in coordinating the work of other staff, like graphic designers.
Industrial Designer: The students can also opt for career in UI/UX Designer, etc.
BFTech Career Scope
As BFTech is a combination of fashion and technology, students can opt for careers in both the Fashion Industry or Fashion Technology. Some of the popular job profiles that students can pursue after BFTech course is listed below:
Technical Artist: A Technical Designer or artist is responsible for the creation of a technical package. Hence, a technical artist needs to know every detail such as the sewing details, points of measurement ( POM), wash description, label or hangtag placement along with the packaging instructions.
Fashion Merchandiser: Students opting for this profile need to look after the design along with the artistic quality of the store. Fashion merchandisers work on creating displays, store layout, and stocking merchandise in a manner that it promotes the design or the store. A person in this job profile needs to make sure that the appearance of the store he or she works in represents the company's brand, and also creates a positive customer experience and follows the current marketplace trends.
Pattern Grader: Students taking up this job profile needs to work on computer/ laptop where they can draw a pattern on a digitising tablet and also track its outline with a light pen or scanning equipment. key points of measurements are fed into the computer by a pattern grader. In this process, a pattern grader adjusts the size and the proportion of the patterns. Quality checks are done by the pattern graders and they also make sure that the pattern produced is matched with the original one.
Fashion Designer: Students expert in drawing and who also have detailed knowledge about designs and material can start their boutique or join a firm for designing clothes under their banner. Fashion designers design different types of clothes like jeans, jackets, men's wear, women's wear, evening wear, children wear, etc.
Fashion Consultant: Fashion consultants help their clients to organise and develop a wardrobe according to the market trends promoting their public image. Fashion consultants are mainly advisors.
Fabric Quality Control Manager: Fabric Quality Control Manager negotiates, determines as well as agrees on the in-house quality standards, procedures, specifications for the production and use of different kinds of fabrics.
Fashion Marketer: A student selecting to be a Fashion Marketer can work for boutiques, clothing companies, or outlet chains. As a fashion marketer, one has to publicise and increase awareness of the brand they are working in, department stores or designer labels. Fashion marketers need to direct, plan, or coordinate marketing programs and policies, like determining the product demands and its competitors, services offered by a firm and also identify potential customers.
Students can also choose to join a Fashion house, export house, textile mills, production units, leather company, etc after completing BFTech.
Also Read: List of Top 10 Design Colleges in India: Features, Courses & Fees
BDes Popular Colleges/ Universities
Some of the popular colleges or universities for studying the BDes course are given below.
| College Name | Location |
| --- | --- |
| | Ahmedabad, Gujarat |
| | Delhi, Delhi |
| | Sehore, Madhya Pradesh |
| | New Delhi, Delhi |
| | Pune, Maharashtra |
| | Ahmedabad, Gujarat |
| | Mumbai, Maharashtra |
| | Dehradun, Uttarakhand |
| | Gwalior, Madhya Pradesh |
| | Jaipur, Rajasthan |
BFTech Popular Colleges/Universities
Few popular colleges or universities for the BFTech course are listed below.
| | |
| --- | --- |
| College Name | Location |
| | Hyderabad |
| | Navi Mumbai, Maharashtra |
| | Bangalore, Karnataka |
| | Neemrana, Rajasthan |
| | Jodhpur​, Rajasthan |
| | Kottayam, Kerala |
| | Pathankot, Punjab |
| | Kothamanglam, Kerala |
| C.E.T College of Management, Science and Technology (CETCMST) | Ernakulam, Kerala |
| | Sangrur, Punjab |
Related Articles
As explained above, both courses are not so similar and have their own set of differences. Now, students can evaluate which course is a better fit for them basis their interest and acumen, and choose the course they think is ideal for them.
If you are still confused about the same and are willing to take admission in a Design college, you can reach us out for free assistance. Either dial 1800-572-9877 (toll-free) or fill the Common Application Form to get in touch with our admission experts. You can also leave your queries on the QnA zone of CollegeDekho. 
Stay tuned to CollegeDekho to get the latest information about Design stream!