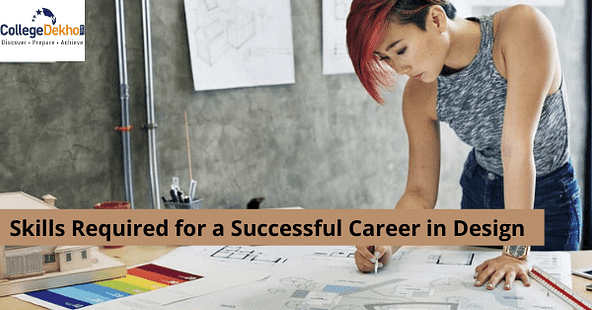 Design is used in all aspects of our lives, from fashion to the products we use. With the advancement of digitalization, careers in the field of design have grown in popularity. Aspirants who want to pursue a career in design are increasingly in demand. Aspirants must acquire certain abilities to have a successful career in the design sector because it is a hard field. The design sector is searching for astute professionals that are not afraid to take risks and attempt new things. Creative skill is the first and foremost skill that every design aspirant must possess, among other skills required for a successful career in design such as analytical skills, communication skills, and so on.
Design is a field that is fetching lots of popularity with the evolving times. Students are getting inclined towards it and are aspiring to make a successful career in Design. There are multiple universities and colleges that offer the best design courses to interested students. Institutes like NIFT and NID have become brand names in terms of design studies and students prepare very hard to get through the design entrance exams of these colleges. There are plenty of popular design colleges apart from NID and NIFT that guarantee quality education and practical exposure.
Picking the right design college is of utmost importance and so is possessing the apt skills for a career in design. Colleges today are offering various undergraduate, postgraduate, and diploma courses in design and an individual can pick out any course that he/she finds correct for the career path. The design industry is revolutionising at present and that is creating a huge demand for skilful designers. Here are the top 10 skills for a design career that can assure you a secure and successful future.
Top Skills for a Career in Design
Even after obtaining a degree from the best design institute, an aspirant can lack the basic skills for a design career. In order to ensure a concrete future after pursuing design courses, it is required to have the skills mentioned below. They have the potential of shaping up and giving a nudge to an aspirant's professional dreams.
Creative Skills- The first and foremost skill required in a designer that needs no introduction is creativity. Design and creativity go hand in hand. It is very crucial to have an artistic flair and creative cells if you want to pursue a career in design. To come up with innovative ideas and unique designs is something for which designers are constantly required. Ideas are the currency of today's world. If an individual is capable of delivering his ideas with a creative coating and knows his way through imagination, he wins half of the battle.

Analytical Skills- A career in design mainly deals with creativity but it also requires analytical skills to solve problems. Most of the business runs on logical thinking. The idea originates with creative thinking but it gets packed up and formulated with the analytical mind. It is required for an individual to think with both, creative and analytical sides of the brain in order to build a successful career in design.

Communication Skills- Communication is key in every sphere. It is essential for an individual to have great communication skills as without it ideas will only float in the head and will not find the correct passage out. An individual without proper skills to communicate always finds it hard to explain and understand the process, design ideas and thinking. The aspirant should be able to easily communicate the ideas to the other person so that the original idea does not lose its meaning.

Business Skills- Coming up with an idea is a task and so is selling it. It is required to be equipped with excellent business skills because eventually, the idea requires a buyer or an investor. It is very difficult to sell your idea if you lack business tactics. Branding the thought and selling it is the ultimate purpose of a designer. For a successful career in design, an aspirant needs to have sound knowledge of selling the idea and managing the work.

Awareness- A design career enthusiast should be well aware of the changes and occurrences in his surroundings. It is important to build and implement design ideas keeping the latest trends and outlook of the clients in mind. In order to succeed in the design field, an individual should always remain informed and be aware of the present scenario. Not only that, a good designer has brilliant farsightedness and also good knowledge of history, involving which in work also pays off at times. General awareness is mandatory for a designer to connect with the masses.

Self Confidence- Self-confidence is good to have for designers. A designer needs to come up with unique ideas constantly to stay in the game. It is extremely vital to have inbuilt self-confidence for it gives the individual the ability to believe in himself/herself. The power of self-confidence always reflects on the work of a designer. At the end of the day, it is the quality of work that speaks for anyone seeking a career in design.

Computer Skills- A competent designer is the one who is fully equipped with computer skills. In today's digital age, most of the work is done and managed online. Technology is keeping track of an individual's every move. For instance, an interior designer sketches up ideas and also maintains a record of his/her work online. Having a basic understanding of Adobe, HTML, XML, Javascript and CSS only add a feather to the cap. It makes the designing process much easier and more efficient.

Time Management Skills- Time management is the biggest challenge that every designer faces. With so much to achieve in such little time, work becomes a challenge. To ensure a successful career in design, it is required to manage the time in hands. It is always wise to plan beforehand and to create a table that manages your time. Multitasking often gets a lot of work done in little time. A designer should always be prepared with a plan of action and should stick to that. The plan should be practical and achievable.

Decision Making Skill- Decision-making skill is an expertise that can make or break a career in design. An aspirant with a good decision-making tendency has the potential of making a quick rational decision. An aspirant should have the potential of weighing the pros and cons. He/She should be able to identify the alternatives, weigh them together and evaluate the final result, without taking too much time. People take a good decision maker seriously and a designer needs that so that his ideas and work get valued by others.

Flexible and Collaborative Thinking Skill- It is always good to have flexible and collaborative thinking skills for a design career. A designer should not be too firm with his ideas and thoughts, he/she should be open to alterations. Engaging in discussions and sharing minds together often evolve multiple ideas. He/She should involve others and should work collaboratively with them. A good designer should always lend an ear to the opinions of others and should take the feedback constructively.
Also Read: Self-Study Guide for Design Entrance Exams in India
Design Specialisations in India
Design is a vast field that incorporates diverse specialisations. A student can opt for any path as per his/her area of interest. Mentioned below in the tabular form is the list of specialisations in Design that an individual can pursue and the top colleges from where they can pursue it.
Specialisation

Popular Courses

Popular Colleges

Annual Course Fees (Approx.)

B.Des in Fashion
M. Des in Fashion & Textiles
M.A. in Fashion Design

INR 20,000 to INR 4,50,000
INR 8,000 to INR 3,60,000

B.Des. in Graphic Design
M.A. in Graphic Design

INR 38,200 to INR 8,00,000

B.Des in Textile Design
B.Sc. in Fashion and Textile Design
M.Des in Textile Design

INR 17,000 to INR 1,00,000

B.Sc in Multimedia and Web Design
B.Sc in Graphic and Web Design
B.Sc in Web Design
M.Sc in E-commerce & Web Design

INR 5,000 to INR 3,00,000

M.Des in Automobile Design
Diploma in Automotive and Product Design

INR 20,000 to INR 3,00,000

B.Des in Jewellery Designing
B.Sc in Jewellery Designing
M.Des in Jewellery Designing

INR 20,000 to INR 3,00,000
INR 40,000 to INR 2,00,000

Product Design

INR 45,000 to 4,50,000

Leather Design

B.Des in Leather Design
Diploma in Leather Design

INR 30,000 to INR 2,50,000

Multimedia Design

Diploma in Multimedia Design

INR 20,000 to INR 3,00,000

B.Des Ceramic & Glass Design

INR 10,000 to INR 5,00,000

Knitwear Design

INR 50,000 to INR 2,00,000

Game Design

INR 5,000 to INR 3,88,000
INR 10,000 to INR 3,00,000
Top B.Des Specialisations - What to Choose? Scope and Top Colleges
Also Read: Textile Designing Vs Fashion Designing
Top Design Entrance Exam
For interested applicants, the top design entrance exams are listed below:
| | |
| --- | --- |
| NIFT Entrance Exam | NID Design Aptitude Test |
| UCEED | CEED |
| FDDI AIST | AIFD WAT |
| Pearl Academy Entrance Exam | SEED |
| SEAT Exam | UPES DAT |
The design field has various branches to choose from and has a vast scope in the world. Check the rest of the top design specialisations here. With the ever-evolving times, the requirement for proficient designers is at its peak. In order to equip the aforementioned skills for a career in design, the right college always has an important role to play.
Aspirants must keep in mind that not every skill is in-built, some need to be worked upon and can be acquired through the right training. With the apt set of skills and the correct choice of college, no one can stop an individual from touching the sky height!
You can go through the list of top design colleges in India that will help you in developing the right designing skills. In case you require any admission related assistance, you can just dial the toll-free number 1800-572-9877 or fill-up the Common Application Form. Our admission expert would be glad to help you with your concerns. If you have any queries, feel free to write them in the QnA zone.
Stay tuned to CollegeDekho for more information on the design stream!