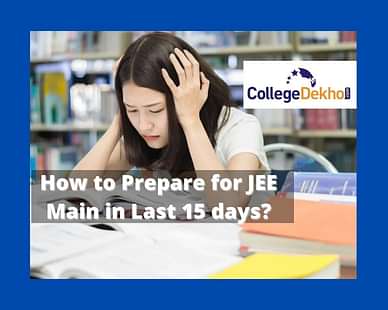 JEE Main 2024 Preparation Tips for Last 15 Days: JEE Main 2024 April session exam will be conducted between April 1 to 15, 2024.The JEE Main Application Form 2024for Phase 2 will be released in February or March 2024. When there are only a few days remaining to face one of the most competitive and popular engineering admission exams, it is important that you are well aware of the last-minute JEE Main 2024 preparation tips. Thousands of candidates are expected to take the Joint Entrance Exam, which will put some of the country's smartest minds against one another in a very competitive exam. Despite the fact that JEE Main 2024 exam is one of India's most difficult engineering exams, applicants can secure good marks in its event in their first attempt with a strategic plan, perseverance, and persistent motivation in these remaining 15 days.
LATEST: JEE Main 2024: Here is when application form is expected
Quick Link: JEE Main Session 2 Exam Date 2024 Released
To help applicants, CollegeDekho brings to you the ultimate plan to help you prepare for JEE Main 2024 in 15 Days. We have included some of the most efficient last-minute study methods to help students prepare for their JEE Main 2024 exam. Candidates should refer to and follow these guidelines to get the highest marks. 
Important Link:
Also Read - JEE Main Passing Marks 2024
Tips to Prepare for JEE Main in 15 days
| S.No. | Preparation Tricks |
| --- | --- |
| 1 | Plan a Revision Schedule |
| 2 | Follow up the Plan |
| 3 | Time Management |
| 4 | Follow Pomodoro Approach |
| 5 | Make Short, Handy Notes |
| 6 | Make a day-by-day schedule |
| 7 | Practice Solving Important and Challenging Questions |
| 8 | Solve JEE Online Practice Tests and Track the Pattern of Solving Questions |
| 9 | Optimize Your Exam Strategy |
| 10 | Don't start a new topic |
| 11 | Avoid Negativity |
| 12 | Do not Panic |
Also Read -  JEE Main 2024 Admit Card
Let us look at each pointer in a descriptive way to have a better understanding. 
1. Plan a Revision Schedule
Candidates should first create a fresh revision schedule of 15 days. Candidates may split their time into five days for each course. It is important to remember that the timetable must be adhered to strictly; otherwise, it will be impossible to update everything. It is now up to you to decide what you wish to revise. It refers to whether they want to revise the full syllabus or only a portion of it. This is totally up to the applicants; if they desire, they might focus on key subjects from each area and extensively revise them.

Quick Link - Check out JEE Main paper solving strategy
2. Follow up the Plan
Make it a habit to go through all of the formulas and JEE Main study material according to the schedule at least once a day until the exam day. You may also develop a chart and stick it near your bed to check them out.
3. Time Management
Concentrate on time management while taking a practice exam or answering previous year's papers in a timed way. Developing a realistic strategy will be really beneficial. For example, if the actual exam is scheduled for three o'clock in the afternoon, students should take their mock test at three o'clock in the afternoon to align their biological clock with the precise exam time. Following the exact timing of the actual JEE Main will help applicants get used to the schedule and avoid any unpleasant surprises during the test.
4. Follow Pomodoro Approach
Do you become easily distracted? If that's the case, the Pomodoro Technique is the solution.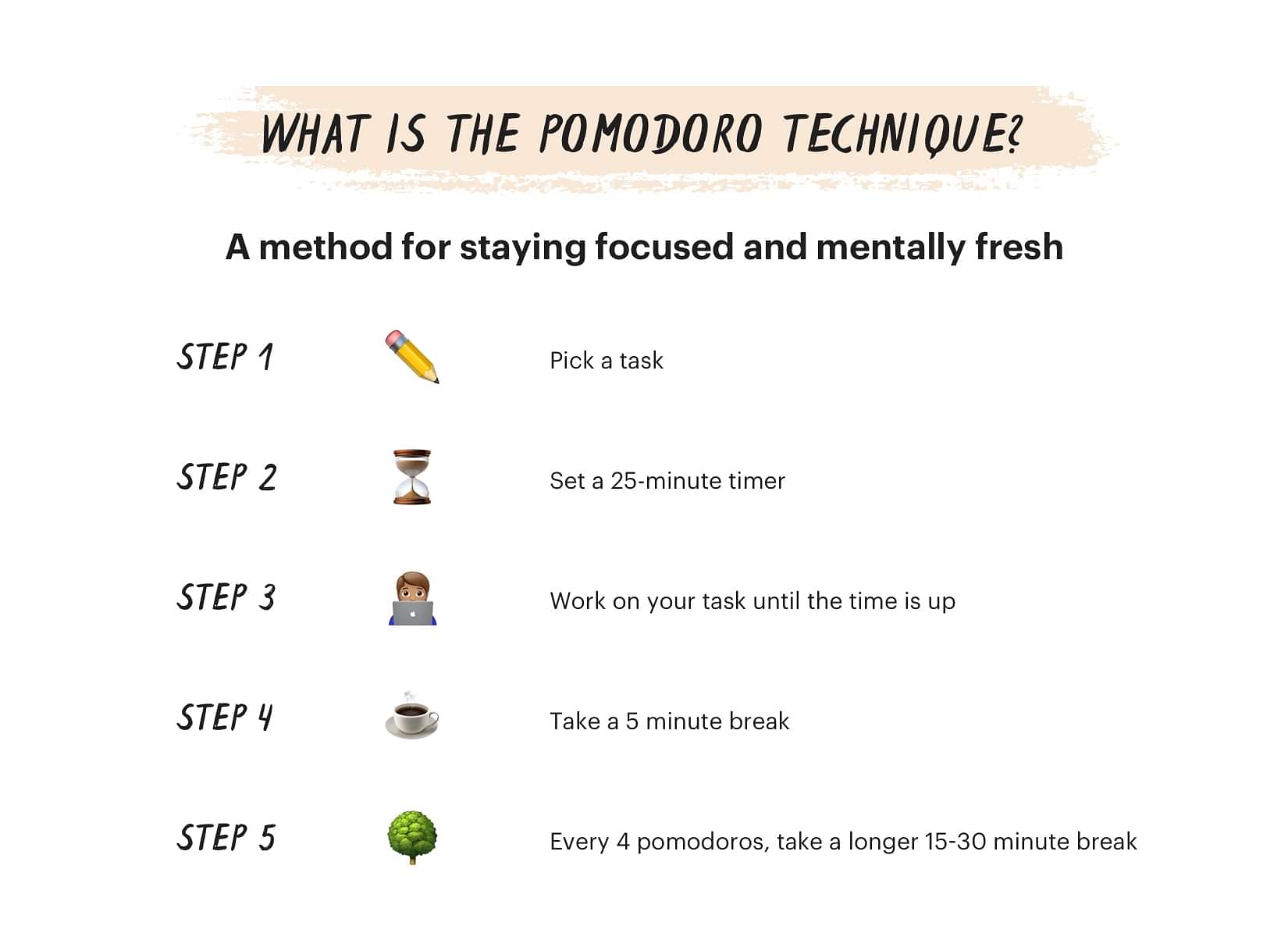 It is a simple strategy of setting a timer for 25 minutes for a job and doing nothing else during that time.  There should be no phone, no social media, and no email; the whole attention should be on the work at hand, which is now JEE Main 2024 preparation. After each 25-minute session, take a 5-7-minute breather. Take a long rest of 25-30 minutes after you've completed four of these sessions to recharge your brain.
5. Make Short, Handy Notes
Candidates should make some short, useful notes that they may keep with them. Candidates can use these brief notes to jot down key formulas and concepts. Candidates can devote 20 to 30 minutes per day to these notes. This will make it easier for the applicants to memorize important formulae and concepts.
The JEE Main syllabus 2024 can be divided into three sections:
Most difficult 
Moderate difficulty
Easy subjects
6. Make a day-by-day schedule
0-5 days – Revise the most difficult subjects
6–10 days – Choose topics that are moderate.
10–12 days – Practise easy topics
12 to 15 days Solve  Mock exams to help you figure out where you're lacking and what you can do to improve.
Just make sure you don't put off the difficult things until the last possible moment. Covering them first will increase your self-confidence.
7.  Practice Solving Important and Challenging Questions
You should have come across a few questions or a specific sort of question asked frequently when solving JEE Main previous year's question papers or JEE Main mock test, which you also found difficult to answer. Leaving such questions unanswered is not a viable option. Rather, you should seek for ways to solve these problems fast and accurately in order to do well in the exam.
8. Solve JEE Online Practice Tests and Track the Pattern of Solving Questions
To answer the questions fast and accurately, you'll need smart work in addition to hard labour. One method to achieve this is to come up with a routine for answering the questions and stick to it on the big day. This is only possible with consistent practice.
You should keep track of the sequence in which you should answer the questions when taking the mock tests. It's not necessary to answer the questions in the same order as they're asked. Depending on your preferences and convenience, you can begin with Physics, Mathematics, or Chemistry. It will assist you in being calm and confident during the exam.
9. Optimize Your Exam Strategy
As per the general trend, 50% of the JEE questions are found to be easy.  Look for such questions and solve them first. Do not be stressed if you notice a series of difficult questions at the beginning of the paper; continue with the exam and you will discover simple problems as well. Don't quit up simply because you're at the beginning; there's always the chance that as you go forward, you'll come across a less difficult set of questions. Make an effort to improve your ability to choose questions. Mock tests can assist you in achieving this goal.
10. Don't start a new topic
Whether you've finished your syllabus or not, never start a new topic at this point. It will just add to the tension and worry that already exists. Rather, concentrate on revising what you've already learned.
11. Avoid Negativity
If you're confident in 15 of the 20 chapters in any topic, don't worry about the five you're not sure about, especially in the last days before the exam. There is a chance of getting an admission seat at one of the top NITs even if you get 180 total marks (i.e. 50% of the marks).
12. Do not Panic
Aspirants should not be anxious at this moment. You should avoid stress and maintain a healthy lifestyle. It is essential that students take adequate care of their health at this time since any health issues will have a direct impact on their preparations. Do not let stress get the better of you Stay relaxed and confident, and get enough rest. 
Quick Links, 
The tips given above are very well curated and brought together to make the last days of preparation worthwhile and result-oriented. We would always suggest you to start preparing way earlier to avoid being stressed out during the last few days before the exam but never underestimate yourself or the time that you have in your hand now, stay confident and calm. 
Practice JEE Main Previous Year's Question Papers - Download PDFs
Find JEE Main  previous year question papers for exam preparation here - 
Source: Aakash BYJU's
All the best and we hope these tips will help you in preparing better and boost your confidence. Follow College Dekho for more such tips and information.