The field of law has opened innumerable job prospects for candidates. There are many career options after pursuing law in higher studies that individuals can choose from. One of them is that of a Legal Manager. A Legal Manager is a person who plays an important role in ensuring effective management of legal and contractual risks. Nowadays, most of the organisations and companies have a separate department called the legal department. The main function and responsibility of a Legal Manager are to ensure that the day to day compliance issues are met with respect to the staff and resources in the organisation.
If you are someone who is interested in pursuing a career in Legal Management, this article will provide you with all the information and details. The roles and responsibilities of a Legal Manager have also been provided here along with the salary and employment details. 
Roles and Responsibilities of a Legal Manager
There are certain responsibilities that Legal Managers are expected to fulfil. Some of the most important duties of a Legal Manager have been listed here.
It is the prior responsibility of a Legal Manager to provide legal advice on tender documents.
He/ she needs to review ongoing cases and advice the management accordingly.
Relevant departments must liaise so that proper measures can be taken, wherever legal risks are identified.
Providing legal protection and risk management advice to the management especially on contract management.
Interpreting legal information and conducting training for the staff in accordance with legal requirements.
Reviewing and advising management on legal implications regarding internal policies and procedures.
Drafting agreements, contracts and internal policies of the company so that they are in compliance with all legal requirements.
Preparing monthly and quarterly reports for executive management meetings.
Monitoring compliance with obligations and advising the management accordingly.
Modifying contractual instruments in order to assist and support various business activities.
The reviewing of all the contracts and any other documents for which the company has committed itself to is compulsory. The legal implications which arise during the assessment of documents or contracts have to be brought to the executive management's attention.
The job of a Legal Manager entails several categories and departments. A visual representation of a Legal Manager's responsibilities and roles in various parts of an organisation has been provided below.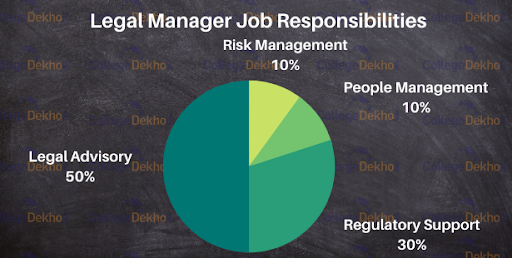 How to Become a Legal Manager?
If you wish to pursue a career as a Legal Manager but are unsure how to go about it, we are here to help you. Every candidate who aspires to embark upon this journey must meet the eligibility criteria for becoming a Legal Manager. Certain educational requirements are a must for this job role. Given below is the detailed process of how to become a Legal Manager.
Also Read:How to Pursue MBA after Law: Benefits, Career Prospects, Best Colleges
Top Colleges in India Offering Law Courses in Management
Here are some of the leading colleges in India that offer courses that are an amalgamation of both law and management streams. Candidates interested in becoming Legal Managers can enrol in any of these colleges for the respective subject so as to get the required knowledge and skillset for the career.
| | |
| --- | --- |
| College Name | Course Offered |
| Maharaja Balwant Singh Post Graduate College, Varanasi | Master of Law in Commercial Group |
| School of Law and Governance, Jaipur National University | PGD in Business Law |
| Shree PM Patel College of Law of Human Rights, Gujarat | PGD in Corporate Laws and Management |
| ILS Law College, Pune | Certificate Course in Securities Law |
| Dr. BR Ambedkar Law College, Bangalore | Master of Law in Corporate and Security Laws |
| Indian Society of International Law, New Delhi | PGD in International Trade and Business |
| Gulbarga University, Raichur, Karnataka | Master's Degree in Commercial Law |
| Indian Law Institute, New Delhi | PGD in Corporate Laws and Management |
| Campus Law Centre, Delhi University | Bachelor of Law |
| Amity Law School, Delhi | UG and PG Programmes in Law |
| National Law Universities (NLUs) | BA LLB, BBA LLB, B.Com LLB, LLB |
| Symbiosis Law School | BA LLB, BBA LLB |
Legal Manager Salary Details
A person with good knowledge of corporate and business laws is sure to have an outstanding career as a Legal Manager. The package offered to a Legal Manager depends upon several factors. Some of them are:
The candidate's qualifications
Company/ organisation of employment
Previous work experience of the candidate
The city in which he/ she is placed
The designation
Roles and responsibilities allotted
On the basis of these factors, the salary of a Legal Manager is determined by the recruiter. The average salary offered at each level has been given in the table below.
| | | | |
| --- | --- | --- | --- |
| Average Salary | Entry-Level Salary | Mid-Level Salary | Senior-Level Salary |
| Rs. 6,50,000 per annum | Rs. 5,85,580 per annum | Rs. 9,12,688 per annum | Rs. 11,42,257 per annum |
Also Read: How is Business Law Different From Corporate Law
For further assistance and counselling, you can call on the toll-free number 1800-572-9877 or fill the Common Application Form (CAF). Through this, you will also be able to find the best law college for yourself. You can send us your queries through the QnA Zone and get solutions by experts. CollegeDekho wishes good luck to all aspirants who want to become Legal Managers in future.