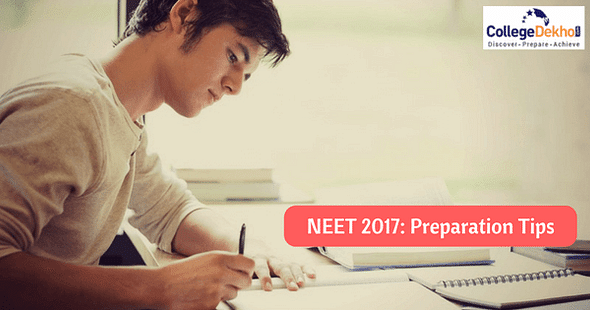 Last Month Preparation Tips for NEET 2023: As the medical entrance exam approaches, aspirants must have a well-planned and effective strategy for their last month of preparation. With only a few weeks left for the exam, students need to utilize their time efficiently to revise, practice, and boost their confidence. In this article, we will discuss some essential last-month preparation tips for NEET 2023 that can help students maximize their chances of success.
Also read:
Important points to remember while preparing a last-minute NEET 2023 study plan:
Study duration
Before you begin to study for NEET in the last 30 days, you need to keep time aside for tasks like eating, exercising, playing, enjoyment, etc. You also need six to seven hours of sleep daily to effectively retain all the important information you are studying. The remaining time can be devoted to preparing for the NEET exam.
Those students who have only studied the board syllabus must keep in mind that only 70% of the NEET syllabus has been covered and they need to put in extra effort in these last 30 days. Every chapter needs to be revised from Physics, Chemistry, and biology from class 11 and class12. Approximately 14 hours need to be allocated for your study plan for the NEET exam. 
What should be the order of spending time studying, revising, and practicing?
Solve at least the last five years of question papers of NEET so you get an idea of what kind of questions are going to appear for the exam. You can choose to go for the ideal order to get effective practice done topic-wise and then move on to reading various NCERT books or videos as the summary for that particular topic. Prepare handwritten notes whenever you are studying NCERT books or watching videos on any particular topic. Whenever you are preparing a study plan for NEET, there should be space for activities and taking up topic-wise tests along with reading materials such as NCERT books on that particular topic.
What should I focus on Physics, Chemistry, or Biology?
It is easy to be confused over which subject to study first and in what order. Many students find themselves to be inclined more toward Biology but they must remember that if they want to clear NEET, then Physics and Chemistry cannot be neglected. Each question's correct answer will take you 1000 ranks above or below and hence equal importance should be paid to all 3 subjects.
Should I solve model or mock tests or go for previous years' questions?
Solving NEET previous years' question papers will help you understand the types of questions that appear in the exam and solving NEET 2023 practice tests will help you to answer all the questions within the time frame of the exam. You will also be able to identify your weaknesses and work on those topics accordingly.
Which subject should I begin with?
Many students have reported having lost their motivation when they studied biology in the first week, chemistry in the second, and physics in the third week. This is primarily because of the analytical nature of physics and it is dealt with at the very end. Instead of following this practice, one can study one topic from every subject each day so that the motivation does not drop.
Some facts based on the NEET examination
Here are some facts about the NEET exam:
Most of the questions for Biology come from NCERT books and if you are someone who has read NCERT and Biology books from the start to the end, you will be able to answer almost all questions correctly.
For inorganic chemistry, NCERT books would suffice and students should read all the NCERT books. Organic and physical chemistry is mostly based on application and hence one needs to have a clear understanding of theory and also practice MCQs from these chapters.
Physics is primarily based on formulas and their application in numerical problems. So if you have formulas revised, and understand the relationship between the elements of the formula then solving MCQs becomes easier.
Equal weightage needs to be given to the class 11 and class 12 syllabus as an equal number of questions appear from both the classes.
How to prepare for NEET 2023 in one month?
Here are some tips and tricks for NEET 2023 revision:
Question-based revisions: For practicing a particular chapter or topic or unit from Physics or Chemistry, you can choose 45-50 random MCQs according to the exam pattern in that chapter and solve them within a time frame of 45 minutes. For Biology revision, you can choose the same strategy and repeat them for all the subjects.
Comprehensive revision: Once you are done with question-based revisions, you can move ahead with comprehensive revision from respective NCERT books and modules along with notes that you prepared during the early stages of NEET exam preparation. You can condense all the important points in a page or notes and prepare diagrams that will help you go through them regularly in the last week if required.
NEET 2023 Last Month Preparation Tips:
Revision Notes
With less than 30 days left for preparation, now is the time to open your notes and study the revision points you had marked for the last minute study. Revising through your notes will be simpler than studying from the syllabus books as it will take less time and you will be able to cover the entire syllabus thoroughly.
Strategy for attempting paper:
During the last month, your focus should be on formulating a strategy for attempting the exam paper. Make sure that you give at least 10 mock tests during the last month. Try attempting the exam in different ways. Start from different sections in each mock test to figure out which section you should attempt first to achieve the best score in the least amount of time.
Work on your strengths:
The time for learning new concepts for the exam has passed. It is now time that you focus on your strengths and work more on the concepts where you have better chances of scoring. Make sure that you revise all your best-prepared sections. If there is time left, you can cover up other concepts and try to clear your doubts before the exam.
Subject Analysis:
In this last month of preparation, you must analyze the subject in which you have the chance of scoring the highest marks. Now your target should be to cover up the remaining subjects in order to clear the subject-wise cut-off. Practising mock tests will give you a fair idea about your section-wise performance and you can approach the paper accordingly.
Preparation Apps:
To boost your performance, you can also use some preparation apps. These apps will provide you with a pattern of questions that are most likely to appear in the exam. Practising such questions will give you an edge on the day of the exam.
Maintain good health:
The time before exams can be quite stressful, however, it is important to relax and keep your mind calm. Getting a proper amount of sleep is important to perform well. Both physical, as well as mental health, are important to give your hundred percent on the day of the exam.
Also Read:Career in Pharmacy: Courses, Exams & Salary Scope
NEET 2023 Last minute exam preparation with practice tests
Full-time mock tests: You can practice full-time mock tests by simulating the exact time frame for the NEET exam which is 2 pm to 5.20 pm. This will help your body and mind get used to the exam timings and be fully alert and prepared during the final exam.
Analyzing performance: No exam preparation is complete without analyzing the performance of the mock tests and solving previous years' question papers. You need to keep a track of all the weak areas and work on them accordingly when you are revising. Keep a close eye on recurring mistakes such as forgetting to convert units. One week before the exam, you need to read all these notes and remember all the mistakes that would help you perform better in the exam.
NEET was restored as the single entrance exam for admission to all UG medical and dental courses last year. It has been made mandatory for admissions to all medical institutions in India, therefore, getting a good score in NEET 2023 is mandatory for securing a seat in UG medical programs.
Dos and Don'ts for Last Month NEET 2023 Preparation
Dos for last month NEET Preparation 2023
Stick to your study plan and focus on high-yield topics.
Practice time management and attempt mock tests to improve speed and accuracy.
Revise important formulas, diagrams, and concepts regularly.
Take short breaks and maintain a healthy routine with a balanced diet and adequate sleep.
Seek guidance from experienced teachers or mentors to clear doubts and gain insights.
Stay updated with current affairs and the latest developments in the field of medicine and healthcare.
Stay motivated and maintain a positive attitude toward the exam.
Don'ts for last month of NEET 2023 Preparation 
Don't start a new topic or book during the last month of preparation.
Don't ignore weak areas or topics that you find challenging.
Don't take too much stress or pressure as it can negatively impact your performance.
Don't rely solely on last-minute revision notes or cheat sheets.
Don't stay up late or compromise on sleep to study more.
Don't engage in activities that can distract you from your goals, such as social media or excessive gaming.
Don't panic or lose confidence if you face difficulty with some questions during the exam.
To conclude, preparing for NEET 2023 in a month is a tough task, but not impossible. If you thoroughly plan out the strategies and follow our tips and tricks, you will surely be able to succeed in the exam. But candidates also need to ensure that they do not take too much stress and retain their confidence. With hard work, dedication, and diligent ways of studying, one can score well in the NEET 2023.