MAH MBA CET 2021 Registrations have reopened from August 12 to August 16 as per a notification released by the conducting body. In order to apply for MAH MBA CET 2021, you have to create a profile by completing the registration on the official website. The application form then becomes available after you log in with your Application ID and Password. Some of the details about the exam can be found at the link given below.
The MAH MBA CET 2021 Password is an important credential throughout the examination process. It is required at every step of the examination process - from completing the application form to downloading the admit card to checking your MAH MBA CET 2021 Results. The conducting body advises candidates to keep their password secure and not share it with anybody else. Hence, you can find yourself to be in a fix if you forget or lose your password. Luckily, there is a very simple and easy way to receive or reset your password for MAH MBA CET 2021. In this article, you can check the steps to follow if you have lost or forgotten your password for MAH MBA CET 2021.
MAH MBA CET 2021 Highlights
The important highlights of MAH MBA CET 2021 can be found in the following table.
| | |
| --- | --- |
| Official Website | www.mahacet.org |
| Conducting Body | State Common Entrance Test Cell, Maharashtra |
| Mode | Online |
| Medium | English |
| Accepted By | MBA/ MMS Colleges in Maharashtra |
Things Required to Reset MAH MBA/ MMS CET 2021 Password
The following will be required to reset your password for MAH MBA/ MMS CET 2021.
Application ID

Working phone with your Registered Mobile No.

A laptop or PC having a working internet connection
How to Reset MAH MBA/ MMS CET 2021 Password
Given below is the step-by-step process that will help you reset and recover your password for MAH MBA/ MMS CET 2021. Please note that the images given below are as per the 2020 portal of mahacet and will be updated soon.
Step 1: Visit the official website of MAH CET (mahacet.org) and click on the MBA/MMS link under Post Graduate courses.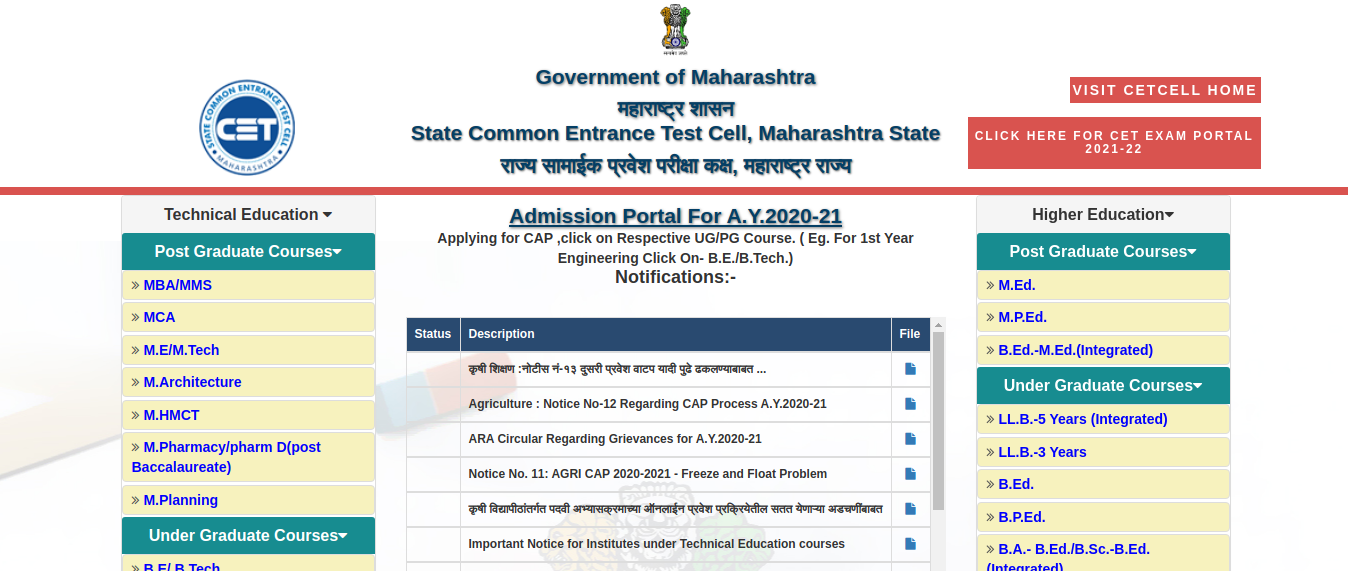 Step 2: Click on the 'Registered Candidate Login' box on the next page.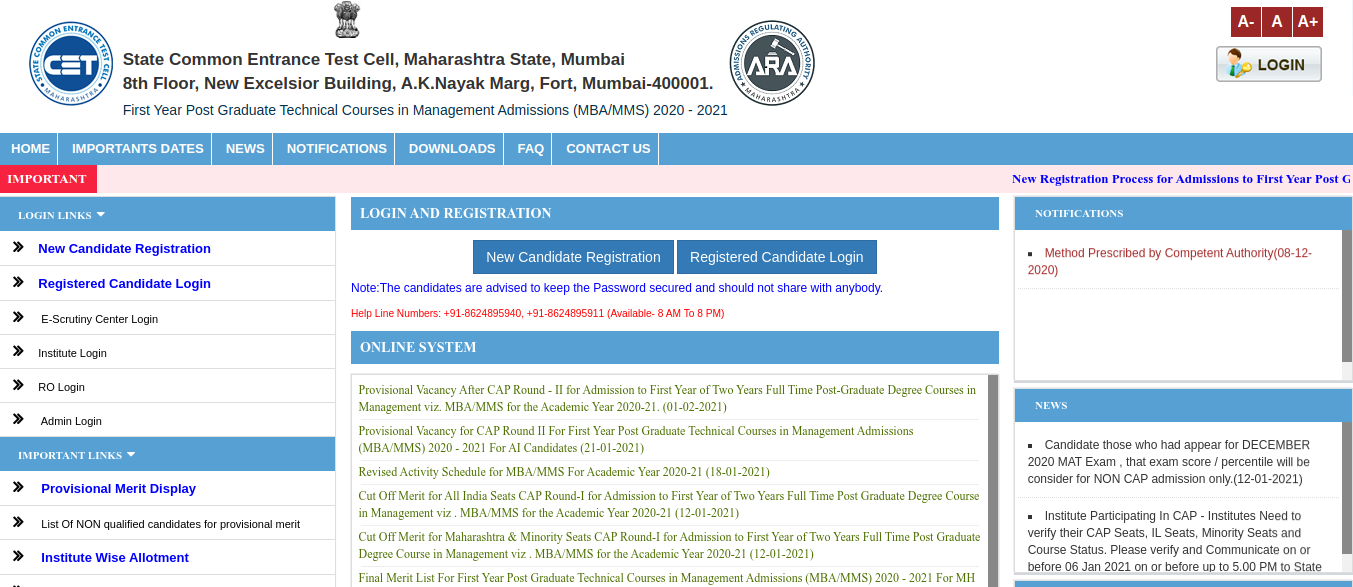 Step 3: In the 'CANDIDATE LOGIN' box that will appear on the next page, click on the link saying 'Forgot Password?'.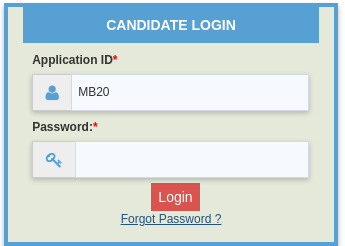 Step 4: The option to 'Reset Password By OTP on Mobile' will appear on the screen. Click on the link to proceed to the next step.

Step 5: The 'CANDIDATE FORGOT PASSWORD' box will appear on the next page. Here, you will be required to enter the Application ID and Mobile Number. Both of these are essential to reset your MAH MBA/ MMS CET 2021 Password.

Enter the required information and click on 'Submit'.
Step 6: The OTP (One-Time Password) to reset your MAH MBA/ MMS CET 2021 Password will be sent to your registered mobile number. Alternatively, you will be informed if any of the information entered is incorrect and you will be asked to enter the correct information.
Step 7: Enter the OTP received on your registered mobile number in the space provided on the next page and submit.
Step 8: You will be prompted to create a new password and confirm it in the next box.
Step 9: Use the new password to login into your account.
Using these simple steps, you will be able to reset your password to your MAH MBA/ MMS CET 2021 account.
Do's and Don'ts for MAH MBA/ MMS CET 2021 Password
The conducting body has specified certain do's and don'ts that a candidate should adhere to regarding the creation and storing of their MAH MBA/ MMS CET 2021 Password.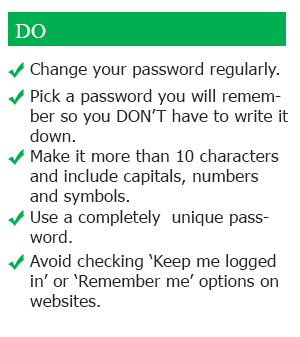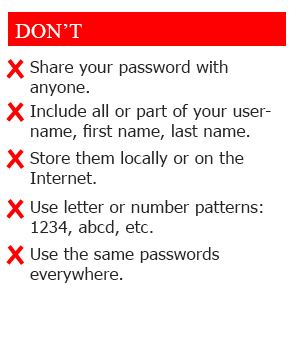 Do

Don't

Create a secure password with more than 10 characters that include capital letters, numbers and special characters.

Make sure that your password is unique and do not use common passwords.

Make changes to your password regularly as that can help make your account more secure.

Create a password that you can remember.

Do not write down or store your password offline or online.

Do not share your password with anybody. Anyone with access to your password can make changes to your application.

Do not include your username/ name or its part in your password.

Do not include a common number or alphabet pattern such as 123..., abc... in your password.

Do not use the 'Remember Me' option, especially when logging in from a public or shared computer.
If you still have any doubts, you can post them on the CollegeDekho QnA Zone. For admissions-related help, fill the Common Application Form (CAF) or call our toll-free helpline number 18005729877.