With the health hazards associated with the COVID-19 pandemic causing a widespread impact on the functioning of educational institutions in India, many schools and colleges are now seeking alternate means to conduct their operations. Many have set up virtual classrooms and started online classes so that students can continue their studies uninterrupted and the government has also allowed universities to start online courses.
However, one area where there is still scope for improvement and introduction of alternate measures is the conduct of an exam Measures to prevent the spread of Coronavirus have caused many entrance exams cancellations or postponement. Not only these but the regular semester and board exams of various institutes have also been affected.
One alternative in this scenario is to turn to Open Book Exams. The University of Delhi has issued the guidelines for conducting the Open Book Exams for DU Final Semester Exams 2020. However, the university is facing backlash on this decision, a majority of which is coming from the students. One reason why students are opposed to the implementation of open book exams is the general lack of understanding and misconceptions prevalent about open books exams in India.
In this article, we cover the concept of open book exams, see the types of open book exams and discuss their pros and cons.
What is an Open Book Exam?
An open book exam is simply an examination in which a student is allowed to consult his books, notes or any other source material approved by the examiner while the exam is being conducted. Basically, in this exam, a student can take his study material along with him and consult the study material to answer the questions appearing in the exam.
Open book exams are quite commonly practised in law education. Very rarely, they are used for other streams such as Engineering, Finance etc. For the most part, students are generally not familiar with or have not even heard about the concept of open book exams.
For any student who is used to the conventional approach towards learning, the concept of open book exams seems absurd. Some may even argue that this type of an exam doesn't make any sense and beats the whole concept of evaluation of a student's learnings through the means of conducting an examination.
However, this is not entirely true. While there are some very valid concerns against the widespread implementation of open book exams, they are not entirely useless as many may choose to call them.
Also Read:How to Get College Admissions During The Coronavirus Outbreak
The Case For Open Book Exams
Open book exams are a radical and forward-thinking measure in education and, instead of focusing on the 'rote' learning of a candidate, they focus on the critical thinking and analytical skills acquired by a student during the duration of his course.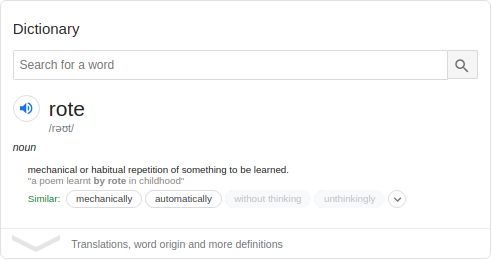 As can be seen, the conventional method of learning relies heavily on mechanical repetition and memorising of the textbook information. The fact that words like 'without thinking' or 'unthinkingly' appear in the 'Similar' section is not a good sign either for 'rote' learning either.
Open book exams nullify these demerits of conventional education by providing a student with access to the study materials while they take the exam. By removing the memorising and learning part of education, open book exams bring out how much a student has actually understood the subject. Thus, it can be argued that open book exams give an actual evaluation of how much a student has learned during a course.
Types of Open Book Exams
Open Book Exams are generally of two types.
Sit-Down Open Book Exams: These are basically the traditional-format examinations in which a student has to visit an examination centre and answer the given set of questions in a limited time. The only difference is that candidates are allowed to take the help of certain resources in their answers. In this type of exams, the conducting body can more closely monitor the type of resources used by a student as well as the behaviour of a student during the exam.

Any student who has completed Class 10th with Maths will be familiar with bringing their Log Tables to the exam centre.
Engineering students are also allowed to take certain handbooks with them to the examination centre for some subjects.

Both of these are a type of Open Book Exam. However, the material allowed inside the exam centre is very limited in both of these cases.

Take-Home Open-Book Exams: In this type of open book exams, students are allowed to take the question paper with them. Then, students are asked to answer the questions without taking the help of any other person. There is a specified time limit within which a student has to hand in their answers to the examiner.
Also Read:Revised Dates for Entrance Exams, Board Exams and Recruitment Exams
Materials Allowed in Open Book Exams
The materials allowed in open book exams can vary as per the guidelines issued by the exam conducting body. Here are some of the commonly-allowed materials inside open book exams.
Personal Notes

Course Books

Reference Books (such as log tables or engineering handbooks mentioned above)

Instruments such as calculators

Some exams even allow students to have an internet connection to retrieve information
Take-Home Open Book exams generally do not have any restrictions on the resources used.
Pros of Open Book Exams
Open book exams have the following merits.
They promote critical thinking and the development of analytical skills of a student.

Since students do not have to focus on memorising, they can instead spend the time on actually understanding the subject and improving their conceptual knowledge.

The analysis of the results of open book exams is very beneficial to teachers. Since open book exams provide a good depiction of how much a student has understood a subject, teachers can check whether their students have a clear knowledge of the subject and adjust their teaching methods accordingly.
Cons of Open Book Exams
There are certain disadvantages that come with open book exams as well. These also need to be understood for proper implementation of this system.
Students and teachers are not familiar with this concept. This means, that it will take some time for both to adapt if the new format is implemented. However, since alternate methods are already being searched during the time of the pandemic, open book exams have become very viable.

Careful setting of the question papers and evaluating the answers is required in open book exams. Regular questions that we are generally used to do not work well with open book exams. Students are also required to have good writing skills in order to portray their knowledge.

Equal availability of resources has to be ensured in open book exams. Since some students may not have access to the same quality or quantity of study materials as others, there is bound to be some discrepancy when it comes to the equal availability of resources.
Also Read:MBA Admission Process
Misconceptions About Open Book Exams
There are certain misconceptions that are prevalent about open book exams. Let's take a look at a couple of them.
Open Book Exams are Easy
Many students may consider that having access to study materials with them will make it easier to answer questions in an open book exam. Having access to facts and textbook knowledge in open book exams does not help a student when it comes to understanding how that knowledge or concept is used. For eg. just because a student knows a Mathematical formula does not imply that he/she will be able to use it correctly in a numerical.
Here, it also becomes important to set the right question paper in an open book exam. Questions in open book exams must test the knowledge and understanding of a student instead of their memorising ability.
Students Can Copy Information from the Source
Many students think that all they have to do in an open book exam is search for the content in the available resources and just copy it to the answer sheet. This is incorrect. Plagiarism is not allowed in an open book exam. In fact, there are strict plagiarism checks imposed on open book exams and a student who is found to have included plagiarised information may not be given the marks or credit for their answer.
Students Will Not Need to Study for Open Book Exams
Studying is just as important for an open book exam as it is for a regular exam. Even if a student does know how to memorise concepts, he/she still would need to practice to have a proper understanding of the subject matter to be able to apply it in a question.
Open book exam is an uncommon concept and students are not very familiar with it. However, it does have the potential to change education as we think of and move it towards being more analytical and understanding-based in nature.
If you have any doubts, you can write to our experts on the CollegeDekho QnA Zone. For free student counselling and admissions-related help, fill our Common Application Form (CAF) or call our toll-free student helpline number 1800-572-9877.