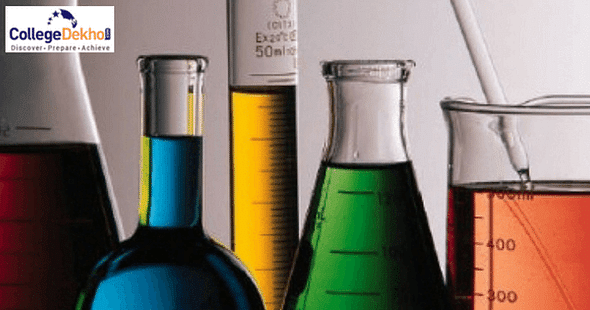 Chemical Engineering is one of the core engineering branches that lost some of its popularity after the software industry came into existence at large. Chemical Engineering is an ideal course for students who want to pursue a career in applied chemistry.
There is a lot more to this field other than chemistry. Find out all about the different Chemical Engineering courses, their eligibility criteria, salary scope and colleges offering these programmes in this article.
About the Programme:
Name of the Programme

Chemical Engineering

Duration

Diploma in Chemical Engineering (3 years)
B.Tech in Chemical Engineering (4 years)
M.Tech in Chemical Engineering (2 years)

About the Programme

This branch of engineering deals with the transformation of raw substances into valuable substances. The branch is closely related to physical science, microbiology, biochemistry and applied chemistry.

Popular Areas of Study

Inorganic Chemical Technology
Chemical Engineering Thermodynamics
Organic Chemical Technology
Particulate Science and Technology
Fluid Mechanics
Material Science and Technology
Physical Chemistry
Environmental Engineering

Fees

Varies from Rs. 2,50,000 to Rs. 10,00,000 for the entire course depending on the type of college.

Popular Entrance Exams

JEE Mains, JEE Advanced, BITSAT, MAH CET, WBJEE, VITEEE, etc.
Eligibility Criteria:
Diploma Courses:
There are few colleges in India that also offer Diploma in Chemical Engineering and you can enrol for these programmes after completing your class 10.
Admission is mostly done on the basis of state polytechnic entrance exams.
Undergraduate Courses:
Like most engineering programmes, you will be eligible to apply for B.Tech in Chemical Engineering after completing 10+2.
Most of the engineering colleges offering this programme will conduct admission on the basis of entrance exams.
Different universities may conduct their own entrance exams such as VITEEE conducted by VIT University and LPU NEST conducted by Lovely Professional University.
However, admission to IITs is done on the basis of JEE Advanced and to NITs is done on the basis of JEE Mains.
Post-graduate Course:
In order to apply for post-graduation courses of Chemical Engineering, you will have to secure at least 60% marks in graduation.
Also, admission to all M.Tech courses in the field of Chemical Engineering is done on the basis of GATE entrance test.
Some of the Top Colleges Offering Chemical Engineering:
Job Opportunities:
Chemical Engineering is one of the established branches in India and there are various government as well as private organisations that hire chemical engineers. Although not as popular as other engineering branches, Chemical Engineering certainly offers some bright career opportunities.
Also Read:Check Out the Opening and Closing Ranks of JEE Advanced 2017 for New IITs
Depending on your preferences, you can opt for on field or office jobs. On-site jobs will require you to work at industrial plants, thermal plants, refineries, etc. Following are some of the top companies that hire chemical engineers:
Schlumberger Limited
Indian Oil Corporation
Reliance Industries Ltd.
Johnson Matthey
Essar Oil Limited
Oil and Natural Gas Corporation Limited
GlaxoSmithKline
Gujarat Alkalies & Chemicals Ltd
Deepak Fertilizers and Petrochemicals Corp. Ltd
Arofine Polymers Ltd
Salary Scope:
The salary scope after completing chemical engineering is good. You will get better salary packages if you have graduated from some of the reputed engineering colleges as they conduct campus placements and international firms such as Schlumberger and Johnson Matthey participate in the placement process.
Also Read:Career and Course Opportunities for Maths Lovers: Eligibility & Scope
It is important that you pursue your degree from reputed colleges in order to secure good jobs. Graduates from IITs may get salaries of up to Rs. 20 lakhs per annum offered by international firms. Salary packages from others colleges can vary from Rs. 2,50,000 to Rs. 9,00,000 per annum.